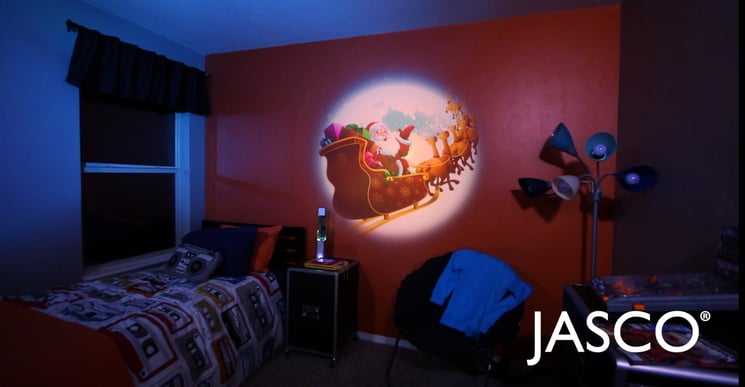 'Tis the season for mistletoe, stocking stuffers, fresh baked cookies and elves to go sneaking about shelves, but what about the night time bed routine? How can you get your kids into the holiday spirit without having them stay up all night to try a get a glimpse of Santa? We have a solution! Christmas Projectables Night Lights!
This year's assortment of holiday Projectables features single image plug-in night lights, six-image plug in night lights and six-image battery operated night lights.
"We feature the friendly snowman, the iconic Santa and his reindeer, and a jolly gingerbread man," Product Manager Yolanda Coronel said.
So how can you decide if a plug-in or battery operated is right for you? Product Manager Yolanda Coronel explains that the plug-in night light can easily plug into the back of a wall and the image can be rotated 180° to be placed anywhere around the room – the ceiling, wall or floor.
"The battery operated night light is one of my favorites because it's portable," Coronel explains. "It features a night light and it has the six images that are easily rotatable for young hands and it has a battery operated switch here that after 30 minutes has an automatic timeout feature. So you can put it on the bedside table for the kid to fall asleep at night and then 30 minutes later it will automatically go off so you save your batteries."

---