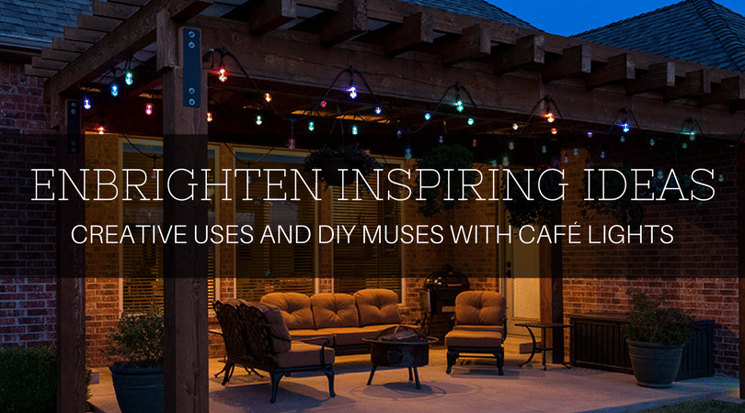 Are you looking for a unique way to use your string lights? There are way more uses for café lights than the traditional outdoor/patio application. They can be used for indoor lighting, as a chandelier, and even as a headboard! The versatility, durability and color changing aspect of these lights allow for unlimited uses - let your creative energy take the reins!
We recently partnered with some incredibly talented bloggers to help inspire you with creative ideas and clever ways to hang Enbrighten Seasons Color Changing Cafe Lights — from creative indoor decor ideas, to outdoor entertaining tips and more! Get inspired with these DIY projects and be sure to share your own cafe lights inspiring ideas with us too on Facebook, Twitter and Instagram!
"We have a wonderful backyard, but I have absolutely hated our lighting options. It is warm enough to swim well after dark, but with no lights in the backyard there hasn't been a way to make that happen. We started building these chandeliers to hang next to our pool. They are perfect! They give off a perfect amount of light, and with Enbrighten Seasons Color Changing Café Lights, we can change up the colors to whatever we want for any occasion. Can you say red, white, and blue 4th of July pool party?" Read the full blog post here.

Master Bedroom Makeover by @emihill
"Edison-style cafe lights are the secret to creating the perfect (romantic) ambiance in this simple master bedroom makeover. We took Enbrighten Color Changing Café Lights—the type of lights you'd typically use only outdoors—and attached them to our canopy bed. I'm not lying when I tell you it's the best part of the master bedroom makeover." Read the full blog post here.


"On an improved campground with electricity, you can forgo the gas or battery lanterns, and opt for low energy LED light strings to light up the night. These Enbrighten Seasons Color Changing Café Lights spruce up any outdoor space, from a home patio to a car camping site." Read the full blog post here.

Illuminating Walking Path by @poweredbymom
"I love where we live here on the west coast. We have mountains, oceans, lakes and oh so many forests. In fact when I look out my front door I'm looking at a forest. It's lovely to take a walk through and I admire the tall old growth pine trees. It does have its challenges though, at night our street is extremely dark. With Jasco's beautiful Enbrighten Color Changing Lights not only is it not dark when we come up to our house it looks like we decorated our yard. We have beautiful lights that we can change to suit the season or occasion."
Read the full blog post
here.


And when it's cold outside...Illuminating Stairway by @poweredbymom
"I like to decorate but I like it even better when I can decorate quickly, without fuss and still have lovely holiday setting. Decorating my staircase railing only took me about 15 minutes, how easy was that? You can also hang the color changing LED lights across a ceiling or around a patio depending on what space you want to decorate this holiday season. Read the full blog post here.

Adding Light to your Closet Craft Room @MomsAndCrafters
"But the biggest problem they solved by far: They allowed me to fix the color balance to a more natural tone. Typically, I like to photograph my crafts using natural light. But I was struggling with very yellow in-process photos on the crafts that I created in my glorious craft room in a closet. Playing around a little with the Enbrighten Seasons Color Changing Café Lights resolved that. I found the perfect tone (in my case it was a light blue/aqua color) to make my photos less yellow." Read the full blog post here.



"Whenever I am hosting a event at my home, I like to put together an unique decorative bar or food table to serve as a functional talking piece. My go-to easy decorative additions for such pieces are flowers (obviously) and lights. Lighting is such a simple way to add romance, fancy, and a bit of whimsy to a party. " Read the full blog post here.

A post shared by Dagmar's Home (@dagmarbleasdale) on

"When we made over Landon's room last year, we changed out his little twin bed for a full-sized bed with storage – but that bed doesn't have a headboard. Ever since then, I have been on the lookout for a cool headboard, maybe a vintage one I could paint a fun color or a shelf unit we could add to the wall. When I was invited to use the Enbrighten Seasons Color Changing Café Lights, I didn't have to think long where I wanted to use them – to make a faux headboard for Landon's bed!" Read the full blog post here.
Stay tuned for more

cafe lights inspiring ideas for backyard upgrades, outdoor entertaining, enchanting patios and more!