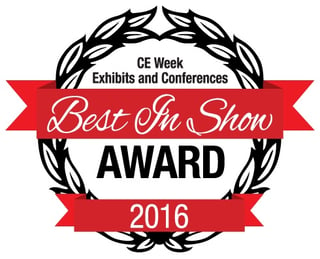 Last week, we headed to the Big Apple for the annual CE Week event, the mid-year tech industry gathering where the trends that are driving adoption of today's innovative technologies and new products are examined and debuted.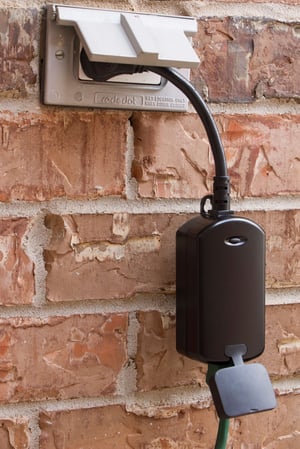 During CE Week 2016, countless products made their public debut and were showed off to the gathered press and public. Jasco's Bluetooth Outdoor Smart Switch was among the select few—10 to be exact—that were chosen as official CE Week Best in Show Winners. Evaluated by a distinguished panel of judges, the industry experts and editors of the leading CE trade publication, Dealerscope, deemed the Bluetooth Outdoor Smart Switch to be one of the products that possess the biggest "wow" factor at the show.
Perfect for summertime, nighttime or anytime, our Bluetooth Outdoor Smart Switch plugs into any standard outlet and lets you automate and control backyard lights, electronics, fountains, pumps and more without the need of a hub, gateway or router. It features durable weather-resistant housing and a protective outlet cover for outdoor use in all seasons. This one of a kind Outdoor Smart Switch offers several flexible scheduling options, including seven-day, sunrise/sunset, random/vacation and custom countdowns that can be set directly from a smartphone through the free user-friendly Avi-on app.
It is such an honor to be recognized by the industry as a connected home leader and innovator with the CE Week Best of Show award. As the largest and fastest growing Bluetooth mesh ecosystem, our GE branded Bluetooth smart controls are seeing one of the most successful launches in wireless lighting controls, with nearly 200,000 units shipped in less than year. This award-winning product is available at Amazon.com as well as major retail stores including The Home Depot, Lowes, Ace Hardware, TrueValue and Bestbuy.com. The Bluetooth Outdoor Smart Switch is just one of our complete line of Bluetooth lighting controls.
To learn more about this product and the entire ecosystem of GE branded Bluetooth smart controls, visit EZbluetooth.com or visit the CE Week electronic press kit to download additional product information and media resources.
We had an incredible time at CE Week 2016 and look forward to another great show next year! Check out the slide show below for more fun snapshots from the show floor.