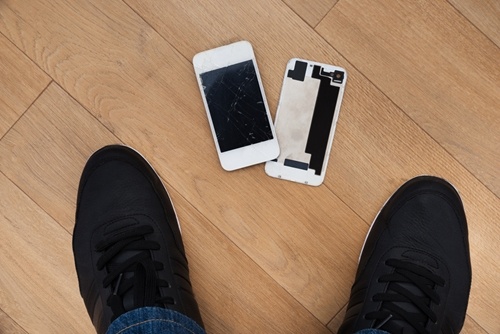 You risk a lot by using a phone without a case.
By now, you can recognize the agonizing sound of a dropped smartphone in a crowd of people. The sound is usually followed with "oohs" from nearby people as the culprit quickly picks up the phone from the ground to check for a cracked screen.
It's a damning sound, but it's even worse when it happens without a phone case. Somehow, people like to play with fire when it comes to smartphone cases. Some people simply want their phone to be as light as possible or don't like the bulky feel of a case.
However, data from Square Trade, a phone protection and insurance company, said that Americans have spent at least $2.4 billion on damaged phones just from watching sporting events. Whether someone got your phone wet by spilling a drink on it or you threw up your hands in excitement because your team scored, it's absolutely easy to damage your phone.
And it's not just sports fans that break their phone, everyone does it. Smartphones are smaller, slicker and lighter than ever, which makes them all the harder to grasp. Here's why you need to get covered with a smartphone case:
1. Replacing smartphones is expensive
Under your smartphone contract, you likely paid $200+ to start your plan. While that doesn't seem too drastic for a brand new phone, if you drop your phone and completely destroy it, you'll be looking at closer to $700 to get a replacement.
Most contracts don't have replacement policies and even when you enroll in the insurance program, it can still cost a deductible or limit you to a single replacement for the entire contract. Everyone has dropped their phone at least once, so why not cover it with a case and prevent yourself from spending $700?
Additionally, phone repairs for cracked screens can be costly. Replacing intricate parts is not a cheap solution and you could still be looking at damaged internal parts from a painful drop.
2. Protection in extreme conditions
If you live in an area that can reach extremely high or low temperatures, you might want to think about investing in a smartphone case. Extremely low temperatures in the winter can start to damage a battery at just 14 degrees Fahrenheit. Using a phone in a temperature of 4 degrees below zero usually results in the phone powering down, and at 22 degrees below zero, major screen problems occur.
"Cases are able to give phones the extra warm in the winter or protection from the sun in the summer."
At the same time, the heat can do all sorts of damage too. In fact, some smartphones are not recommended to be used in temperatures above 95 degrees because it can shorten battery life and create other unexpected behaviors. Additionally, for those in the hottest parts of the country, at 113 degrees, phones can overheat and stop functioning altogether.
Cases are able to give phones the extra warm in the winter or protection from the sun in the summer.
3. Getting a better grip
Some people like the aesthetic of smartphones, but their sleek textures make them nearly impossible to grip. However, with T-Tech cases by Tumi, there are Ballistic Nylon options that are slim-fitted, but provide a gripping texture that will help you keep your phone in your hands.
Also, T-Tech by TUMI cases are manufactured with a strong polycarbonate shell with impact-resistant edges. The case's raised lip protects screen of your smartphone and the molded button covers keep every function accessible.
If you have an on-the-go lifestyle, getting a phone case might the best investment for keeping your device safe.