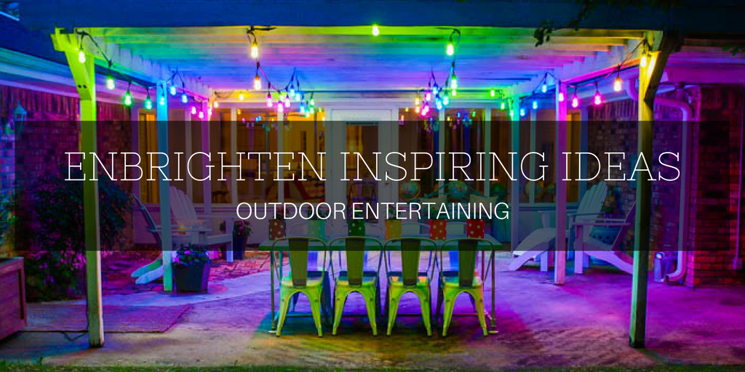 Credit: I Should be Mopping the Floor
Whether it's a small backyard BBQ or a full on fiesta, there is something about Enbrighten Seasons Color Changing Cafe Lights that transform the entire atmosphere of any occasion. The decorating possibilities are endless when it comes to hanging these outdoor string lights on decks and patios. With a variety of color options for lighting designs, cafe lights are the perfect way to quickly re-energize and enhance backyard areas to match your personal style and complement your space.
We recently partnered with some incredibly talented bloggers to help inspire you with creative ideas and clever ways to hang Enbrighten Seasons Color Changing Cafe Lights — from creative indoor decor ideas, to outdoor entertaining tips and more! Get inspired with these DIY projects and be sure to share your own cafe lights inspiring ideas with us too on Facebook, Twitter and Instagram!
DIY Outdoor Chandelier by Jenn's Blah Blah Blog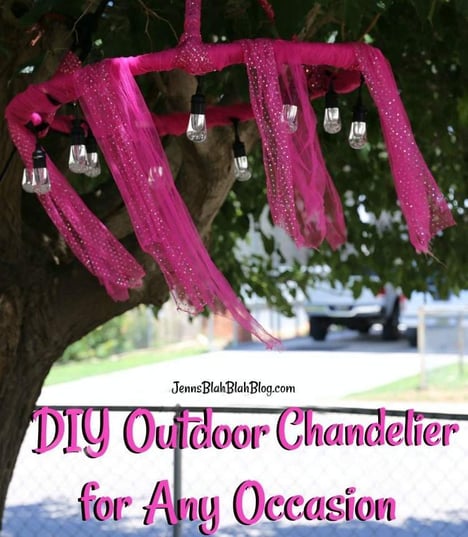 "If you are like so many of us in the world you like staying up to date with the latest trends and have an appreciation for interior and exterior design. I must agree with the Jasco brand, the world isn't meant to be seen in black and white! We want to experience all the color!" To check out how to make this chandelier read the full blog post here.
Outdoor Entertaining by A Vintage Splendor
"As you know, I live for hosting parties at our house. It was designed as an entertainer's home by the original owner so I have to do the home justice and keep up with parties! When it comes to entertaining, it's so important to set the mood and tone for the party which is easily done through lighting and music. I used Enbrighten Seasons Color Changing Cafe Lights to cast a soft glow above the dining area. I was opting for a serene and romantic evening and the multi-color modes help achieve just that." Read the full blog post here.
The Lazy Girl's Guide To Decorating With Garden Lights by Typical Katie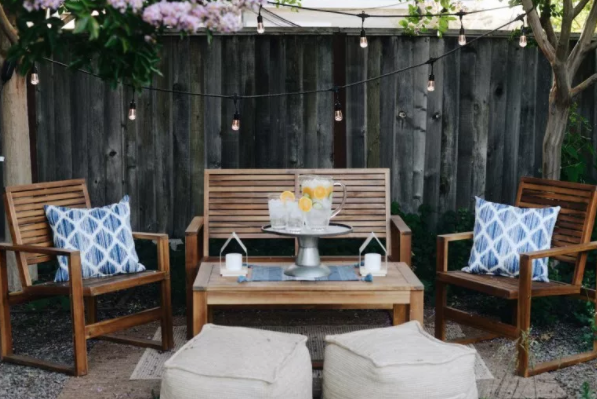 "I am kind of crazy about ambiance. If I could, I would have string lights in every room of my house. I just love the warm glow and cozy atmosphere it creates. Luckily, you don't have to be Clark Griswold to achieve your lighting goals. All it takes are the perfect strand of café lights and whatever you already have to throw them on! Jasco's Enbrighten Color Changing Lights have several cool features that make them stand out in the market. First of all, these lights are known for their "shatterproof" design. I don't know if it's happened to you, but I have bought garden lights in the past only to break them as soon as they barely hit the ground. These guys are incredibly durable. I also love the vintage feel of the Edison style bulb." Read the full blog post here.
Colorful Patio Makeover by I Should be Mopping the Floor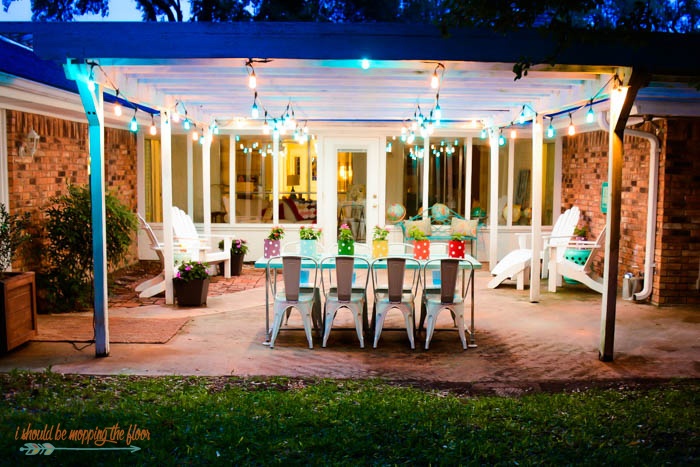 "I have to tell you about these lights. Ummm...they're everything. I get to do some fun posts with cool home products here and there, but even my husband agrees with me when I say these lights are life-changing. We've installed party lights on our previous patio areas, but these are by far the nicest ones we have ever used. I love them so much, I'm going to get some for my office, too...I'd love to add that fun element of overhead party lights in there (since there is literally no overhead lighting at all in there right now). The color changing aspect takes these to a level I never even envisioned (there is a setting just with AQUA, y'all, it's like they had ME in mind!). We go from dimming to strobe to rainbow to solid...to whatever! They're truly amazing." Read the full blog here.
From Flop to Fiesta! by Sand and Snow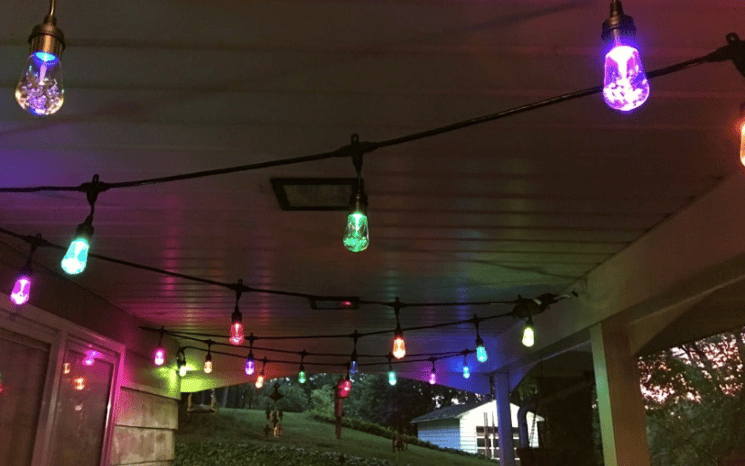 "Another bonus to the Enbrighten Café Lights? Not only do they offer a lifetime LED guarantee, the color combinations are programmable! Meaning? I can change the colors with the touch of a button or two. Sure, I could go with a single color, but I wanted fiesta so I used a preset color & effect mode that not only gave me all of the colors, it gave me a twinkling effect. Perfect! And there's a bonus, too: combine strings and one remote works for them all. When the fiesta's over and there's a holiday coming up I can change the color mode to match my holiday decorations. Have I mentioned I really like to theme out holidays?" Read the full blog here.
DIY Outdoor Entertaining Deck Update by Aprons and Stillettos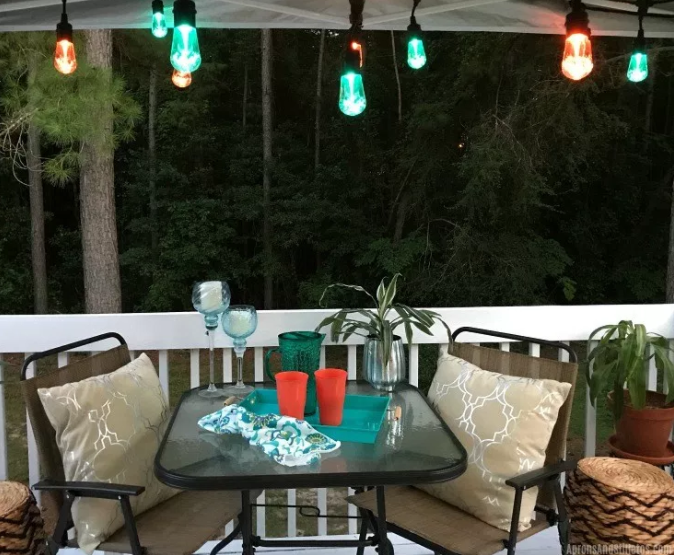 "To bring in more night time light I strung Enbrighten Seasons Color Changing Café Lights through the frame of the shade canopy. I linked two 24 ft. strings together for this space, but if you have a bigger project, these are linkable up to 750 feet. Once the sun went down, I was able to check out all of the color modes on the Enbrighten Color Changing Lights. The remote controlled bulbs can display one color at a time or two colors simultaneously." Read the full blog post here.
Easy Patio Revamp by Domestic Superhero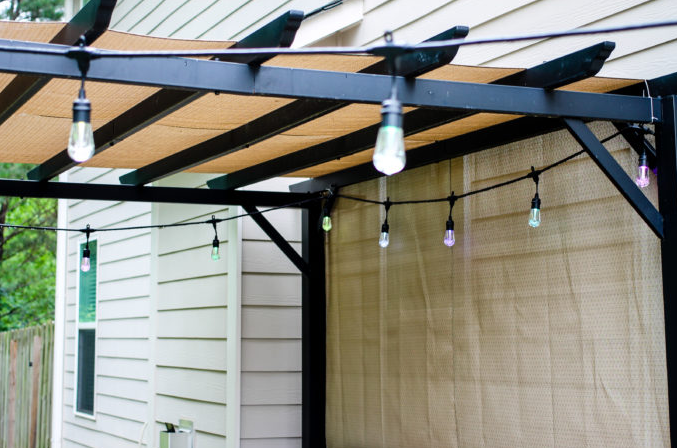 "When we had friends over for Memorial Day, they were in awe of how the Enbrighten Seasons Color Changing Café Lights can change colors! It is so fun because with the easy remote control, you can try a bunch of different settings. I really like how you can dim the lights and as they dim they shift to another color! It is so fun! You can also link strands together up to 750 feet. If you have a giant space, they would be gorgeous! I used 2 strands linked together. I connected them to the side of my house and then in a square around our pergola." Read the full blog post here.
Create an Easy Outdoor Entertaining Space with The Crafty Blog Stalker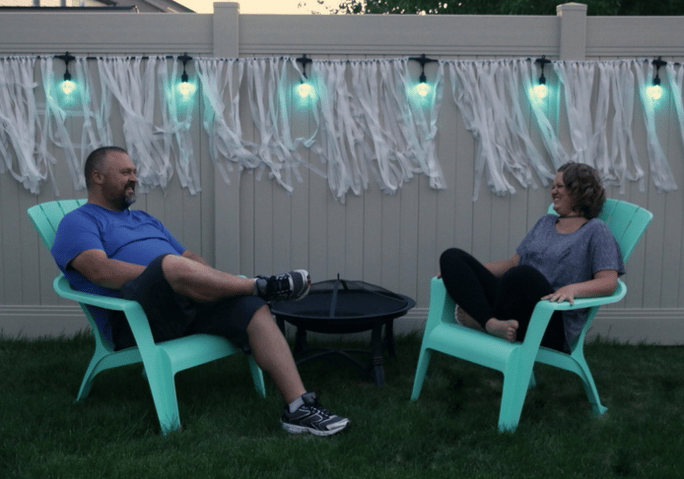 "Do you have an outdoor space that is perfect for entertaining? I had always wanted to have people over on a warm summer night for a BBQ and then spend the evening talking and laughing with friends. And now I do! Creating this outdoor entertaining space was so much easier than I thought it would be! The Enbrighten Color Changing Café Lights is really what made this space so amazing. The bulbs are shatterproof so they are perfect for outdoors! Plus, they just look really cool!" To see all of the steps involved in creating this outdoor entertaining space visit the full blog post here.
Celebrate All Year with Color Changing Lights by Today's Creative Ideas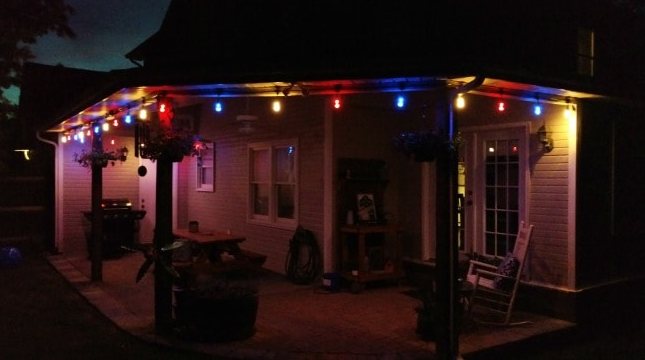 "Because we love spending so much time outdoors we want our outdoor area to be the happening spot. This means I want it decorated in items that I can use all year long and I have found my number one item that makes all seasons a hit. The Jasco's Enbrighten Seasons Color Changing Café Lights. These are so fun!
The first thing to learn about these lights is that they are incredibly well made. They are of course energy efficient by being LED bulbs that reduce energy by over 95%. You can connect multiple strands so you don't have to find places to plug each one in. They are made to connect up to 15, 48ft strands. That is 750 feet that you can place all over the yard and still only have one single spot to plug them in. Sweet! They have flexible hanging options so no matter if you need to swoop them or hang them on a single nail you are able to do that. It only took us about 30 minutes to hang 48 ft of lighting." Read the full blog post here.
---
If cozy is more you're thing, Enbrighten Seasons Café Lights are still for you!
Make Your Porch Cozy with Love of Home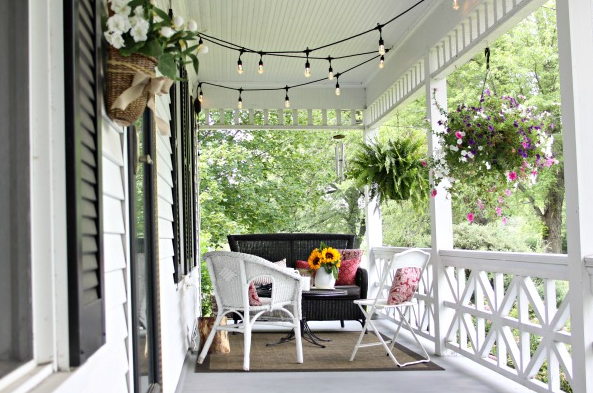 "This year I added lights on our front porch. Last year I loved the way they turned out on the back porch so I was so excited to be invited to try some Enbrighten Seasons Color Changing Café Lights! I love that you can change the color for parties and holidays SO many colors to pick from! Red, blue, green, orange, yellow and they are dimmable too and the remote comes with a timer! My kids loved trying all the colors out. Nothing makes things as cozy as lights, don't you agree?" Read the full blog post here.
A Favorite Space by Mommy Coddle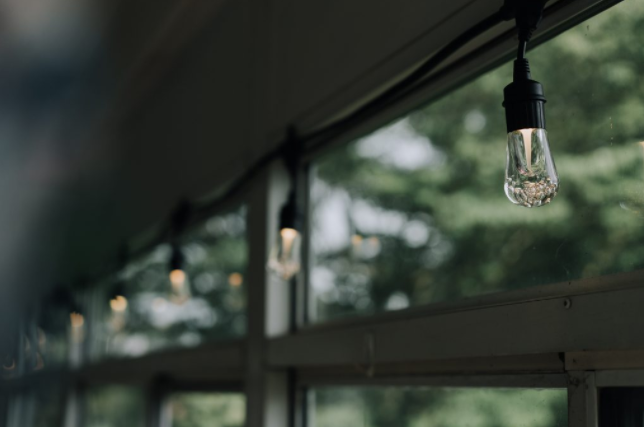 "You can ask my husband, but before we even moved into Waffle Hill last summer I was already telling Dan that I wanted to hang lights on the porch. I had it already pictured in my head. We temporarily strung up some Christmas lights when we took down the tree, but they looked sloppy and weren't the look I wanted.
Immediately there was a mad scramble for the remote control and its sea of buttons. I've talked about it before but the Jasco's Enbrighten color changing lights are unbelievably durable. They can be used inside or out and withstand the weather and wind. The color changing lights have all kinds of fun options–with a rainbow of colors and lighting patterns, you can practically customize them for any season of the year." Read the full blog here.
Brighten up the Patio with Enbrighten Seasons by Mommy Hates Cooking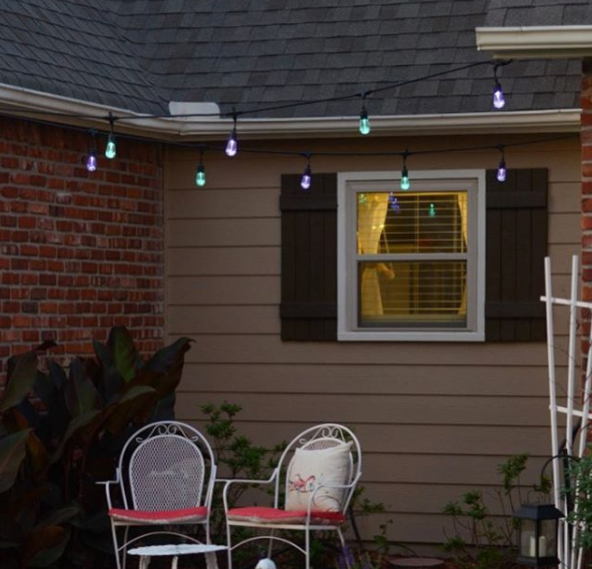 "Shortly after we moved in, we used pavers to make a little seating area and then additional pavers to be used as steps throughout the flower bed. Now, the final touch, Enbrighten Color Changing Lights. These lights completely set the mood for the space and the best part? They change colors! They come with a remote that you can program in different colors depending on the season or mood you are in. That means during Christmas time, you can easily program in the red and green lights or in the summer, why not pink lights?" Read the full blog post here.
Check out all of these amazing uses of Café Lights, outdoor, indoor, and more on the DIY Pinterest board.