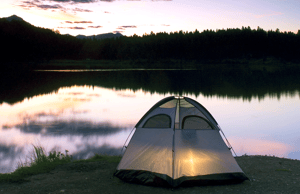 To ensure your camping trip goes well, make sure you have your essential items.
The camping season is nearing as winter finally slips away, but do you have all the right gear and camping supplies to ensure your trip is a successful one?
For first timers, camping can be an extremely intimidating activity, especially for those who are taking young children. However, once you get your first camping trip under your belt, you'll be ready for more trips outdoors.
It's easy to get wrapped up in the all the things you need for your camping trip. While some prefer primitive camping (without electricity or running water), others just want to enjoy the outdoors while keeping their electronics charged and their stereos plugged in.
No matter which style of camping you choose, here are some essential camping supplies for this season:
Tent and sleeping bags
This seems like a no-brainer, but it's absolutely essential to bring something to sleep on and to have things to keep you warm at night. Each camper should be able to easily fit inside the tent. Each tent is sold with information about how many people can fit inside. It's always smart to not put too many campers in a single tent.
If you don't have sleeping bags, consider bringing an inflatable mattress. Using a GE Cigarette Lighter Y adapter can charge two things at once and help inflate your air mattress with a plug in your car. Make sure to bring plenty of blankets as your tent will likely get cold throughout the night.
"One of the easiest mistakes you can make on a camping trip is to forget a lantern."
Sanitizers and water and other important liquids
It's easy to get dirty on a camping trip as you're typically not around faucets and bathrooms as often as you are in your home. However, you should always bring hand sanitizer and water to wash things and keep clean.
You'll also want to bring bug spray, as wooded areas can be swarmed with bugs after a rainy day. Additionally, you'll want to bring water-resistant sunscreen to protect you throughout the day. Also, it's a bad idea to wear heavily scented lotions, colognes and perfumes, as they tend to attract bugs and insects.
Flash lights and lanterns
One of the easiest mistakes you can make on a camping trip is to forget a flashlight or lantern. While on most camp sites you'll start a fire, the second a storm hits, you'll be trapped in your tent in the dark. To ensure you still have enough light to play cards or tell ghost stories, consider Jasco's EcoSurvivor lanterns that are both weather resistant and dimmable.
Jasco lanterns also come with LED light bulb options that have the highest level of energy efficiency and will never need a bulb replacement. Every camper needs a light source to help prepare food for grilling or during an emergency. Having a rugged lantern will ensure your light source will last for many camping trips to come.
USB charging stations
For those going glamping or who enjoy camping in the comfort of their RV, it's smart to bring a USB charging station so everyone can keep their devices plugged in. For longer camping trips, you'll want to make sure smart phones are charged so you can take pictures and use your phone for emergencies on a full charge.
Additionally, USB plugs can keep tablets and other small devices charged for you to watch your favorite movies at night. USB stations can keep you connected with a single electrical plug-in and ensure you're not out in the wilderness with a dead battery.


Get exclusive deals, news, product updates and more on your favorite GE branded products and accessories!