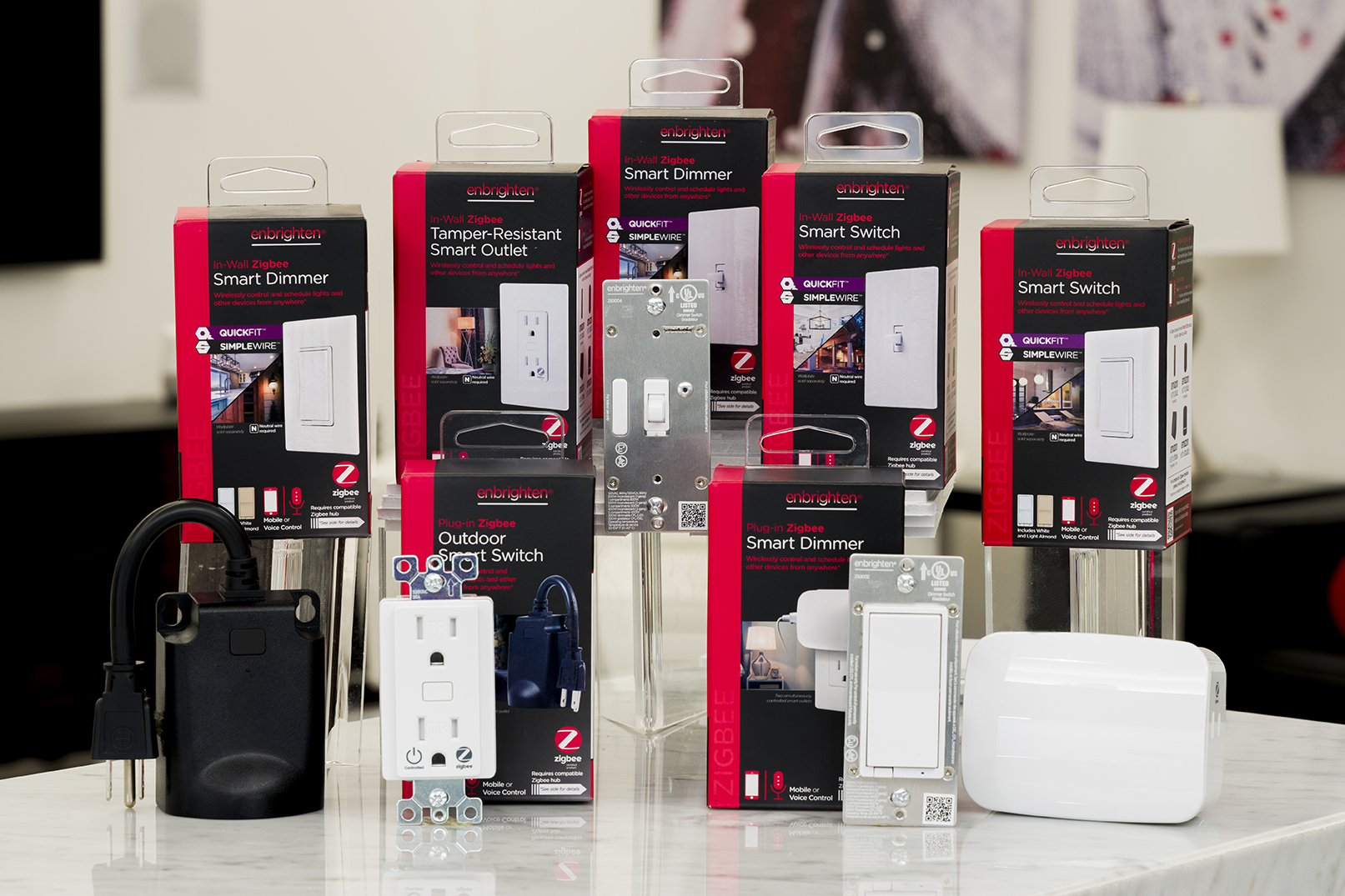 The most extensive line of Zigbee 3.0 smart controls under one brand is here. Enbrighten in-wall and plug-in devices provide an unrivaled comprehensive home-automation solution for every area of your house. The first outdoor smart switch for Zigbee even covers lighting for yards, patios, gardens and more.
In addition to the enhanced convenience and protection of Zigbee 3.0, the smart devices connect directly with premium Echo products with built-in hubs, including Echo Studio, Echo Show 10.1 in., and first- and second-generation Echo Plus, for voice control. Other popular Amazon Alexa and Google Assistant devices can also be used for voice commands when connected through a compatible Zigbee hub. With voice, remote and manual operation options, you are in complete control of lights, fans, décor, small appliances and more.
In-wall smart switches and dimmers have never been easier to install thanks to patent-pending QuickFit™ and SimpleWire™ technologies. A 20% smaller housing depth compared to previous Zigbee models and the elimination of break-off tabs provide the perfect solution for small, crowded switch boxes. Auto-detect line/load terminals and dual offset ground ports offer worry-free wiring.
Fully support corded devices with an in-wall outlet as well as indoor plug-in switch and dimmer models. In a first for Zigbee, lights, seasonal décor, landscape features and other outdoor equipment can be automated with the weatherproof plug-in switch. The in-wall receptacle is tamper resistant and features one grounded Zigbee-controlled outlet as well as an always-on grounded outlet. Indoor plug-in switches and dimmers provide convenient operation of lamps, small appliances and more.
For more information about Enbrighten Zigbee smart controls, visit ezzigbee.com.