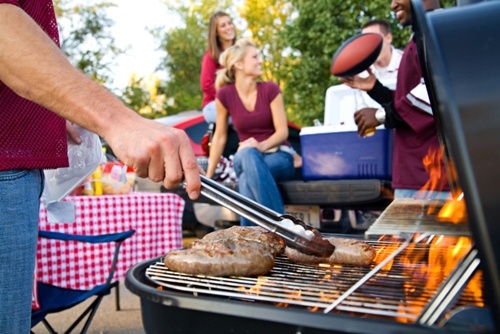 Enhance the tailgating experience with these electronic accessories.
Today's tailgating is nothing like the gatherings in the past. Fans come prepared with grills, food and drinks to prepare for the upcoming game. Some fans take the tradition quite serious and are superstitious about the type of steak that is cooked, for instance.
While food is important for tailgates, so too are the electronics that are brought along. Gone are the days when everyone used standalone radios or car speaker systems to play music. To truly prepare for the upcoming tailgate season, you need a few essential items.
Shine some light
Football games start at various times throughout the season. In college, the earliest games kick off around 11:00 AM on Saturdays, whereas the professionals start at noon on Sundays. There are then the late-afternoon and evening games on each of the respective days. No matter the time of day, your car and tailgate setup needs to have more lighting, particularly when the sun sets sooner.
By utilizing Enbrighten weather-resistant lanterns, tailgaters are ensuring that no matter the weather condition, there will be enough light to see how cooked a burger is, or where the spatula is located. This type of lighting is ideal for the occasion because they are water resistant, even against splashing water, while also being built with impact resistance in mind. Tailgating involves lots of moving parts, such as packing and unpacking tables, grills and food. In all the commotion, something may fall to the ground, but rest assured, the lantern won't break.
You'll find the lighting useful even when the sun is shining because the lantern is built with three different light settings: low, medium and high. Tailgaters that bring open-air canopies can hang these lights and make evening tailgates more exciting.
Car accessories
Most tailgaters arrive at their destination with their car. Some take it even further and customize buses and other large vehicles as the ultimate form of gameday transportation. With that in mind, you can become the go-to person for the necessary smartphone charging accessories. Currently, smartphone manufacturers utilize USB and Lightning charging components. You'll want to stock up on a handful of these accessories so multiple people can charge their devices before heading into the stadium. Of course, you'll also need a car charger with multiple USB slots for phones to get more battery power.
"Avoid accidental drops and smudges by using a strong phone case."
Tailgaters who have recreational vehicles for gameday may want to look into installing wall units built with USB slots for even easier charging access.
Finally, you will need protection for your mobile device. Danger will present itself in multiple forms, such as accidental drops when tossing the football around in the parking lot, and from food. When you go tailgating and spend the day at the stadium, avoid accidental drops and smudges by using a strong phone case. You'll be glad you did.
Football season is officially here and for many fans, tailgating is another aspect to enjoy on gamedays. The next time you go tailgating, you'll want to bring along a few accessories to enhance the experience and enjoy grilled food to the fullest.