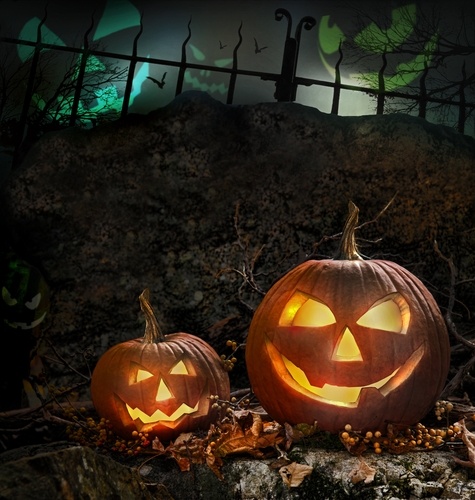 Halloween is a night known for treats but also tricks. While the holiday is associated with costumes, scary movies, jack-o'-lanterns and sweet treats, it's also a night known for mischief ranging from vandalism to robbery.
While fright is a part of the Halloween tradition, fear of crime doesn't need to be. Taking smart precautions and installing home electrical security features can help protect you and your family from Halloween mayhem.
There's inconclusive evidence as to whether crime actually spikes on Halloween, though some cities have reported that it does. While parts of Los Angeles have shown no increase in crime on the holiday, other cities like Boston showed an uptick in violent incidents on Halloween night. The Georgetown neighborhood in Washington, D.C., reported more cases of burglary and theft when Halloween fell on a weekend. The prevalence of masks can also make it easier for criminals to conceal their identity, and police in Spartanburg, South Carolina, reported that masked robberies often occur around the holiday.
Install a home security system
A five-year study from the Rutgers University School of Criminal Justice determined that residential alarm systems decrease crime, not only for the individual homes but throughout the neighborhood. The study found that having a wireless security system installed on a home's doors or windows makes the home and the surrounding houses a less attractive target for burglars.
If you're concerned about Halloween robbery, install a home security system in advance of the holiday. Wireless alarms on doors and windows are easy to install and have the added benefit of being more difficult to bypass than a traditional alarm system where simply cutting a cord can disable the device. Additional safety features such as a home-monitoring camera with night vision can also help to alert you if an intruder is attempting to enter your home.
You can further increase the safety of your house and your neighborhood by organizing with other residents. The National Council for Crime Prevention recommends creating a neighborhood watch to patrol the community on Halloween night.
Leave the lights on
"Turning off your outside lights leaves your home vulnerable to intrusion or vandalism."
Popular wisdom has held that if your home isn't participating in trick-or-treating or you aren't staying in for Halloween night, you should turn your exterior lights off so children know not to ask for candy. However, according to the Miami Herald, this isn't the safest approach.
Turning off your outside lights can actually leave your home vulnerable to intrusion or petty vandalism, the publication argued. Without exterior lights you can't see if someone is on your porch or trying to break into your home.
Leaving your lights off also makes it look like you're not in, and teenagers and other Halloween pranksters are more likely to target homes that look unoccupied. Even relatively harmless pranks like toilet papering the house or filling the mailbox with shaving cream can be extremely annoying and possibly dangerous to clean up.
Instead of turning the lights off, the publication recommends putting out a sign that lets trick-or-treaters know you aren't offering any sweets. Alternatively, you can opt to leave a candy jar outside your home so children can still claim their Halloween candy and you won't have to bother with answering the door. If you choose this option, be sure you have the path to the candy clear of any obstacles that children could trip over, such as lawn ornaments or decoration. You'll also want to add outdoor lanterns to increase visibility for kids visiting your property or use an outdoor timer for your Halloween lights so you don't have to worry about accidentally leaving them on all night and running up that electric bill.
Reach out
Saratogian News noted that Halloween can be especially stressful for older adults who live alone. Seniors participating in trick-or-treating will be opening the door and talking to more strangers than on any other night of the year, which can leave them vulnerable, the publication reported. If you're a senior worried about the increased foot traffic at your home or want someone to keep an eye on your house while you go out for the night, be sure to communicate this with your neighbors. Younger community members should also reach out to their older neighbors.
OTHER POSTS YOU MIGHT LIKE: