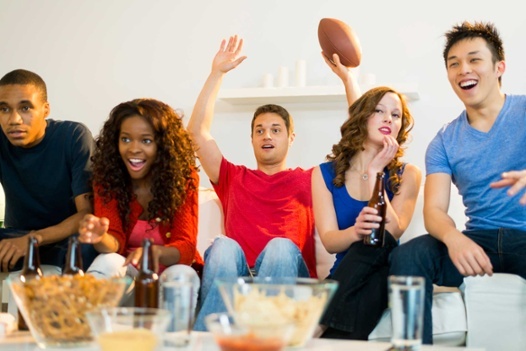 Enjoy the next better by playing music without any wires.
Everyone enjoys going to parties. They're a time for friends and family to socialize and catch up on life's latest happenings. Food, drinks and people will make any night great. No party is complete without the perfect musical mix - from today's top radio hits, to 80s throwback tracks.
While everyone loves a good song, music at parties is often a tricky area. On one hand, the host wants to ensure everyone is having a good time. However, pick the wrong song and the party's mood can almost instantly shift. That's the first challenge of any party. The next is how the host goes about actually playing and selecting the music. Every person has been at those gatherings where a laptop or an mp3 player is connected to the speakers. One person chooses a song, walks away, and the song is subsequently changed. Wires tangle everywhere and before the host knows it, there are 20 DJs vying to play the next song.
The above description isn't a fun atmosphere. Here's how party goers and every host can avoid those nasty cords and eliminate wires:
Hide your wires
You'll first want to examine how the sound is being played within your living space. For instance, do you have a dedicated set of speakers, or do you just play everything through the television? Either option is suitable, but it's important to differentiate because you'll be able to make a better decision with regards to hiding the wires.
The ability to play music through a TV has never been easier, due to a multitude of streaming devices on the market, such as Apple TV, Google's Chromecast and the Amazon Fire Stick. Streaming eliminates the need to hook up the music's source, but you'll still have to deal with the TV's wiring. To get around this hassle, you'll want to mount your flat-screen.
First, you'll need to purchase a compatible wall mount. Most of these accessories are universal, meaning no matter the brand, any wall mount should work. However, there are different types of mounts. For instance, you may choose to use a fixed position mount rather than one that tilts your TV.
Mounting a TV doesn't truly hide your wires. For that, you'll need to get your hands a bit dirty and drill some holes in the wall. If you're a renter, be sure to check with your landlord before making any cosmetic changes.
Go Bluetooth
If you own a speaker system, you'll have an easier time shedding the wires to play music. All you'll need is an audio Bluetooth receiver. Essentially, this device will allow you to effortlessly stream music from your tablet or smartphone to your speakers without restrictive cords
You plug in your speaker to the receiver using the 3.5 millimeter cable and stereo adapter. Your phone then connects to the receiver via Bluetooth, and this process is made even easier if the receiver is NFC capable, meaning you simply tap your device against the receiver to wirelessly connect. Better yet, you'll be able to roam the party quite easily because of the 30-foot range.
Wireless benefits
Going wireless provides many benefits during parties and at other times. First, Bluetooth receivers eliminate the need to constantly plug your device into the speaker system. This limits mobility and may eventually lead to deterioration of the wiring from wear-and-tear.
During parties, the host will be able to have full control over the music. This eliminates everyone else interrupting songs for a new one, or in worse cases, potentially ruining equipment.
With regards to your television, hiding the wires will enhance the aesthetics of the space and reduce any the risk of accidents. This process will require some extra work, however.
"With a Bluetooth receiver, you'll be able to easily roam the party."
Before you host your next party, purchase a Bluetooth receiver for the ultimate wireless connectivity. Eliminating wires will also prevent you from constantly having to check your device for the next song and notifications. Another benefit of a Bluetooth receiver is it eliminates potential accidents. No matter how careful hosts and guests may be, accidents can happen. Any liquids spilled on cords and gadgets will not have pleasant outcomes. The Bluetooth receiver reduces the potential for accidents that could spoil the fun for you and your guests.
After all, it's a party. There should be minimal worries.