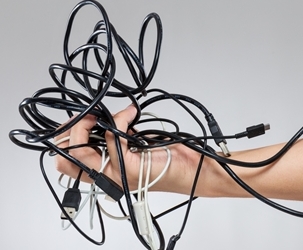 Send your college student off in style with these essential electronics.
In the next few weeks, thousands of students will be taking a step out of the house and into a dorm room. While up-and-coming freshmen gear up for the college life, it's important for parents to make sure they send their kids off with all the necessary items.
Planning for dorm life can be a little tricky as it has likely been a while since parents have spent time in a residence hall. There are several things to consider with today's students, and the majority of issues revolve around technology. It's important to ensure your college student has all the right gear, cords and connectors to keep his or her devices fully charged and operational while living on their own.
Here are a few tips on how to prepare for the dorm room lifestyle:
1. Know what the dorm doesn't include
Many dorms in the U.S. still do not include essential appliances and connections. For example, you may have to purchase your own mini-fridge or microwave. Additionally, not all dorms have a cable television connection. To ensure you can catch up with all the latest shows, you'll want to purchase a GE Ultra Edge Series Amplifier Antenna. By searching the college's zip code on Jasco's website link here, you can find all the channels that are included on the antenna. An added bonus is no cable bills!

2. Be ready for limited wall outlets
If your college student is sharing a room with other kids, you want to make sure they have enough outlets to charge all of their devices. Most college students have a tablet, camera, smartphone, laptop and sometimes a portable video game device.

All these things need to be charged, and outlet space runs out pretty quickly in shared dorm room. Instead, send them off to college with a GE Charging Station with 4 USB ports and 4 AC outlets with built-in surge protection. Your student will be able keep their electronics protected and charge multiple devices at the same time. The charging station's unique design also offers a mounting shelf for your device, making charging more convenient in small spaces.
If that's not enough, look into the various advanced GE branded surge protectors and power strips by Jasco that can turn a single wall outlet into a massive charging and power gateway. This will let college kids power and protect bulkier items like televisions, stereos, mini-refrigerators and microwaves.
"College students rely on music streaming services more than anything, which include sites like Spotify."
3. Provide all the wireless capabilities
Nowadays, students rely on music streaming services more than anything, which include sites like Spotify, Apple Music and Tidal. With a Bluetooth receiver, college kids can easily connect their phone wirelessly to their stereo or television speakers and play anything from their phone. Additionally, more than one device can be connected to the receiver, so the other kids in the dorm room can connect their device to the receiver as well.

Impress your son or daughter with the GE HD Audio Bluetooth Receiver with NFC technology. This device allows users to wirelessly connect to their stereo system to play music.

Another wireless device that comes in handy is the GE Wireless Bluetooth Keyboard. No matter where they are, they can connect to their desktop or laptop wirelessly with a keyboard and mouse option.

This gives them on-the-go power that is certainly needed for the busy college lifestyle.
4. Bring the right cords
If you're sending your kid off to a college that is hours away, they can't just take a trip home to get something they forgot. For this reason, you want to make sure you bring all the right cords to connect their devices.

Bring important cords such as the GE UltraPro HDMI Braided Cable so they can connect computers and televisions to gaming devices. The last thing you want is them not having the right cord when you leave. HDMI cables can also be helpful for practicing for class presentations by connecting your laptop to your TV. There are plenty of important cables that can get easily overlooked like component video cables, auxiliary cords, and even coax cable.

Last but not least, make sure they take some cable ties to keep all those wires and cables under control in those small dorm spaces. Their roommate will appreciate it! These colorful flex ties can be found at your local Target and will come in handy for keeping charging cables or ear buds organized on-the-go between classes.

Send your freshman off in style and help them be prepared for anything with these tech essentials for a connected dorm room.