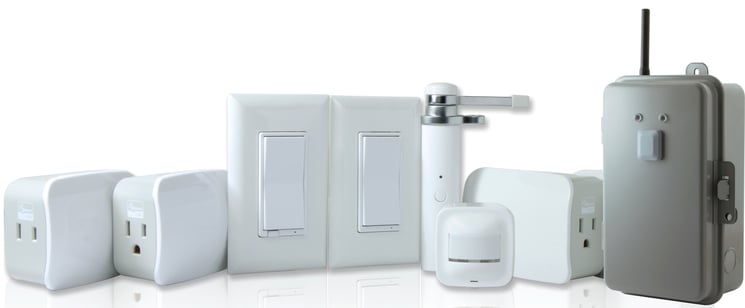 Whether you'd like to adjust your home's lighting for convenience, security, or to simply save more money, we're making it easier to keep your home safer, smarter and more secure. We are excited to announce the availability of three new products joining the largest line of Z-Wave connected lighting controls. Starting today, our new GE Z-Wave Plus Smart Door Sensor, Portable Smart Motion Sensor and 40 Amp Outdoor Smart Switch are now available online and in stores at major retailers.
Here's the scoop on our newest Z-Wave Plus products:
Z-Wave Plus Smart Door Sensor

This patent-pending Z-Wave Plus Smart Door Sensor is the industry's first battery-operated door sensor that discreetly fits onto the door hinge to monitor when your door opens and closes. The small, unobtrusive sensor is fixed in place by the door hinge pin and moves with the door without altering the room's aesthetics. This innovative design means not having to worry about wires, door trim or crown molding interfering with the door sensor. (It also means no drilling, sticky tape, wires, or an unsightly block on your door!)
The GE branded smart door sensor uses Z-Wave Plus technology to wirelessly trigger scenes throughout your home and send and receive information to your Z-Wave hub, helping you stay safe and in control of your home at all times. By simply opening and closing the door, you can automate your lights to turn on and welcome you when you walk in, automatically adjust your smart thermostat, receive alerts or trigger alarms when doors unexpectedly open. The GE branded Z-Wave Plus Smart Door sensor works with leading Z-Wave hub providers like SmartThings, Train, LG, Nexia and more and is available online at ezzwave.com and amazon.com.
Z-Wave Plus Portable Smart Motion Sensor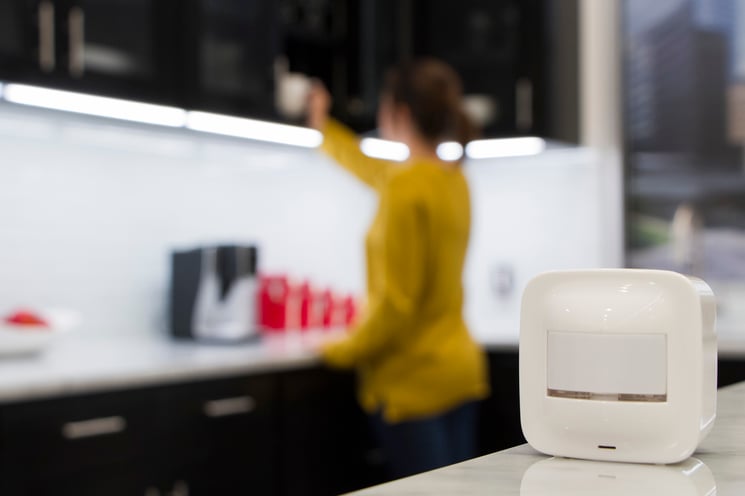 The GE branded Portable Smart Motion Sensor with Z-Wave Plus technology takes convenience to the next level. Placed in key locations like laundry rooms, hallways or the garage, the Portable Z-Wave Motion Sensor can signal lights to turn on and off based on occupancy, giving homeowners the convenience of hands-free operation and added energy savings. The discreet, versatile sensor can be mounted on the wall or ceiling or simply placed on a shelf, table, or desk–making them perfect for any room with a 180-degree detection range up to 45-feet away. The motion sensor can be powered by the built-in batteries or from USB power. The GE branded Portable Motion Sensor MSRP is $49.99 and is available at Wal-Mart and online at ezzwave.com and amazon.com.
Z-Wave 40 Amp Direct Wire Smart Switch
The GE branded Z-Wave Direct Wire Outdoor Smart Switch delivers simple automation for hard-wired appliances like water heaters, landscape lights, spas, pool pumps, baseboard heaters and more. Perfect for year-round use, the GE branded Direct Wire Smart Switch works with all Z-Wave compatible hubs for wireless scheduling and remote energy monitoring of appliances up to 40 Amps. Housed in a lockable, tamper-resistant metal case, the weather-resistant design is durable enough for extreme weather conditions and ensures wiring and settings are secure while keeping out dirt and debris. Save up to $2,200 each year on pool pumps or up to $150 on your water heater by scheduling runtimes and monitoring energy usage with state-of-the-art energy monitoring capabilities*. The GE branded 40 Amp Z-Wave Direct Wire Smart Switch has an MSRP of $179.99 and is available at Home Depot and online at ezzwave.com and amazon.com.
Go behind the scenes and learn more about our latest Z-Wave Plus Motion Sensors in this interview with one of our product experts at Jasco:
---