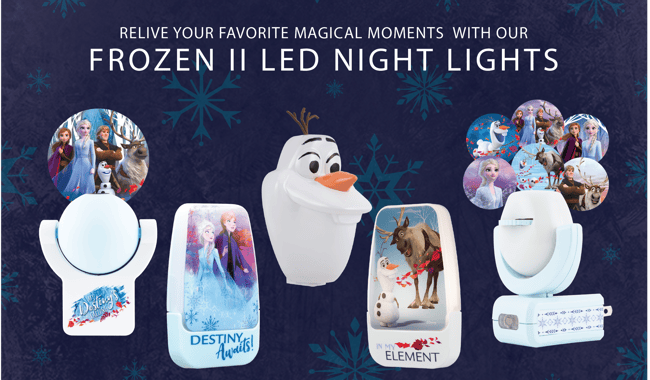 Anticipation for the sequel to Disney's modern animated classic Frozen is at an all-time high. Following the next movie release, kids will be once again be belting out the verses of "Let it Go" or "Do You Want to Build a Snowman?". Fans young of age and of heart will be clambering for the wave of exciting new Frozen toys and merchandise that will inevitably wash over the marketplace. And rightfully so! When it comes down to it, who can resist the loveable charms of Olaf or the heroic spirit of Anna?
What no one can resist is the smile on the face of a child when they get to bring home an aspect of a story that has inspired them to embrace their own voice; the magic of their own personality. When the first film released, we at Jasco Products were excited to be able to release a unique lineup of items officially licensed by Disney. And with the sequel just around the corner we are very proud to introduce our brand new Frozen II night lights!
1. Light-Sensing LED Mini Night Light feat. Olaf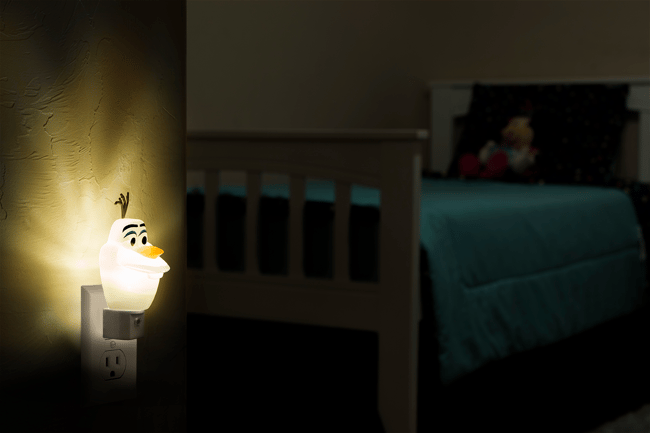 Features: The goofy face of Olaf is showcased with this fun night light. Emitting a soft white light glow, it also automatically turns ON at dusk and OFF at dawn. The charming light also saves you space and money with minimalistic design and cool-to-the-touch LEDs.
2. Light-Sensing LED Night Lights Olaf & Sven and feat. Anna & Elsa

Features: Two of a good thing is always better than one. That's why these night lights are illuminated by a pair of dynamic duos. Light your bedroom, bathroom or hallway with the goofy presence of Olaf and Sven, or the powerful sisterhood of Anna and Elsa. With ON at dusk, OFF at dawn technology and long-life LEDs, you simply can't go wrong!
3. Projectables® LED Light-Sensing Night Light feat. Frozen II Characters
Features: Utilizing our own innovative Projectables® technology, we've created a fun night light that projects six images that showcase official character Frozen II character art! Casting cool scenes of Elsa, Anna, Kristoff and more onto your wall, ceiling or floor isn't the only thing this LED night light is capable of. In addition, we've implemented our ON at dusk, OFF at dawn feature that saves money without sacrificing style!
The best thing about these officially licensed collection of night lights is that they are each UL-listed for safety, cool to the touch, cost saving and come with a 90-day guarantee for your peace of mind! These night lights aren't just top-of-the-line LED products, they are also incredibly unique collector's items that will surely bring a smile to the faces of the young in age and of heart alike.
Check out these pages for more Projectables with characters from your other favorite movies!