OKLAHOMA CITY, July 27, 2022 – Leading consumer products manufacturer Jasco today announces the opening of a new automated distribution center in Oklahoma City, Oklahoma. Jasco CEO Jason Trice hosted Governor Kevin Stitt and local business leaders for a tour of the fully operational center, marking its official unveiling.
Automating the activities in the 500,000 square foot distribution center - including automated shuttle storage and retrieval system, inbound carton system, semi-automated ergonomic palletizer & wrapper, and pick and pack stations - will not only improve the overall experience for Jasco's retail partners and customers, but also ensure the company can accommodate the continued growth of the ever-changing retail and e-commerce markets. The center is designed to: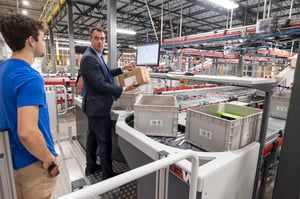 Ensure accuracy of inventory
Minimize order shortages
Cut down on fulfillment time by 4-7 days
Deliver higher order fill-rates
Minimize chance of damage to packages
In addition to increasing productivity, automation also benefits employees by making jobs safer, less physically demanding and more ergonomic, and easier to cross-train, providing many new skills and opportunities for team members. With the sophistication of the technology, Jasco created six new high-tech positions to maintain the Warehouse Control System.
"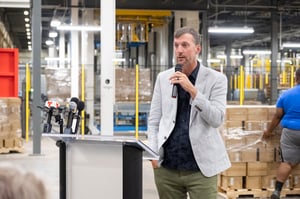 Jasco is committed to serving our customers, team members and communities with the best experience possible," said Trice. "Automating our distribution center positions Jasco for continued growth and ensures that we maintain our leadership position in a competitive marketplace to create additional opportunities to give back to our community."
During the unveiling event and tour, Jasco leadership, Governor Stitt and members of the Greater Oklahoma City Chamber of Commerce discussed the positive impact the center will have on Oklahoma being a Top 10 state, surrounding community, and what the automation of the distribution means to the company and its employees.
"I am thrilled to see a company that shares Oklahoma's values of innovation and community engagement continue to invest in our great state," said Governor Kevin Stitt. "Jasco's strategic expansion is a testament to our pro-business environment and is further proof that Oklahoma is the place to be for any business who wants to thrive."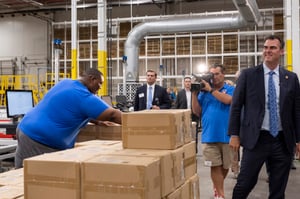 "On behalf of the Greater Oklahoma City business community, we want to congratulate Jasco on the opening of its new, state-of-the-art distribution facility," said President & CEO of the Greater Oklahoma City Chamber Roy Williams. "For decades, Jasco has been a committed community partner and we are thrilled to see how they grow with this latest expansion."
Jasco partnered with TGW Logistics and Burns & McDonnell, two world-class organizations on the design and construction of the automated distribution center.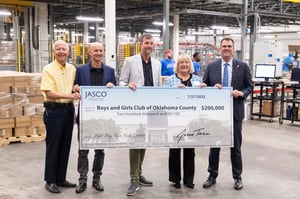 At the event, Jasco – through the Jasco Giving Hope Foundation – presented a $200,000 check to representatives from Boys & Girls Club of Oklahoma County. This donation is part of a 3-year commitment to equip the Best Buy Teen Tech Center® powered by Jasco with tech access, training and mentorship to young people in the community. Elements of the Teen Tech Center include a music studio, digital design equipment, computers, 3D printers and more.
"We're committed to improving tech equity by giving teens unparalleled access to cutting-edge technology and mentorship," added Trice. "We're proud to work together with the Best Buy Foundation and the Boys & Girls Club of Oklahoma County to build brighter futures for teens in our communities. These resources will help prepare our youth for the tech-reliant jobs of the future."