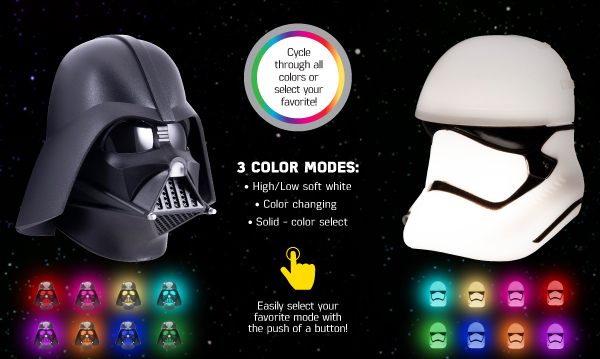 Jasco recently launched a new line of Star Wars licensed products and is excited to embrace the "light" side of the force with new color-changing night lights and Projectables® night lights.
The iconic movie franchise joins Jasco's line of Projectables night lights that bring characters to life by projecting images of popular movie scenes and characters on to the ceiling or wall. Projectables are cool-to-the-touch with energy-efficient LEDs, making them safe for any room in the house, and the built-in light sensing technology turns the night light on at night and off in the morning.
In celebration of Star Wars Day on May the Fourth, Jasco has released a full line of Star Wars themed Projectables and color-changing night lights featuring iconic characters including Yoda, Chewbacca, Darth Vader, R2-D2 and more. Jasco will also be releasing more night lights this fall.
Darth Vader mask color-changing LED night light
Stormtrooper mask color-changing LED night light
Projectables Six-Image night light
Projectables X-wing Fighter Single-Image night light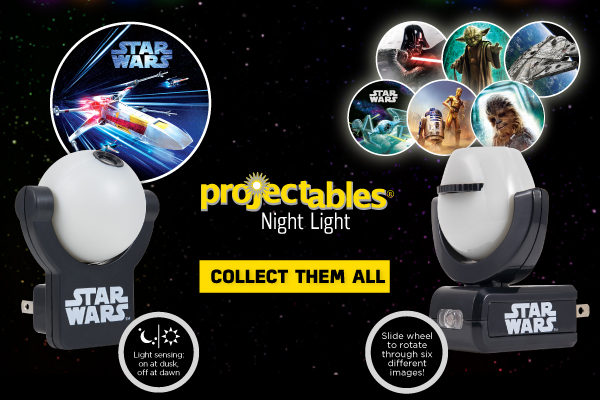 You can shop the full collection here.
Star Wars Projectables night lights and color changing lights are available online and at several retail locations, including Target, Amazon, and Best Buy. Make sure you're subscribed to our monthly newsletter for the most up-to-date news on upcoming product releases!