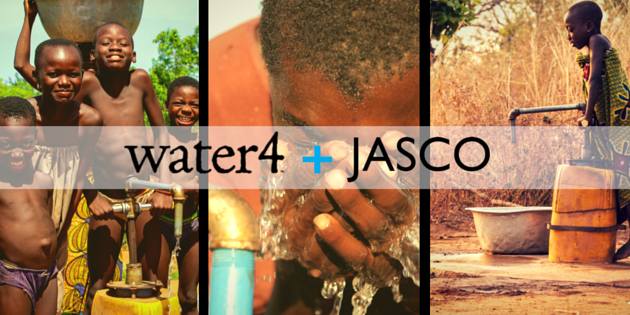 We recently announced Jasco is partnering with Water4 this year, a leading non-profit organization providing access to clean drinking water to a quarter million people and counting, at CES 2016 to help save lives and benefit thousands around the world. Together, we're working to transform the quality of life for people and entire communities around the world by helping rapidly increase the number of people with access to safe water.
We're calling on all CES attendees to help fight the global water crisis with us at Booth #9005 (Central Hall, LVCC).
It's More than Charity. It's Opportunity.
CES is a place to find all the latest technology that is changing the world. Jasco proudly supports and invests in technology that is changing the world into a cleaner, safer place to live. The global water crisis claims 3.4 million lives each year. Water4 transforms communities by putting a sustainable solution in the hands of local men and women. The model offers jobs and training to local community members to maintain pumps and continue drilling new wells, creating a sustainable model and ongoing business opportunities.
"Water4 and Jasco are both innovators in our respective industries. Jasco is changing how people simplify their lives and connect their homes with disruptive solutions, and Water4 has fundamentally transformed the traditional charity model for solving the global water crisis," said Cameron Trice, Jasco CEO. "Through the strategy of empowerment and sharing knowledge, resources and technology, we believe we can make a difference together."
"Water4 goes into an area and we train the locals how to drill water wells on their own," said Water4 Founder, Dick Greenly. "By teaching a group to drill water wells, we leave behind the tools and a ready-made business for them. Instead of giving them a water well, it gives them a job, it gives them purpose, and it gives entire regions clean water all in the same package."
Making a Difference at CES 2016
Jasco will donate $1 for every visitor badge scanned at our CES booth.
Jasco will match all contributions made to Water4 to help solve the water crisis during CES.
Jasco will donate an additional $1 for each person who includes #Water4Change on Twitter, Facebook or Instagram between January 6-9.
By visiting the Jasco booth, CES attendees will be giving people the opportunity to change their lives and their entire communities.
"We believe in the remarkable power of individuals committed to working together towards a shared vision," said Trice. "Together we are making an impact. We're not just growing a company. We're changing the world and making it a better place."
Check back for more about the Jasco and Water4 partnership, visit booth #9005 located in the Central Hall of the Las Vegas Convention Center from January 6-9th at CES 2016.

Donate to clean water during CES,
and we'll match your contribution dollar-for-dollar.
---