Landscapes of the Future
Landscape lights — we all know they're great at making our homes look fabulous. We love their high-powered LEDs, weatherproof design, burial-grade cable, flexible mounting options, multiple modes, vibrant colors, remote controls, year-round style — the list goes on.
Want to light your garden? Landscape lights. Need to illuminate a walkway? Landscape lights. They're simple to install and operate, just plug them in and your yard looks great! But what if you want to go a step beyond greatness and transform your lighting world in a "smart" way? Enbrighten's Wi-Fi Landscape Lights provide just that — an easy, intuitive way to upgrade the way you light your home.
The Perks of Wi-Fi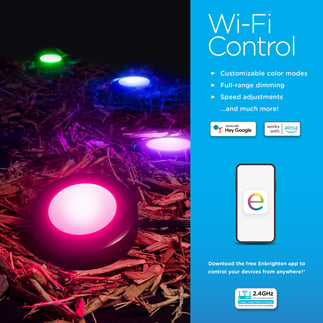 Since the creation of the wheel, mankind has been integrating with new and exciting technologies. And while we've not quite reached a flying-car utopia, the implementation of Wi-Fi into our daily lives has had an enormous impact. Connectivity, and the convenience it provides, is vital. In a more archaic era, you would have to undergo the arduous task of punching buttons or flipping switches every time you simply wanted to turn on a light. Now, we have smartphones with user-friendly apps to manage entire lighting ecosystems from anywhere. Especially in the case of Wi-Fi landscape lights, the ability to maintain a constant Bluetooth connection after initially pairing is incredibly useful. To streamline things even further, you can control your lights with the power of your voice using Amazon Alexa or Google Home. With constant connection right at your fingertips, the options are endless.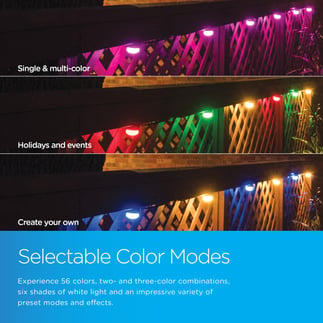 Options are Everything
There's more to these Wi-Fi landscape lights than an easy way to turn them on and off — much more. Within the intuitive Enbrighten app you can fully personalize your space using an impressive variety of colors and dynamic modes. Right at your fingertips, there are 56 vibrant single colors and six types of white light to choose from (all of which are dimmable). Want to mix things up a bit? You can endlessly fuse your favorites into two- and three-color combinations. The modes and presets are truly incredible. There are dazzling themes for holidays, flowing effects for every mood and unparalleled customizations to create your own! Whatever the occasion, whatever the season, options are everything.
Set It, Forget It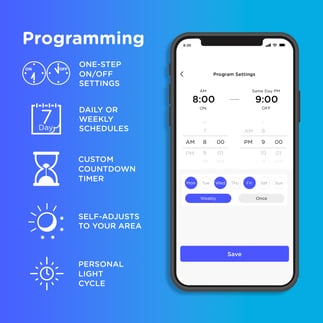 We've established how Wi-Fi delivered us from the dark ages and into a more refined age of smart lighting. With streamlined scheduling and automations, there are now even more ways to simplify your experience. Luckily, you don't need to have a "type-A" personality to appreciate the comprehensive organizational tools at your disposal. Using the automation settings, program your Wi-Fi landscape lights to turn on when a selected condition is met. For example: when the sun sets, temperature drops or even if wind speed kicks up. Scheduling is much the same — simply choose the days of the week your landscape lights will be used and the preferred window of time. You can even group multiple sets of your Wi-Fi landscape lights and apply your scheduling and automations to all of them at once!
Lighting for Life
Smart landscape lights — they're packed with awesome modes, bright colors, effective automations and a premium style. The intuitive Enbrighten app, found in the Apple App Store and on Google Play, is the best-in-class control center for your upgraded lighting setup. No matter the shape, size or version, these Wi-Fi LEDs will transform your yard in a powerful way. The connectivity doesn't have to stop there! Providing plenty of options to build and customize your home, you can easily add café lights, under-cabinet light fixtures, flex lights, bulbs and more — all smart, all Wi-Fi, all Enbrighten — all controlled from the convenience of your phone. Lighting for life has never been easier.