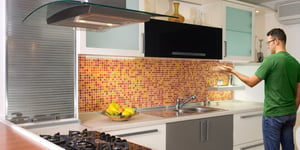 For an easy home improvement project, consider installing LED under cabinet light fixtures.
Typically, the majority of your home's cabinets are in the kitchen, which is an area that needs plenty of light sources to cook, clean, measure, cut and prep. Doing these things in the dark could lead to an overly salty dish due to using the wrong measuring cup, or even a trip to the emergency room for a sliced finger.
Instead, using LED under cabinet light fixtures could help you illuminate your stored items and everything from spices to coffee makers underneath the cabinet. Also, under cabinet lighting creates a soft even glow in your kitchen, instead of an overly bright illumination.
Before you choose your next home improvement project, here are five reasons LED under cabinet fixtures should be in your house:
1. Spreads out light sources
A problem with many interior lighting options is that a single fixture in a room can create shadows and dark areas because the light bulb's illumination doesn't spread across the entire room. Instead of installing a massive light fixture, you can plan out the lighting more evenly with LED under cabinet fixtures.
These types of light fixtures allow direct light to shine on an object, which eliminates any pesky shadows on your counters. This ultimately helps you see clearer and have brighter sight of things in the room. With fewer shadows, you're less likely to miss dirty spots on the counter and on appliances.
2. Energy efficient
LED light bulbs are the most energy-efficient light resource you can purchase. They last much longer than any incandescent or compact florescent light bulb. Additionally, LED under cabinet light fixtures are bright enough to light up your entire kitchen without using multiple fixtures.
In terms of energy reduction, you will be able to save money as you use your under cabinet fixtures as the primary light resource. At the same time, you'll be going green with less energy waste, and you won't have to replace these bulbs for years.


3. Low cost home improvement project
If you're looking to save some money on your next home improvement project, installing LED under cabinet lighting might be your best bet. These light fixtures are completely affordable and often come in packs, so you don't have to purchase several different bulbs. Also, this lighting project could help you transform your kitchen or study while staying on a budget. You'll be surprised how different your room looks after you install LED under cabinet light bulbs.


"Most can install under cabinet lights completely on their own."
4. Uncomplicated installation and maintenance
For those who maybe aren't the best with a set of tools, LED under cabinet light installation can be a quick project. The majority of people who install under cabinet lights can do so completely on their own. Most LED light fixtures can be installed at the base of your cabinets with little to no wiring. There are even wireless remote control LED lights available that can be turned on and off with the click of a button.


5. Variations in types of lighting
Another great thing about LED under cabinet light fixtures is that there are plenty of variations. Jasco offers numerous types of GE branded under cabinet lighting, such as LED bars, LED utility lights, LED puck lights, direct wire light fixtures and other light bars as well. The different variations allow you to choose how warm or bright you want your countertops to be underneath the cabinet light fixtures. Depending on your home or room, you may want to have as many options as possible.
Get more

helpful

tips

like this plus

exclusive access

to the latest deals, product updates and more on your favorite GE branded

products

for your home.