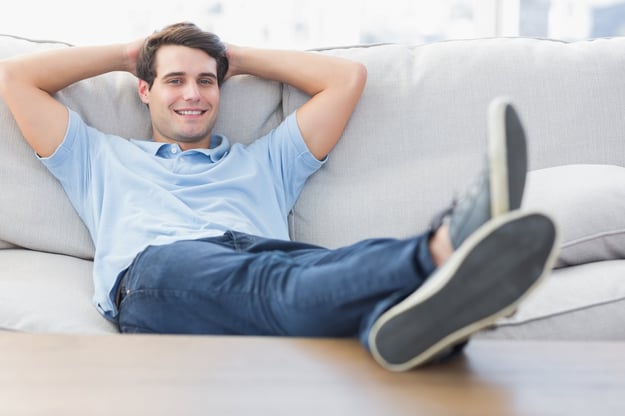 Necessity is the mother of invention, and when it comes to universal remotes, that's true. Who doesn't miss getting up from a comfy couch just to switch TV channels or adjust the volume? In the 1950s, Howard Manischewitz grew tired of television commercials being louder than the actual TV programs. So, he quickly came up with a solution that allowed him to turn off the audio without having to leave the comfort of his favorite chair. He called his new invention, "Blab-Off," for obvious reasons. Universal remote controls have come a long way since the Blab-Off, and their evolution is certainly keeping up with the times. Two of the most recent innovative universal remotes include a companion remote and a Bluetooth programmable remote. What sets them apart are their amazing bonus features that are sure to save time and make your life easier.
Companion Remotes for Fire TV and Roku
On one side, this companion remote looks like a standard remote baton. However, if you flip it over, you'll notice a unique opening. This compartment is designed to securely house your compatible Amazon Fire TV or your Roku streaming remote. Brilliant! Seriously, who hasn't lost their streaming media player remote? This innovative design takes care of that. Simply remove the universal remote's back cover, slide your compatible streaming remote into position, add batteries and replace the cover. That's it! Your streaming remote is now one with your universal remote. When you're ready to stream your favorite content, simply flip over your universal remote. Your streaming remote is already in hand and ready for action...or drama or comedy or whatever you're in the mood to watch.
Bluetooth™ Programmable Remote

If you're familiar with some of the fancier radio frequency universal remotes but don't like the price tag, then you'll love this affordable Bluetooth™ programmable universal remote. It works like any other universal remote that uses infrared technology to communicate with your AV equipment and is compatible with most devices. However, this remote is also programmable using Bluetooth™ technology and offers some outstanding features through the free myTouchSmart Remote Control app. The app makes programming your remote fast and easy — imagine being able to complete setup in five minutes or less! The app also has some bonus features that are simply amazing! Ever lose your remote? The app's Find-It feature is the perfect solution. Simply tap the Find-It button in the app. It will signal your lost remote to beep if it's within range (approximately 30ft.), making it easier to find. Another stellar feature is Scene Control. This feature lets you input up to 40 commands to automate your home entertainment system with the tap of a single button. For example, if you're a major streamer, you can program a scene to turn on your TV, surround sound and media player, select the correct input on your TV and choose your preferred streaming channel, such as Netflix, Prime, etc. You can even program multiple scenes, so you're set for any occasion. Simply open the app and tap the scene you wish to activate.
So, is it time to upgrade your universal remote? Whichever one you choose, these innovative remotes are sure to give you the most bang for your buck!