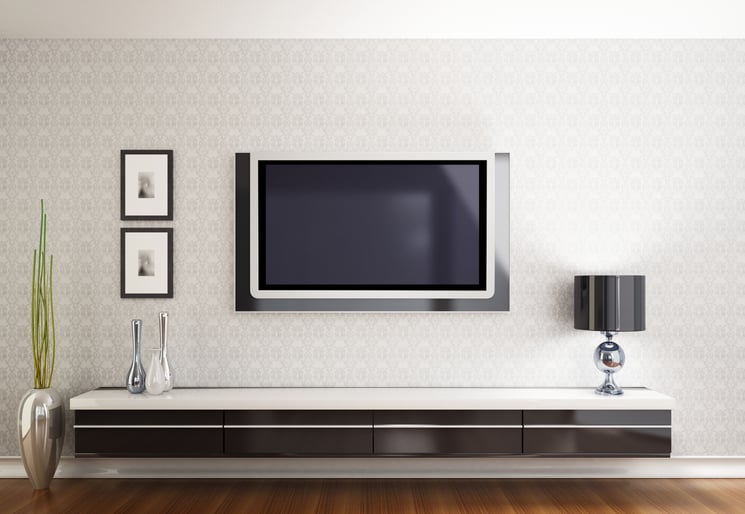 There are plenty of benefits to mounting your television.
Surprisingly, there's a lot of debate on the pros and cons of mounting your television in your home. Some people think the process is either too difficult or dangerous, and don't want their brand new television dangling from the wall.
However, installing a television wall mount isn't painstaking labor, nor is it a complicated task. Additionally, there are several benefits to putting your TV on a wall mount. Here are four reasons to consider:
1. Flat screen TVs are supposed to be mounted
Let's start off with the most basic and essential reason to hang your television from the wall: The device was designed to be mounted. Flat screens have specific attachable bolts meant for hanging on the wall to give you optimal viewing options.
"Mounting your TV helps your eyes and neck since you use correct angles and tilts.
2. You add space to your home
Using a television mount is not only efficient, but it saves you a ton of space. Having the extra room by putting your television on the wall gives you more area to work when setting up your home entertainment center.
3. It helps prevents neck and eye strain
Mounting your television helps your eyes and neck since you can move your mount at an angle or tilt. This is especially useful if your mounting at a higher level above a mantle or fireplace. Make sure your TV mount has a full motion feature, which will allow you to watch your TV at the correct height and angle and will reduce strain from watching at improper angles.
4. It really is easy to install
You might not believe it, but you can usually mount a television with the assistance of one other person in about an hour or less. GE branded TV wall mounts from Jasco come with easy installation directions and integrated hardware like the built-in bubble level to ensure a quick simple process and a perfectly straight TV, the first time.
Get helpful tips, exclusive deals and updates straight to your inbox every month: