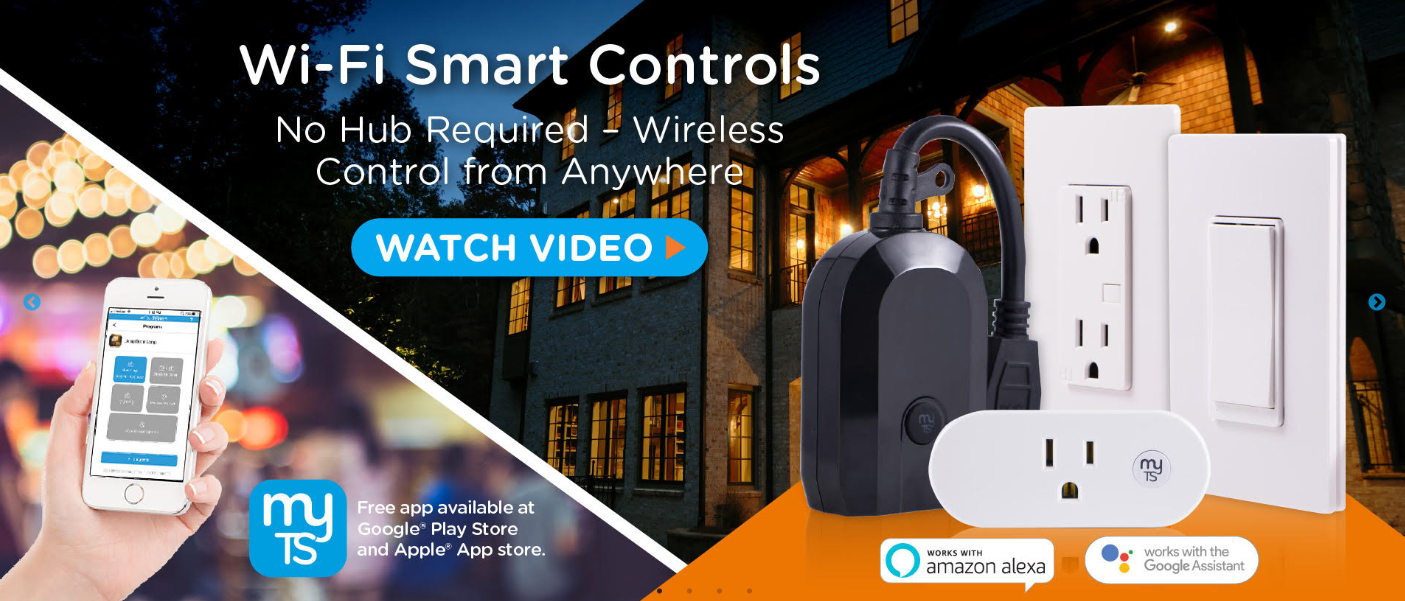 We recently announced our new line of myTouchSmart Wi-Fi smart controls. This new ecosystem delivers simple automation to indoor and outdoor lighting and small appliances--without a hub or bridge required.

The myTouchSmart Wi-Fi family includes indoor and outdoor smart plugs, along with in-wall outlets and switches that easily transform any home into a smart home. Users can wirelessly control lights and other connected devices from anywhere using the intuitive app or by voice with Google Assistant or Amazon Alexa.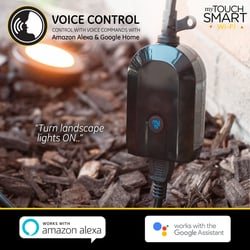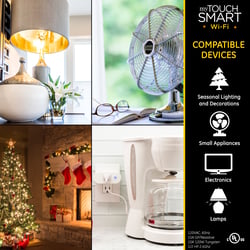 With a simple setup, each myTouchSmart product can be quickly paired with LED, CFL, halogen, or incandescent light sources to deliver simple automation to lighting. The user-friendly myTouchSmart app allows homeowners to choose between preset or custom programs to schedule ON/OFF times for any day or time of the week. Preset options include dusk to dawn, an evening setting, a morning setting, and more.
The current line of myTouchSmart Wi-Fi products include:
Indoor Smart Plug:

Ideal for indoor lighting, the smart plug features a space-saving design and occupies only one outlet, leaving the second receptacle free for another device or a second smart plug.


Outdoor Smart Plug:

With rugged, weather-resistant construction, this durable outdoor plug is ideal for controlling landscape lights, cafe lights, fountains, seasonal decor and other outdoor and indoor appliances.


In-Wall Smart Outlet:

With one Wi-Fi controlled outlet and one always-on outlet, the tamper-resistant outlet replaces any existing standard outlet to automate anything you plug into it.


In-Wall Smart Switch:

Easily replace existing switches with this Wi-Fi switch (single pole and 3-way) to control one or more lights from anywhere via the app.
This new line makes it easy for people to automate their lights to be on when they need them most, and use voice commands to turn them on or off, giving you the best of both worlds. The Wi-Fi-smart products are compatible with Amazon Alexa and Google Assistant to control connected lights and devices without lifting a finger. The app is available for Android or Apple devices.
You can learn more about the new line of myTouchSmart Wi-Fi smart home products at www.mytouchsmart.com.