Accomplish your dreams of automating your space with a touch of a button with the new Philips Wi-Fi enabled home power products. With multiple outlet configurations, including surge protectors, wall taps and extension cords, you can have the perfect mix of always-on outlets and independently controlled Wi-Fi outlets powered by the easy-to-use Philips SmartSelect app available on the Apple App Store and on Google Play. These products are 2.4GHz Wi-Fi compatible and several pairing options provide hassle-free pairing of devices with a variety of routers. Gain control of your Wi-Fi enabled outlets with the simple on/off switch from your app.
Enjoy features through your Philips SmartSelect app such as:
Easy Scheduling
Schedule outlets to come on at certain times on chosen days throughout the week to match your own schedule. Make waking up easier by setting your coffee machine to flip on around the time you wake up. You can also have your lamps power on throughout the house only around the sunsets and sunrises to save energy. Timers available through the app can be set to have a certain light flip off to alert you when it's about time to leave for an event, or power down video games at night for the kids.
Unique Automations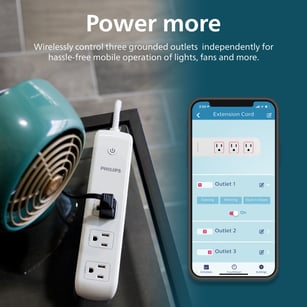 These products not only work off time, but also weather and locations. Easily set up personalized automations, such as having your fan turn on once the weather in your selected area hits a certain temperature or program your lights and appliances to turn on once your phone is within a certain range of your home, so you never have to come home to a dark house again.
Independent Control
Independently control each Wi-Fi enabled outlet with a touch of a button or unique schedules for maximized control. Multiple devices aren't restricted to the same commands when connected to the Wi-Fi outlets of a surge protector, wall tap or extension cord. Independent control through the SmartSelect app allows every connected appliance to be turned on or off or have automated schedules without influencing other items plugged into the same power source. Philips devices that feature always-on outlets also provide the option to continuously power equipment that doesn't need to turn on and off.
Helpful Voice Control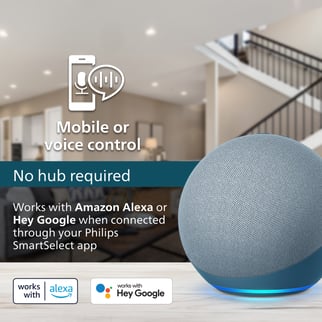 Direct compatibility with Amazon Alexa and Google Assistant allows convenient voice commands without a hub, meaning that if you run into that all-too-common problem of searching around late at night for a light, you can instead call out, "Turn on the lights" to flip on your Wi-Fi outlet.
Coherent Room Grouping
Organize Wi-Fi enabled outlets by rooms or homes in the app to control several outlets at once. Set up automations specifically for your living room, bedroom or kitchen. Another plus is being able to simply switch off the Wi-Fi enabled outlets in entire rooms or the whole house from one group automation if necessary.
Along with these useful new features, you can also enjoy the incredible features associated with trusted Philips home power products, like tangle-resistant braided extension cords, surge protection and built-in LED lights that indicate when your devices are protected. These devices provide endless opportunities to improve your daily life. If you are looking for more power and control where you need it most, look out for these Philips Wi-Fi home power products and new ones on the way at Walmart, Target or on byjasco.com.