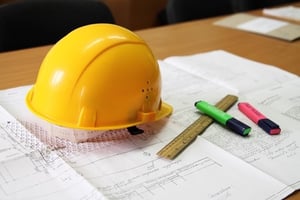 This spring, you might not need the tool belt to do your home improvement projects.
With spring upon us, many residents and homeowners are ready to hit the hardware store and begin their big home improvement projects for the year. However, some people like to keep things simple and only work on minor improvements to their home.
Any home improvement project whether big or small could help develop your home and possibly save you some money in the long run. Here are a few simple home improvement ideas for the spring:
1. Transition all light bulbs to LEDs
You don't need a big tool belt and table saw for this home improvement idea, just a little knowledge about energy-efficient lighting. To save the most on your energy bills, switching to LED light bulbs could save you big time in the long run. According to the U.S. Department of Energy, homeowners can save approximately $75 annually by switching their most common light fixtures with LED light bulbs.
Incandescent light bulbs give off a lot of heat, which wastes energy. According to the source, 90 percent of the energy from an incandescent bulb comes from the heat, which means these outdated bulbs are impractical for energy use.
"In-wall light timers can welcome you home to a brightly lit house."
2. Install a wireless doorbell
Homeowners may want to add a doorbell to their house this spring, but worry about the electrical wiring and drilling. However, there are plenty of wireless doorbell options that are practical and efficient. The GE Battery-Operated Eight-Chime Wireless Door Chime is a cinch to install and does not need any technical wiring. This piece of hardware simply runs on batteries that are easy to install or change.
To ensure you hear someone at your doorstep, install a wireless doorbell that has a 150-foot range and an assortment of different melodies to impress your guests at the front door. Additionally, for those who are hard of hearing, wireless doorbells come with different chime volumes to make sure you can hear it anywhere in your home.
3. Automate your home's lights
For lengthy vacation trips or for those who get home in the dark after work, installing an in-wall adjustable digital timer to automate your home lights could be the perfect home improvement project. Home automation and smart home technology has grown rapidly over the last few years. Now there's technology such as the GE SunSmart In-Wall Self Adjusting Digital Timer to control your lights within your home. These timers are able to keep lights on and off while you're on a vacation trip, so your home appears occupied.
Additionally, for those who come home late, light timers can welcome you home to a brightly lit house, which will help you feel more secure entering your walkway. Digital in-wall timers blend in perfectly with your home's wall and are easy to program. Also, you can set lights to adjust to daylight and nighttime.
4. Add USB ports to your wall
If your home is full of tech-savvy family members, a good home improvement task is to install in-wall AC and USB charging receptacles. Instead of your standard two-AC wall receptacle, you can replace your standard wall receptacles with wall outlets that have built-in USB ports for convenient charging right in the wall.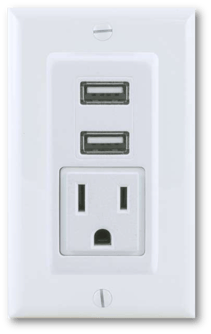 This is practical for areas of the home where you might want to charge a tablet, smartphone, electronic book or any other gadget that uses USB connections. Instead of fighting over USB-to-AC adaptors, your family members can use in-wall USB charging receptacles to power up their gadgets. Whichever you decide, there are plenty of ways to improve your home this spring.
See why millions choose GE branded products for their home and mobile needs.
Get helpful tips, exclusive deals and updates straight to your inbox: