Did you know that dolphins address each other by name? They do — it's neat. Anyway, here are six easy ways to make your home smarter for the holidays!
Hundreds of colors, awesome presets perfect for holiday light shows and an entire suite of custom schedules and automations. Plant these bad boys under mulch or along walkways, plug 'em in and control the smart features with the app. An extra perk is the sleek design — they'll remain out of sight until the lights come on.
These are the landscape lights' flashier older brother. All the previously mentioned smart bells and Wi-Fi whistles are here, but they also feature stylish LED bulbs that really sell the vibrant colors — especially the classic Christmas red and green. Easily hang these guys on hooks, guide wires and more to utterly transform the look of your space for the holidays. A massive bonus unlocks when you sync the schedules or modes of the cafés and landscapes.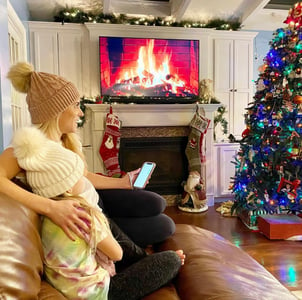 From the lights on your Christmas Tree to the ones hidden in the holly along the stairs, you can use a small set of Wi-Fi plugs to manage them all at once — no more wandering around turning everything off by hand. Create schedules, group and label lights and much more — streamline the season.
Like the smart plugs, this Wi-Fi surge protector gives you control over plugged-in electronics — just in a beefier, more centralized, kind of way. Each smart and normal outlet boasts all the protections you need while letting you effortlessly organize and manage your lights with the app. This is the perfect option if you have a bunch of decorations clustered together.
Okay, but what if you wanted to go above and beyond this season? Turns out, it's pretty easy. A simple set of color-changing smart bulbs installed throughout a single room can greatly expand your holiday ambience. Aside from all the cool scheduling customizations, the vast array of stunning colors can be set to match the rest of your Christmas lights. Like the rest of the items on this list, the biggest plus is that these bulbs can be used year-round!
And that's six simple ways to upgrade your home for the holidays! If you're intrigued beyond belief and are in need of more info, here are some videos and here are some products. Now get out of here, I have another list to make.