When it's time to declutter, reorganize and find what sparks joy, as Japanese organizing consultant Marie Kondo would say, we'll leave the clothing, books and knick-knacks to you. However, when it comes to your electronics, we have some great ideas to help you spruce up your space, neatly organize power cords and cables, and create functional and protective power centers, so you can focus on what's most important to you.
Enhance Your Décor with Designer Extension Cords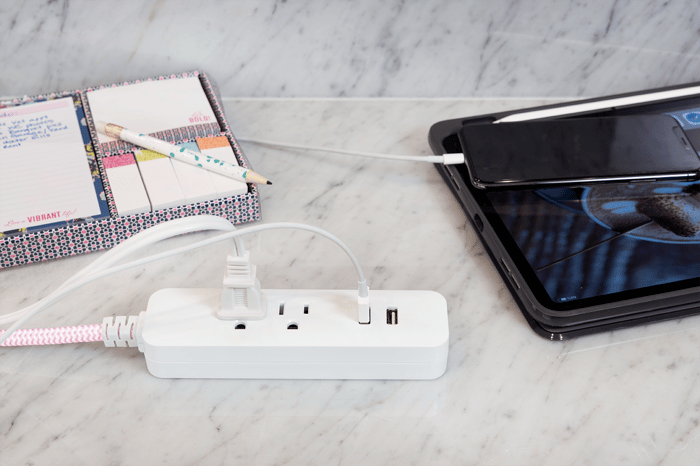 We all know that switching out decorative throw pillows can be a simple way to update and brighten any living space. So, why not do the same with your extension cords? If you haven't already taken the plunge, Cordinate's line of designer extension cords are stylish, tough and tangle-free, and can add a splash of color or blend in with your décor – it's all up to you and your personal style. Woven in a chevron pattern, these fabric cords come in various outlet and USB port configurations to meet your specific powering and charging needs. And, the flat plug is a perfect fit when the outlet is in a tight spot behind furniture. If you need more than a few extra outlets or would prefer a decorative power strip or surge protector, Cordinate has you covered there, as well. Powering your devices has never been more stylish!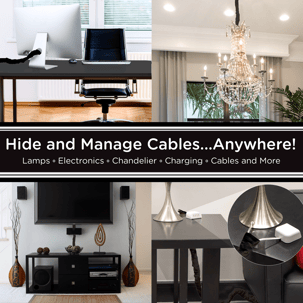 Add Elegance with Fabric Cord Covers
We've all seen them, those unsightly power cords from table lamps, light fixtures, TVs and other entertainment devices – not to mention all the computer equipment in the office. If not hidden, these essential power cords and cables can certainly detract from a room's décor. Cord covers are a quick and easy way to mask power cords and add elegance to your space. These affordable fabric cord covers from Cordinate come in multiple colors that blend in with your décor, and the hook-and-loop closure ensures fast and easy installation to give your home or office a designer look in seconds.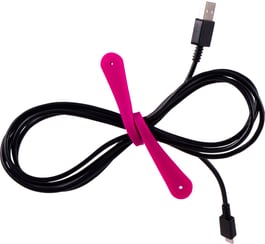 Organize Unruly Cords and Cables
Home and office spaces can quickly be overrun with a multitude of power cords. So, when they get out of hand and make your otherwise neat space look and feel chaotic, bundling and color-coding them can save the day. These reusable über cable ties are made of soft, flexible silicone and can help you keep your audio and video cables and power cords bundled without causing damage. And, they come in multi-packs of assorted colors, so you can easily color-code your equipment—an important detail when moving to a new home or simply relocating your home entertainment or office equipment.
Create Power Hubs in Key Areas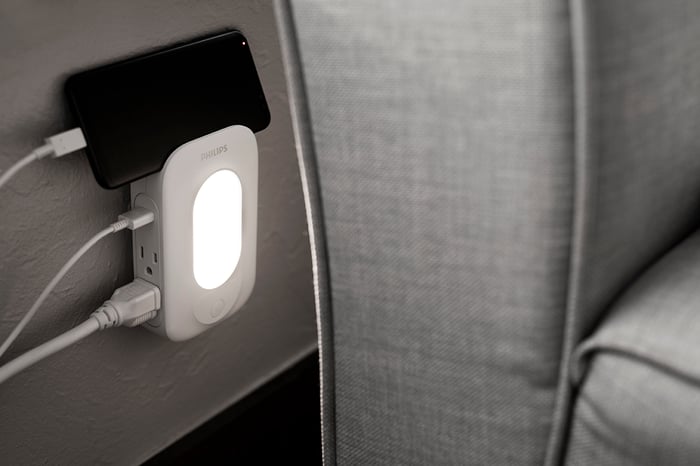 Throughout the year, it's always a good idea to reassess your power hub needs to determine the best way to maximize outlets and protect your valuable electronics. Expanding an outlet's capacity at the source is the best solution to minimize the need for extension cords and create a power center where you need it most. Wall taps and power strips can help you do just that, but keep in mind that while each of these options work well, only those with built-in surge protection will safeguard your electronics from power spikes and voltage fluctuations that could otherwise damage your equipment.
These models by GE and Philips offer a variety of outlet and USB port configurations. One model that definitely stands out is this Philips wall tap with surge protection. It provides side access to four grounded outlets with 900 Joules of surge protection and two USB ports while the front panel brightens the darkness with its light-sensing night light. And, to top it all off – literally – the mobile device cradle serves as the perfect resting spot for a smartphone or tablet that's charging. This model makes the perfect multi-purpose charging station for kitchens, home offices and living areas.
If you're looking to create a power hub for your home theater or workspace, you'll want to check out the GE Premium 12-Outlet Surge Protector with USB Dock. This titan has 12 grounded outlets with four of them spaced to accommodate bulky adapters that typically block adjacent outlets. It also has a whopping 4,320 Joules of surge protection backed by a $500,000 Connected Equipment Warranty, Automatic Shutdown Technology that turns off power to your devices when surge protection expires and a blue LED indicator light that remains lit when all is well – a definite stress-reliever when you've invested in expensive, high-quality electronics. The added bonus with this model is the USB charging dock with two USB ports. This little gem's cord extends 4 ½ feet from the surge protector, allowing you to place it in a convenient location like a desktop or end table.


Evaluate Your Space
Now that you know what's out there, it's time to take inventory of your space to determine which of these solutions can help you enhance your décor and create an inviting, organized, stress-free environment. And, when you're ready to shop, you can find all of the products listed above and more right here on our website!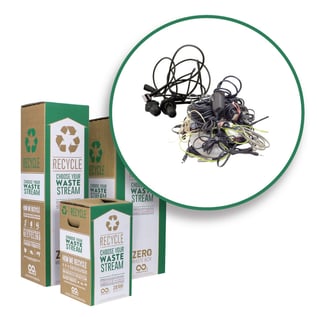 Recycle Unwanted Electronics
Once you've upgraded your extensions cords and power strips, rather than toss the old ones in the trash, consider some of these Earth-friendly options:
Donate properly functioning items to non-profits, STEM programs, friends and family

Search your zip code at earth911.com for recycling locations near you
Check your city's website for an e-waste recycling program or invest in a Zero Waste Box

Consider salvaging and selling the pure copper from your old cables
credit to www.terracycle.com.
Make sure you don't miss any posts about your tech products by subscribing to our blog below!