Part I: Which Under Cabinet Fixture is Right for You?
Did you just remodel your kitchen? Could you use more light for your meal prep? Are your overhead lights too harsh for evening relaxation or gatherings? Then quality under cabinet fixtures are an easy and affordable way to dramatically enhance your kitchen space.
Under cabinet light fixtures, also called linear light fixtures, have many applications, but are used primarily in kitchens to add usable light to cabinet surfaces as well as pleasant, ambient light when dimmed to lower levels.
Under cabinet lighting can also be used for accent lighting (especially behind bookshelves) and as work lights, but for the sake of this article we will focus solely on their use in the kitchen.
Types of Under Cabinet Fixtures
There are three common types of under cabinet light fixtures:

Incandescent (Halogen) fixtures are the oldest lighting technology in this category. They provide excellent light quality and are fully dimmable, but have several notable drawbacks including high energy costs, short bulb lifespan, and excessive heat production that can warm your kitchen and raise your air conditioning costs.

Fluorescent fixtures offer better energy efficiency and lifespan, but produce poor quality of light. Unless you want your kitchen to have the ambiance of an office cubicle, there are better light sources available. All fluorescent bulbs also contain mercury, which is highly toxic to the environment unless carefully disposed of at specialized recycling facilities.

LEDs are the newest lighting technology on the market and are expected to become the dominant light source worldwide by the mid-2020s . Quality LED fixtures combines the best traits of their incandescent and fluorescent predecessors: outstanding energy efficiency, high quality warm light that's cool to the touch, and lifetime bulbs that never need to be replaced.

The cost of LED lighting has dropped significantly in the past few years and is now an affordable option for most homeowners. LED's considerable advantages over legacy technologies make it a clear first choice for under-cabinet kitchen lighting.

Now that LED fixtures are the obvious choice for your new kitchen lighting installation, we'll go over a few other important things to consider before getting started:
Wiring Your Under Cabinet Kitchen Lighting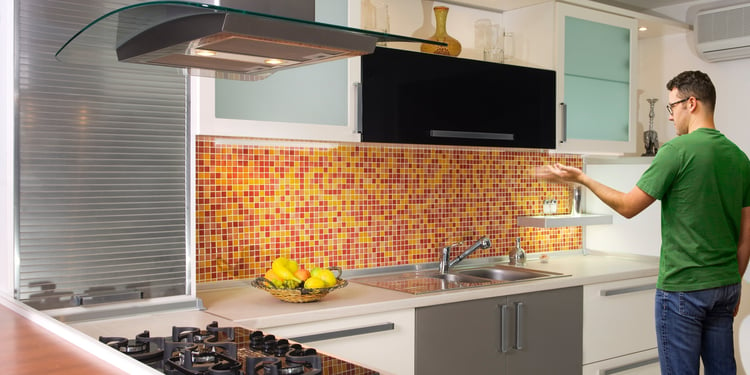 There are two main wiring options to consider when selecting your under cabinet fixtures, direct wire and plug-in.
Plug-in fixtures come with a standard power cord that plugs into any of your kitchen's power outlets. These require no electrical skill to install and are perfect for DIY-ers. They are also easy to uninstall and move, making them ideal for renters who want to take their fixtures with them when they move.
The major limitation of plug-in fixtures is the inability to control them through a light switch (though workarounds exist for resourceful DIY-ers). Instead, you'll have to turn them on through a power switch on the fixture itself. This also means they aren't dimmable, though some plug-in fixtures do offer a high / low setting that can be toggled by hand.
The alternative is direct wire fixtures, which are wired directly into the wall and can be operated by a standard in-wall light switch. Dimmable direct wire models can also be dimmed with a standard in-wall dimmer switch (more on this later). Direct wire fixtures are preferred by home builders and contractors, but may be too intimidating for some DIY'ers to install without the help of a licensed electrician. Because they are harder to install and will be wired directly into your wall, direct wire fixtures are also less convenient to remove; while preferred by many homeowners, renters may still prefer a plug-in alternative.
Consider a Junction Box
If you cannot decide between plug-in and direct wire options, an inexpensive junction box will convert any plug-in fixture into a direct wire fixture. This frees up your outlets and allows you to control the lights using an in-wall light switch.
Linkability - Connecting Multiple Lights
Linkable under cabinet light fixtures are both aesthetically and functionally ideal for many kitchen. Linkable lighting allows all of your fixtures to be powered and controlled from a single power source or switch while minimizing cord clutter. Jasco, in partnership with GE, are the world's largest manufacturer of under cabinet LED lighting, and most of our models are linkable through their included linking cables. Up to forty light fixtures can be linked together using just one outlet, though it's hard to imagine most people needing to link more than three or four.
If your kitchen lighting installation will require more than one fixture, consider looking for a linkable under cabinet fixture.
Sizing and Spacing

LED under cabinet fixtures are available in many sizes ranging from one to four feet. The most common sizes carried by major hardware stores like Home Depot and Lowes are 12", 18", 24", 36", and in some cases as long as 48".
Measure the length of the cabinets you want to light before purchasing to determine how many fixtures and which lengths you will need.
Take special note of large gaps between cabinets: most kitchens have cabinets on both sides of the sink. In order to link all of your lights, you will need to span the gap with a linking cable, which can be challenging to conceal. Alternately, you may prefer to wire the lights on each side of the gap to separate power sources.

Read Part 2 of the DIY Guide to Kitchen Lighting to learn more about the quality of light and why it matters when choosing the right LED under cabinet lighting.
---
Want to get a monthly recap from us? Get added to the list below:
---