Christmas Gifts for Everyone On Your List
You've made your list and checked it twice, now it's time to start on your shopping! Not sure where, or how, to begin? Whether you're looking for gifts for a DIY-er, TV lover or the techie in your life, let us help you with some gift inspiration. We've designed a simple, easy-to-use Holiday Gift Guide that will help you find the perfect present for everyone on your list.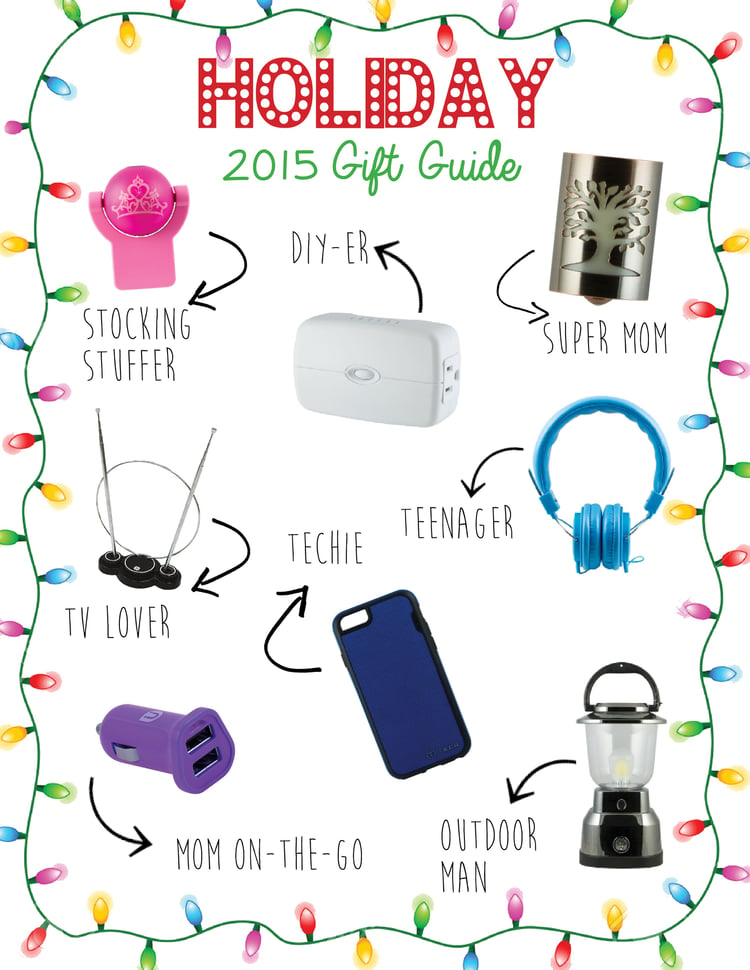 For the Techie
The techie in your life can be hard to shop for if you aren't knowledgeable with the latest technology. But with these simple, technology friendly, gifts you will be good to go! A T-Tech by TUMI Phone Case will keep their phone safe and provide a sleek and stylish look. Grab some Z-Wave products for them and they will be able to control their house with their phone using any Z-Wave enabled gateway. What more could a techie ask for?



For the Teen in Your Life
The teenager can be one of the hardest people to shop for considering they either want 5 million outrageous things, or they don't want to tell you what they want at all. Avoid the guessing game, and get a pair of fashionable headphones for them to use, every teenager needs a pair of good headphones!



For Mom
Every mom deserves something special for Christmas. Give the special lady in your life a new security system so that she can keep her house safe during the holidays. And make sure to get her a car charger to keep all of the electronics charged while traveling! There's nothing worse than an 8 hour drive to visit family and no cell phone or tablet to keep everyone entertained.



For the Outdoorsy Type
Light up your Outdoor Lover's world with a weather-resistant lantern from Enbrighten. Pair this LED lantern with a nice sleeping bag, hiking backpack, and you will have one happy Mountain Man!



For the TV/Sports Lover
Keep your TV enthusiast happy during the holidays with special things made just for their favorite thing- the TV! A TV wall mount will let them easily hang their TV on the wall for the perfect viewing angle, and if they're someone who has recently "cut the cord" from cable, an antenna is a must-have for access to free local channels. This antenna buying page will help you find the best antenna for based on location.



For the DIY-er
Everyone has that one friend or family member who loves to do all of the work around the house by them self. The DIY-er can turn any lamp into a smart lamp with the GE Bluetooth Smart Dimmer or Switch, which is easy to use and requires no networks or hubs. The My Touch Smart Timer can be used as an outdoor lighting control, is easy to program, has mounting capabilities and is suitable is weather resistant – making it perfect for the DIY-er.



Bonus: Stocking Stuffers
Last, but not least, don't forget to grab a few stocking stuffers to put in everyone's stocking! For the music lover in your life grab a pair of bright purple headphones, which will recreate the concert experience, and add a stylish touch to their electronics. A Six-Image Frozen Projectable would make a great addition to a little girls stocking, it will project images of her favorite characters on to the wall and serve as a night light. (BONUS TIP: ALL DISNEY, MARVEL, DC COMICS, AND NICKELODEON PROJECTABLES NIGHT LIGHTS ARE ON SALE NOW UNTIL CHRISTMAS).

Another great stocking stuffer is the new GE Wrap-n-Charge USB Wall Charger. It solves four major problems created by other USB wall chargers: lack of power, lack of ports, slow charge rates, and exposed cables. So if your family got a bunch of electronics that are USB powered for Christmas, this Wall Charger is the perfect solution for you!




---
Join the millions who choose Jasco for their home and mobile needs!
Subscribe for exclusive deals, monthly updates and news straight to your inbox: