After the past two unpredictable years, an exciting summer vacation has never felt more welcomed. Being able to travel means you can finally try some of those fun hobbies you picked up during the pandemic out in the "real world," like vlogging or photography. While it is exciting to bring all your newly acquired equipment and capture a fun trip, it can be incredibly frustrating finding enough outlets to power your devices when you need them most. Even if you do find enough outlets, it can still feel risky considering you may have no idea what level of protection those outlets provide. Tackle both of these issues and maximize your travel experience by turning one regular outlet into four protected power ports with the Philips Travel Surge Protector.
Here are some of the essential features to improve your experience: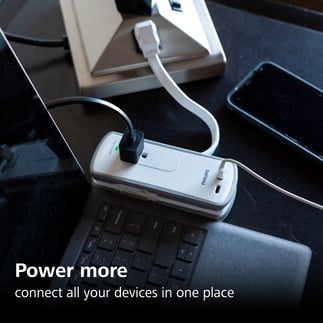 EXPANDED POWER
While in the past traveling may have meant bringing as few items as possible, technology can now help you get more out of your trip. Laptops, cameras and video recorders are great for capturing significant moments, while smartphones, smartwatches and tablets are essential for staying connected and entertained while on the go. The only downside is trying to power all these devices when your hotel or airport only has a few working outlets. The Philips Travel Surge Protector aims to make this a problem of the past by converting one outlet into two grounded, three prong outlets. Additionally, the surge protector features two USB ports, one USB-C and one USB-A, that combined supports 3.4 Amps of power to quickly charge your smartphones, cameras, watches or other mobile devices.
ON-THE-GO PROTECTION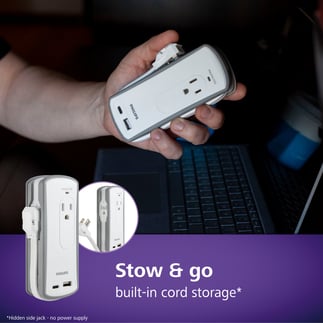 When planning a vacation, it always seems there are numerous problems to pre-plan for before taking off. A critical issue to keep in mind is how to prevent potentially dangerous power surges from causing severe damage to your electronics while you are on the go. The Philips Travel Surge Protector aims to ease the minds of travelers by providing 300 Joules of surge protection, backed by a limited-lifetime, no hassle replacement plan. In addition, the integrated automatic shutdown technology immediately cuts the flow of electricity if the maximum amperage is surpassed, while the built-in LED indicator designates when the surge protection components are in action.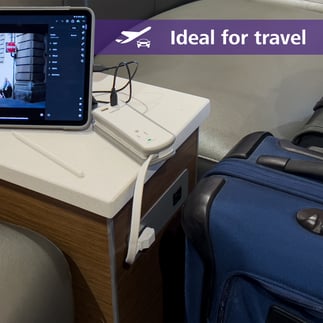 COMPACT DESIGN
Packing for your vacation can be extremely difficult to say the least. Trying to fit everything needed for a trip into a few small bags means you may have never thought to bring a bulky surge protector with a thick extension cord with you before. However, the Philips Travel Surge Protector was designed with this issue in mind and features a modified compact design to easily fit in carry-on bags, backpacks and luggage for quick access to power. This surge protector is smartly designed with one grounded outlet on the front and back of the device, allowing you to enjoy adapter-spaced outlets without adding more space to your bag. The 1ft. extension cord ends in a space-saving flat plug, meaning you can plug in this surge protector behind desks, beds, sofas and other pieces of furniture with ease. Ensure your bag stays neat and tidy with the stow-and-go integrated cable management system that hides the cord away while not in use.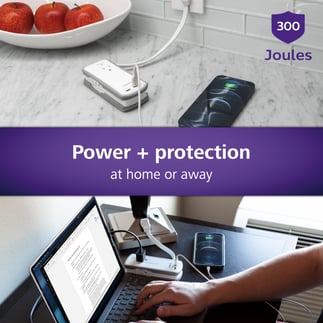 Whether traveling for work, trying to establish your travel channel on YouTube or vacationing just for fun, the Philips Travel Surge Protector is the perfect product for protecting and powering all your devices on the go. If you are looking for more innovative ways to protect your essential devices, look out for more Philips home power products at Target, Walmart or on byjasco.com.