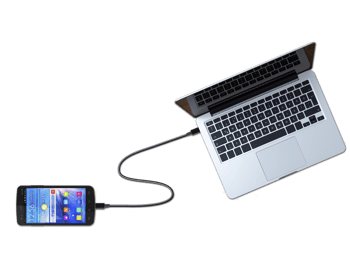 Every time we turn around, there is a new phone, tablet or innovative technology coming out with brand new benefits outdoing the last. USB Type-C™ (or just USB-C) is one of those exciting new developments. Motorola and Samsung have recently debuted new devices with USB-C and other leading manufacturers like Google, LG, Apple and Dell have also built their latest and greatest devices with USB-C since last year.
The main benefits of USB-C include speed, power and ease-of-use. With USB-C, we will have much faster data transfer speeds, faster charging and a lot more power! We can finally decrease the amount of time we spend tethered to an outlet. USB-C can help reduce the number of cables needed as well. For example, the same cable used to charge a phone can also be used to supply power to a laptop as long as both devices have a USB-C port.
With just one cable, you can transfer data at higher speeds, charge and power other devices and deliver audio and 4K video displays - all at the same time. Another exciting benefit is the reversible port, meaning the connector can be inserted in any orientation, similar to the Apple Lightning connector found on current iPads and iPhones. So it's no surprise that many tech companies are quickly adding products to support the new USB-C standard. Consumers will begin seeing even more laptops, smartphones, and tablets switch over to USB Type-C. While older ports will persist for years, eventually the smaller size and greater abilities of USB-C will prevail.
As the world moves toward USB-C, it doesn't mean you have to replace all of your current devices right this minute. You just need the right USB-C cable or adapterto start taking advantage of everything it has to offer. Luckily, we have a full range of cables to help with the transition. Cables with USB-C connectors on both ends are only going to connect the devices that both support USB-C. However, cables with USB-C on one end and different types of connectors on the other provide us with a wide range of devices we can start using these cables with. With USB-A to USB-C cables, we can connect to a lot of today's technology like computers and laptops. USB-C to Micro-B is better suited for connecting to digital cameras and USB-C to USB-A adapters allow you to connect current USB-A devices to your new USB-C devices.