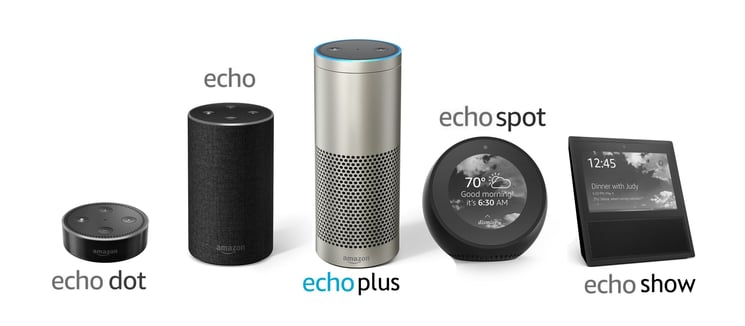 Amazon continues to improve and add to their Alexa powered products – currently sitting at a total of 6 unique Echo devices. While all interesting in their own way, the most impressive option is the new Echo Plus.
The Echo Plus not only builds on the foundation that the Echo and Echo Dot models have established, but it also improves and adds to it. The audio has received a welcomed upgrade when compared to previous iterations thanks to the improved Dolby speakers that produce crisp vocals and extended bass to fill the room with 360 degrees of audio. While improved audio is great, the most significant difference from the rest of the Echo family is the inclusion of a built-in ZigBee smart home hub.
Why is that significant? Why should I buy the Amazon Echo Plus over the others? Read here to find out all you need to know about the Echo Plus.
What Is a ZigBee Smart Home Hub?

This question is complicated, so it is best answered in two parts.
First: What is a "smart home hub"? A smart home hub is a product that connects smart home devices to a home automation network and controls the communications among those devices. These hubs can be used to control smart devices such as thermostats, light bulbs, wall outlets and switches, appliances, motion sensors and more via smartphones, tablets, and personal computers.
Second: What is "ZigBee"? To put it simply, ZigBee is a wireless standard that many smart devices use to connect to one another even when they have different manufacturers. In home automation, there are 4 major types of device standards: ZigBee, Z-Wave, Wi-fi and Bluetooth. If you're interested in a deeper breakdown of the differences between these standards, download the free guide, download this free guide on home automation protocols 101 here, or learn more about ZigBee specifically in this article.
Why Include a ZigBee Hub in the Echo Plus?
Having a ZigBee hub built into the Echo Plus saves you money and gives you the convenience of having one device instead of two. One the biggest appeals of the Echo and Echo Dot devices has been the ability to automate your home with various smart devices and control them with just your voice (instead of using the app through your phone or computer).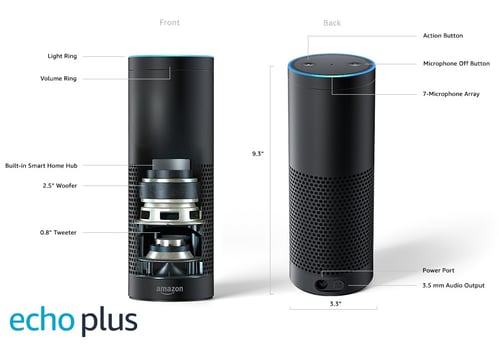 Before the Echo Plus, in order to do this, you had to have an Echo device and a smart home hub. Not only are these hubs completely separate devices, but they can also cost you anywhere from $50 - $100+ each (on top of the cost of the smart devices that you want to control). So if you're considering automating your home and don't already own a smart home hub, the Echo Plus is a great option to consider.
What If I Already Own a Smart Home Hub?
If you already have a hub this is still an Echo device to consider, consolidating the two devices (Echo and hub) into one will free up some shelf space and an outlet in your home especially if you don't already own an Echo or Echo Dot.
Before you decide to get rid of your current hub be sure to check that your current smart home devices are ZigBee compatible as not all devices will work with ZigBee. For example, if you use ZigBee sensors to automate your home, you won't be able to add them to the Echo Plus. Right now the Echo Plus only offers voice control, groups and scenes with the most common device types (lighting, thermostats, and locks). If you already have a smart hub and don't mind having two devices, the new $99.99 Echo is also a great option as it will offer you everything the Echo Plus offers, but without the built-in hub.
What Smart Home Products Can I Use With the Echo Plus?

You can find a full list of compatible Echo Plus items here. With simple setup, connecting your smart devices to the Echo Plus is easy. All you have to do is say "Alexa, discover my devices" and Echo Plus will discover and setup your devices. Like the other Echo devices, Echo plus can connect to hundreds of smart home devices like smart light bulbs, outlets, thermostats, cameras, TVs, and more.
Remember with the Echo Plus, you no longer need an additional hub to connect and control your lights when you use ZigBee smart switches and dimmers. That means that all GE ZigBee in-wall and plug-in smart switches and dimmers automatically work with Amazon's Echo Plus for voice-activated control of your lights right out of the box.
How Much Does the Echo Plus Cost?
The Echo Plus was released on October 31st and currently retails at $149.99. For reference, the Echo Dot is $49.99 and the Echo is $99.99. While on the higher end of the Echo product line, you save money by not having to purchase a smart home hub as well. Amazon regularly puts their devices on sale – so keep an eye out for Echo device sales that happen!