Whether it's a quiet moment inside or a vibrant patio evening with friends and family, there is something about the soft glow of string lights that transforms the entire atmosphere of any occasion. And nothing adds instant ambiance and festive flair quite like our new line of Enbrighten® LED Cafe String Lights.
Why You'll Love Enbrighten Cafe String Lights
These cafe string lights are the perfect answer to every outdoor entertaining enthusiast who loves modern design. Add ambiance to the patio or style inside your home for the perfect atmosphere that will have people feeling welcomed and relaxed under the warm glow of Enbrighten Cafe Lights.
With a variety of simple ways to hang them, you can add your unique touch to any space, and switch up the look for different occasions by moving just a strand or two. Take advantage of deck ceilings, pergolas, or trees on your property to hang the lights. You can accent any area by hanging the strings lights underneath a porch or pergola, along your garden fence, on the eaves of an entry, or extend lines to a cozy seating area by the pool. Whether you choose to drape them or create patterns, entertaining guests, dining, and even quiet relaxing nights are all improved with a few Enbrighten bulbs hanging from above.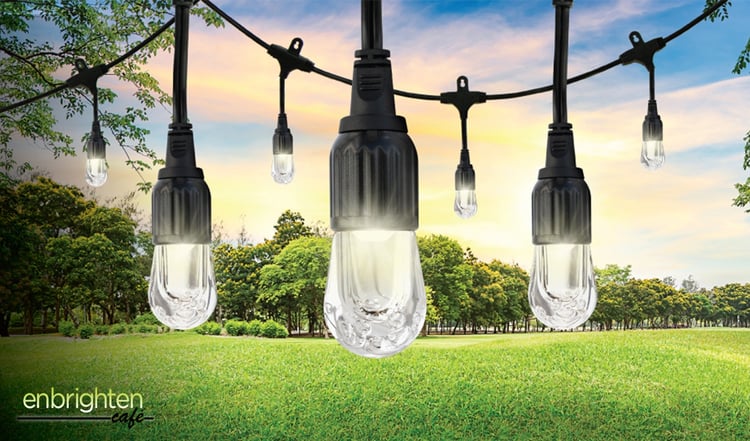 A Perfect Harmony of Classic Charm and Lifetime Durability
Great for indoors or out, Enbrighten Lifetime LED's not only deliver white, attractive light and unprecedented energy-efficiency with a light source you never have to replace (guaranteed!) but they also feature premium commercial-grade construction designed to weather the elements season after season.
Since Enbrighten LED's are designed to last a lifetime, they will never burn out, which means you never have to worry about changing out the bulbs or looking up and seeing a string of lights with only half of the lights still glowing ! The energy saving bulbs also reduce energy usage by over 95 percent and easily pay for themselves within a year or two when compared to lesser string lights on the market.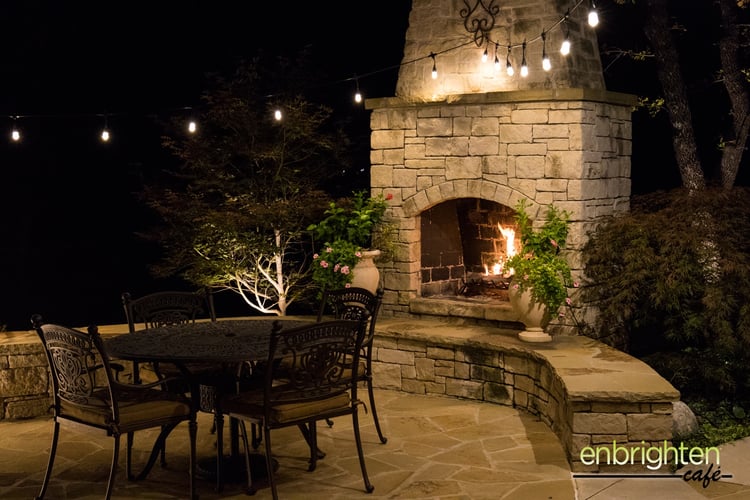 Enbrighten Your Life
The string lights are available in 5 different lengths that range from 12-feet up to 48-feet, and since each strand has end-to-end connections, you can link multiple sets together to fit any space perfectly. Another reason you will love Enbrighten Cafe Lights is because of how easy they are to set up (and they are UL listed for permanent outdoor use, so that means you only have to set them up once). Designed with a strong keyhole above each bulb, the versatile string lights can be mounted on a flat surface or hung from above using screws, nails, hooks, zip ties or guide wire. They also feature impact-resistant acrylic bulbs that won't break if dropped, stepped on or blown around in the wind.
So, here is a short recap of why we love Enbrighten Cafe String Lights, and you should too:
Lifetime LED bulbs­–Enbrighten bulbs never burn out, meaning you never have to replace a bulb

Impact resistant–Durable acrylic bulbs won't break if stepped on, dropped or in severe weather

Linkable up to 350 feet–Heavy duty, grounded cord plugs into any standard outlet

Year-round ambiance–Commercial grade quality and UL 153 listed for permanent installations

Multiple lengths–Available in 12' (6 bulbs), 18' (9 bulbs), 24' (12 bulbs), 36' (18 bulbs) and 48' (24 bulbs)

Save up to $119 per year–Energy savings vary by strand length from $29–$119

Automate your cafe Lights–Add accessories to control your cafe lights with a push of a button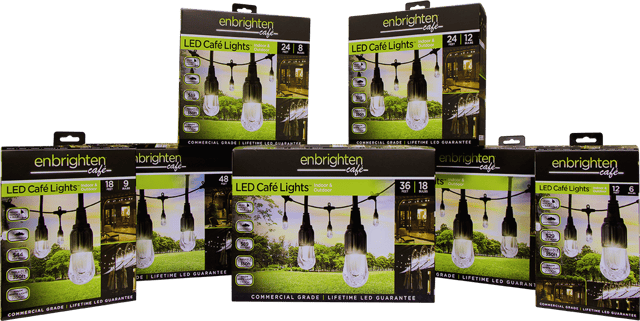 Ready to Enbrighten your life? You can visit cafelights.com to find more inspiration and shop the entire line of Enbrighten LED Cafe Lights. They are also available on Amazon as well as retail stores including Wal-Mart, Sam's Club, Home Depot and Fred Meijer.