Relaxation — it's one of the most precious luxuries we have on this madcap planet. No matter our daily routines, it is vital that we loosen our white-knuckled grip on life's steering wheel and simply unwind. Whether it's games, yoga, soaking in a tub or lighting some candles, each person has their way of cultivating a peaceful vibe at home. For us, the Galaxy Wave Projector was just what we needed. It absolutely blew us away with its beautifully rich colors, peaceful sleep sounds and wave-like ambience. Here are just some of the things that made us starry eyed about it.
1. Colors Out of Space
The prismatic options on display here are truly hypnotic to experience. Stunning colors and lasers dance across the room like a flowing sea of stars. And because it's so easy to switch between colors and effects, you can change up the mood on a whim!
2. A Galaxy of Options
With over two-dozen dynamic modes and presets to choose from, you really can fine-tune the perfect look for your space. Select any of the vibrant single colors to match your setup, relax to mesmerizing modes like aurora or prism, or use any of the presets that blend and fade everything together. After all, variety is the stardust spice of life.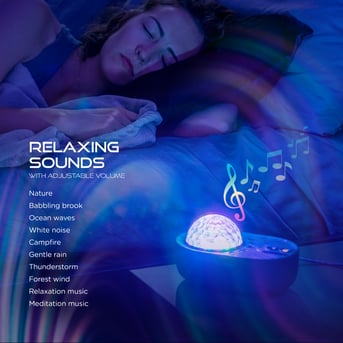 3. Soothing Soundscapes
The low crackle of a campfire, the distant rumble of a thunderstorm, the eternal rhythm of the ocean tides — each of these and more from the comfort of your home. Any one of the ten high-quality sounds play with crystalline clarity and are perfect for background noise, bedtime ambience or meditation.
4. Customize the Universe
Nearly every projection is customizable, allowing you to shape your space's atmosphere to your heart's content. With the easy-to-use button interface, you can go from everything — and we mean everything — on at once to only the laser star-field fading in and out. You can even adjust the light's brightness and manage the volume of your favorite sound!
5. Convenient and Stylish
An overarching theme with the Galaxy Wave Projector was flexibility in features and function. The fact that it has such a lightweight design and is powered by an included USB-C cable, meant we were able to relax with it just about anywhere! It's also a testament to the evergreen design that it looks and operates just as well on our porch as on a bedside table.

6. Five Buttons, infinite possibilities
Power Button: Press to turn the light ON/OFF light — will return to the last setting used when turned back ON. This product automatically turns OFF after six hours of use.
Image Rotation: Press to change between slow, medium, fast or pause.
Sleep Sounds: Press to cycle through each sound. Press and hold for volume control — the dome will flash when the highest/lowest level has been reached.
Wave Button: Press to change wave colors and presets. Press and hold to adjust brightness — the dome will flash when the highest/lowest level has been reached.
Display and Laser Button: Press to cycle through each image option. Press and hold to adjust the laser's brightness — the dome will flash when the highest/lowest level has been reached.
The Galaxy Wave Projector truly is great for finding that perfect moment of relaxation for anyone who needs it. Dazzling colors, fantastic modes, phenomenal sleep sounds and simple customization — that's why we love it!