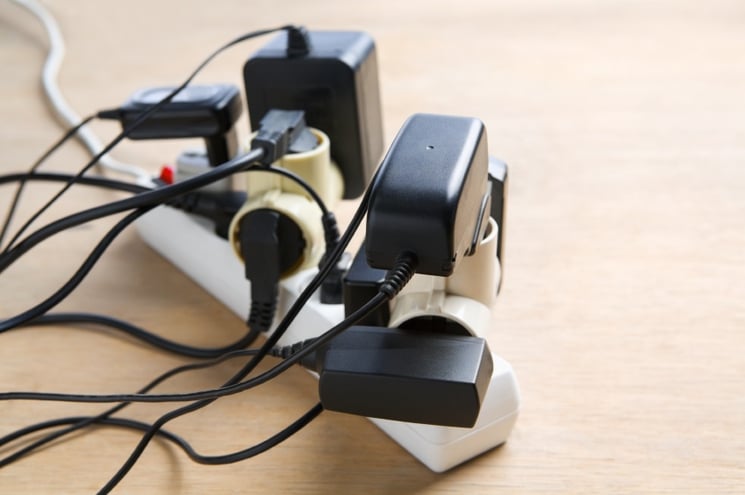 The haphazard assortment of cables, cords and wires living behind your TV can be a major headache to look at. When you purchase a new device, you're excited and eager to hook it up until you see the mess of cords already in existence behind your entertainment center, on bedside tables, and under your desk. There are several options to safely and easily install new gadgets or electronics to your space without digging through cables to find an open electrical socket on your surge protector. Over time, cables have a tendency to become knotted together. Whether they are in a storage box or in use, safely plugged into a surge protector, cables can quickly become a giant mess. Follow these easy steps to declutter cables in your home:
Manage and organize your cables
There are a multitude of tools you can use to organize your wires and cables. Using colored cable management accessories are not only great for eliminating the tangled mess of cords behind your TV or under your desk, but also for organizing your different cables by specific colors. This will come in handy if you ever move or add new electronics. For example, using green for video game cables, blue for audio, purple for video, pink for power, etc will help you keep tabs on what and where all of your cables are connected.
You can easily make your own DIY charging station wherever you need it most. You can go simple by cutting holes in a shoebox just big enough for the cords to fit, or you could go elaborate with a homemade creation made of wood.
Bread tabs, washi tape, pipe cleaners, even paper towel rolls can make organizing cables easy and budget-friendly.
Consolidate your electrical plug-ins
If you're plugging in a television, video game console, online streaming device, Blu-ray player, or audio receiver, all into a single area, electrical outlets are a prized possession. However, you can connect all of your devices by investing in a Premium 12 Outlet Surge Protector with USB Charging Dock.
This mighty all-in-one charging device will ensure you plug in all of your electrical items into one surge protector. With this one surge protector, you can easily set up a charging station for everything that goes behind your television or under your home computer desk. Additionally, some devices use charging adapters, which are bulky and take up useful space on your surge protector. The USB charging dock allows you to charge two devices directly from the surge protector. While the device will create less clutter for all your devices, it will also protect your electronics from power surges.
Invest in multi-device charging stations
For those finding the area next to their bed completely cluttered with cords from your tablet, smartphone, lamp cord and alarm clock, you simply need an all-in-one charging station. Multi-USB and AC power outlet stations can easily plug into the wall and reduce wire tangles around your bed. This particular charging station is also wonderful for behind heavy furniture with its 2 outlets and 2 USB charging ports that can be accessed easily from the side.
Connect essentials separately
Another mistake people make is by connecting all of their devices to one charging or plug-in area. To prevent this, simply make two different stations: one to connect your essential electronics (phone, tablet, smartwatch) and another to connect things that aren't used every day (camera, battery charger, wireless headphones). Putting all of these items together creates clutter, but using two stations will separate the every-day essentials from the less-needed devices.

If you follow these tips, that unsightly ball of messy cables will have happy new, organized homes and you'll easily find you have room to add any new devices that you acquire in the future.