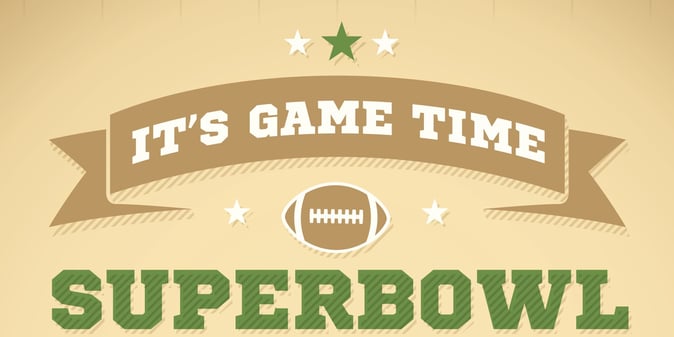 The Super Bowl only comes once a year (February 7th this year) and provides the perfect excuse to get your football-loving family and friends together to watch the game on your big screen TV.
Hosting the Super Bowl party should be both fun and easy. With these simple tips you will know how to have the best Super Bowl party this year!
Invite all of your friends, family, and colleagues:

Your guest list is almost as important as the game. The people you invite can make or break your Super Bowl experience. Here are some key things to consider before you send out all of your invites: how much space do you have, are all of your guests compatible, and how many people are you willing to feed? With these things in mind all of your guests will get along and you will have a great time.

Tidy up and organize your house

Cleaning before hosting can be one of the worst parts about hosting any event, but it has to be done. You need to have a clean house to start off with so that your guests feel welcome and comfortable.

If you need to rearrange furniture so that there is enough sitting around the TVs in your house make sure to do that before guests arrive. Double check that there is enough room for food to be laid out, along with utensils, plates, and napkins.

With a full house outlets can become limited. The Super Bowl is an exciting event and your guests will likely be on their phone taking pictures and posting on social media, and no one wants their phone to die during such a fun time! Add in a few multi-port charging stations where you can. This allows multiple guests to plug in their phone at once. You may also have multiple crockpots going at once in your kitchen, in which case you will want to get a wall tap.

How to get optimal TV viewing:

If you're one of the hundreds of thousands of people who have "cut the cord" recently, don't worry you can still catch the game (in HD) with the use of an antenna. All you have to do to make sure you get CBS (the channel the Super Bowl is on) is plug in your zip code here to see what channels you get! Once you figure out which antenna is best for you, it's as easy as plugging it in then scanning for channels and you're all set for the big game. The antenna buying guide can also give you more information on different antenna types and placements tips:


Mounting your TV can ensure that everyone in the room can see the TV. And despite what you may think, mounting a TV is easy – all you need is a TV mount, Phillips screwdriver, driver, drill and wall stud locator!

If you don't want to go to the trouble of mounting your TV, you can still guarantee everyone can see the game by having more than one TV. Just double check that the TVs aren't out of sync. If one TV is slightly ahead of the other because of a lag in your digital receiver, the people in the back room will hear everyone in the front room cheering before the play is finished.

Bring out the decorations:

Pump up the festivities with football-themed decorations. From little things like team colored plates, to Super Bowl 50 banners – there is something out there for everyone. Decorate as much, or as little, as you want. If you are a DIY-er, here are some awesome decorations you can make ahead of time. If you are not as creative, or don't have a lot of time to prepare ahead of time, you can purchase a Super Bowl Décor kit.

While you're out buying decorations don't forget to grab things like extra paper towels, toilet paper, and make sure you have extra trash bags on hand.

The (second) main event - food:

Your guests are going to be eating from the time they walk in the door until they have stuffed themselves so full they can barely move at the end of the game. Lay out a variety of snacks where people can access them easily and try to avoid snacks that spill or stain. Keep tons of paper napkins around – they are your only defense against greasy and chip stained fingerprints.

An easier way to get a variety of food is to have a pot-luck style Super Bowl party. Have each of your guests bring their favorite appetizer or dessert, and you will only need to provide plates, utensils and the house!

**Make sure to stock up on paper or plastic plates, knives, forks, etc. Cleaning up your Super Bowl party will be crazy enough, save yourself from having to do dishes.

Activities for kids and adults:

For the kids: Make and decorate football cookies. All you need to do for this is bake (or buy) football shaped cookies, get different colored frostings to represent the teams colors, and some sprinkles.

For the adults: A classic game for adults to play are the famous football squares. Everyone loves this game, and it adds a little fun competition amongst your guests.

Take time to enjoy the game!

The Super Bowl is one of the biggest, and most fun, sporting events of the year. Don't be a stressed out host, sit back and watch the game with all of your guests.

Clean up crew:

A successful party means that the house needs to return to normal quickly and with the least hassle. Recruit a few friends to help you out by staying back and being your cleanup team. You'll be surprised at how soon the cleaning is done and how nice it feels to be in a tidy home.
Remember: The Super Bowl comes once a year and it's worthwhile pulling out all the stops to make your Super Bowl party something special.