You're fed up with cable so you decided to cut the cord. Good for you! At first, you feel great about it. Then about a week later withdrawals start kicking in. You see all your friends on Facebook or Twitter talking about the Bachelor or the latest episode of This is Us. You resort to Netflix and turn on Friends even though you've already watched every episode 50 times. You act like you are happy, but you aren't.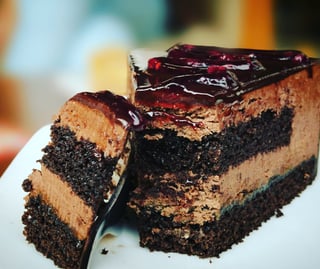 You feel like a person who was put on a diet and while other people are eating 8-layer chocolate cake, you are sitting on the couch eating a low-calorie protein brownie pretending that life is great. But deep down you would do anything just to get a taste of that cake. Just like that diet brownie, Netflix has its perks, but you still need your fix. You need your favorite shows back.
We hear you, luckily streaming services are becoming more and more popular and you don't have to feel deprived anymore. With services like Sling TV, DIRECTV Now, PlayStation Vue and YouTube TV (coming soon), you'll never miss a show. So now that you've cut the cord, you might be asking yourself, "which streaming service is best for me? We've rounded up some helpful tips and info to make sure you get the shows you actually want and you stay within your budget.
Below is a great chart that helps you easily compare the top streaming services on the market and see how they stack up against each other to help you find the best one for you. Here is the breakdown: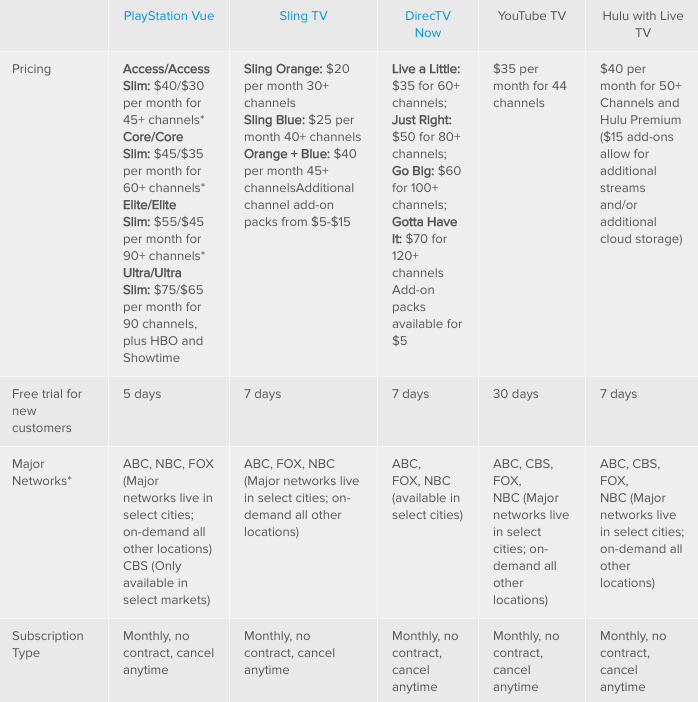 Source:Brendan Hesse, Digital Trends
PlayStation Vue
PlayStation Vue is one of the newest streaming services to hit the market. It came out for everyone Nov. 17, 2016. Since its beginning, cord cutters have had this on their radar. The thing about PlayStation Vue that has confused some customers is that you do not have to have a PlayStation console to stream the service. All you need is one of the many supported devices like your Amazon Fire Stick, Apple TV, Roku, etc.
PlayStation Vue has an interesting way of naming their packages. For example, they have a package called "Access Slim" for $29.99 per month. Now to explain this even further anything with the word "Slim" next to it means that it doesn't include live local programming, but you can still view this through their on-demand feature.
They have the Access/Access Slim (depending on your area) package for $39.99 and $29.99 per month respectively, which gives you 45+ channels of the most popular cable, movie and sports channels in HD.
The next package is the Core/Core Slim for $44.99 and $34.99 per month. With this package, you get 60+ HD channel options including all access channels plus regional and national sports networks.
After that, you have the Elite/Elite Slim for $54.99/$44.99 which includes access to 90 HD channels. Then you have the Holy Grail of all packages. This one is called the Ultra/Ultra Slim package coming in at $74.99/$64.99 per a month and offering 90 of the most elite channels including HBO and Showtime channels.
This service is great, depending on where you live. The PlayStation Vue website has a great website where you can visit before you sign up for the subscription and type in your ZIP code to see which packages are available in your area. They also have a 5-day free trial where you can decide for yourself if it is the perfect fit for you before committing.
DirecTV Now
The next streaming service out there for cord cutters is DirecTV Now which has 4 packages. Coming in at $35 they have the "Live a Little" plan. This plan provides 60 plus channels and provides all the essentials.
Next they have the "Just Right" Plan, which gives you over 80 channels for $50. Their highest plan is the "Go big" plan which gives you over 120 channels for $70 per month.
DirecTV Now and PlayStation Vue are great streaming options, but cord cutters have to be careful not to fall into the hole of getting the highest package available because then you are subject to fall right back into the hole of high cable costs and you could end up paying the same price. However, the good thing is there is no commitment with either of these services so you can cancel at any time unlike cable TV.
Sling TV
Another streaming service that quickly gained cord cutter attention is Sling TV. Sling TV is the most uncomplicated of all streaming services with just 2 simple options. The first package is Sling Orange, which gives you 30+ of the most popular channels and sports networks including ESPN, ESPN 2 and ESPN 3. Now if you are not into sports that may mean nothing to you, but to all the sports fans out there, this is a game changer. With an
With an antenna and a Sling Orange subscription for $20 a month (that you can cancel at any time), you can watch local channels and get all the sports you need without having to pay outrageous prices for cable. In addition, this package also gives you the best of both worlds with channels like HGTV and Lifetime. Speaking of best of both worlds, they also have Disney channels so kids can watch as many Hannah Montana reruns as they want. A win-win for the whole family!
The next package is Sling Blue. This package includes 40+ channels and offers FOX, NBS and more. This package is only $25 a month and is a perfect solution for those who want the essentials, but also want the NFL networks and FOX sports.
Another great thing about Sling is they offer a combined package so you can get the Blue and Orange package for just $40 a month. With typical cable bills totaling up to $100 or more per month, you can rest assured that you are getting your favorite shows and channels without draining your pockets.
YouTube TV
The final streaming service is YouTube TV, which is going to be a sports lover's dream. With the price being only $35 a month, sports fans can't beat it. It will include ESPN, ESPN2, ESPN3, ESPNU, ESPN News, SEC Network, CBS Sports Network, CSN, NBC Sports Network, Fox Sports, BTN, FS1 and FS2.
More and more people are cutting the cord and choosing a streaming service for their movies, sports, and TV shows along with an HDTV antenna for their local channels, sports, and weather. TV providers are also getting smarter and providing streaming services as packages with internet services. To stay up to date with the latest deals and packages for your area, check sites like MyRatePlan.com or AllConnect.com to make sure you are getting the best deal. With all the streaming services out there, cord cutters can truly have their cake and eat it too.