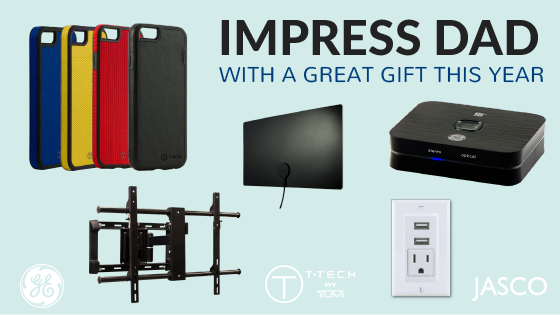 With Father's Day coming up, you want to make sure you get the perfect gift that shows how well you know him.
With Father's Day just around the corner, family members are scouring the web to find some of the coolest and most practical father's day gifts for their dad. Picking out gifts for your tech-savvy dad or father figure in your life might not be the easiest decision. However, we've rounded up several great gift ideas for dad no matter if he prefers the outdoors or enjoys watching movies on his home entertainment center in the comfort of his living room.


Here are seven gift ideas you should consider this Father's Day:
1. Eco Survivor LED Lantern
If your dad is an outdoorsman, the Eco Survivor LED Lantern is a useful gift. Whether he prefers hunting, camping or hiking, the Eco Survivor LED Lantern is perfect for any trip. With its three-level dimming features, and a high beam setting of 350 Lumens, this piece of hardware is ideal for a small or large amount of light. Additionally, its LED light bulb will help ensure your dad is never lost in the woods with more than 350 hours of usage. The Eco Survivor Lantern comes in multiple colors, including RealTree Green Camo, Orange Camo and Pink Camo.



2. GE 8-Device Universal DVR Remote Control
For the dads out there who love their home entertainment center, the GE 8-Device Universal DVR Remote Control is an excellent gift for the audio-visual junkie. GE universal remotes can connect up to eight different devices working with all major brands as well. This gift is also ideal for those who want to make their dad's home entertainment center easier to control and set up with an all-in-one remote. The device can control the master volume for all devices and work with your Blu-ray, DVD, VCR, cable, satellite and digital converter box all at once.



3. GE Large Full-Motion Flat Screen TV Wall Mount
When your dad has all the gadgets known to man, it's tough to find an exciting gift to pique his interest. However, you could surprise him with a GE Large Full-Motion Flat Screen TV Wall Mount, which fits flat screen televisions from 42 to 80 inches. Installing a full-motion TV wall mount could change the way your dad watches television, and this piece of equipment even has a maximum tilt angle of 15 degrees. This gift is easy to install and will ensure your television is at the perfect viewing level. Additionally, this device offers added security for your television as it has a locking feature to prevent theft. The cable management hooks on the device will hide cables and cords to avoid any dangling wires.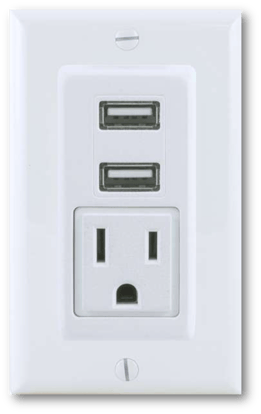 4. GE 2 USB and 1 AC In-Wall Charging Receptacle
Does your dad have an obsession with the newest technology? If so, a unique gift idea is a GE 2 USB and 1 AC In-Wall Charging Receptacle. This hardware meets the needs for those who want to keep their devices charged all day long without investing in a bunch of AC-to-USB adapters. Instead, the GE 2 USB and 1 AC In-Wall Charging Receptacle can replace your old AC receptacle and add multiple USB charging ports. When you connect your devices directly to a wall receptacle, they will charge faster as well.




5. T-Tech by Tumi Black Leatherette iPhone Case
This Father's Day, upgrade your dad's phone style with a T-Tech by Tumi iPhone 6 Fitted Case. These lightweight and triple-layer protected iPhone cases are perfect for any dad on the run. The Tumi cases are both sleek and stylish to fit almost any dad's needs with the leatherette material. The T-Tech has molded button covers to keep them protected and fully accessible. Additional protection comes with the case's impact-resistant edges and raised front lip to safeguard the smartphone's screen. This is the highest quality of material used by Tumi, and the Black Leatherette material option is durable and lightweight, which keeps a slim profile to fit in almost any pocket.



6. GE Ultra Edge Series Amplified Antenna
For dads who have cut the cord on their cable or satellite, the GE Ultra Edge Series Amplified Antenna is a great Father's Day gift. This device allows users to enter zip codes on an antenna search page, which then showcases the free HD channels available in the area. The device can receive up to Full HD 1080p signals and receives outstanding digital reception with all the local channels.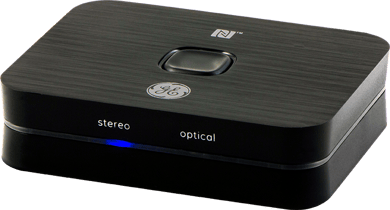 Dad's who love streaming their favorite music will appreciate this GE Bluetooth Audio Receiver.

7. GE HD Audio Bluetooth Receiver
This new item just hit the market and is the perfect gift for dads who want to wirelessly stream music through their existing home stereo or speaker system without having to buy new equipment. Unlike restrictive speaker docks, the GE HD Audio Bluetooth Receiver does not limit your ability to check email or send texts while streaming your favorite music. With this HD Bluetooth Receiver your dad can easily pair his phone or tablet to the receiver and listen to rich high-definition sound while still having access to his mobile device up to 30 feet away.
See why millions choose GE branded products for their home and mobile needs.
---