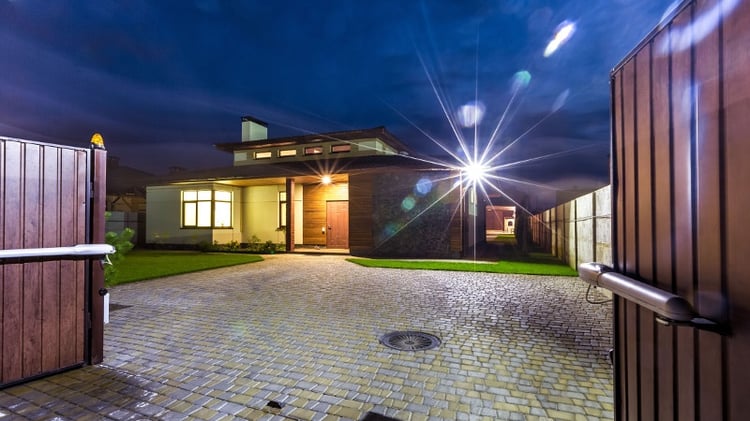 Just in time for the upcoming fall and winter months, there are new home security lighting options for consumers. In these later months of the year, evenings tend to get darker earlier in the day. This shift in natural brightness can make returning home from work in the evenings alarming as pathways, driveways, garages, backyards and more are left in the dark. Statistics show that well lit neighborhoods have a lower crime rate. Our new outdoor motion sensor security lights are a great solution to illuminate your space at night and help detect any unexpected activity around your home. We've highlighted some of the special features that make these GE-branded Enbrighten LED Security Lights stand out among the rest:
4 Selectable Light Temperature Options (Accent mode)
Lighting Schedule Options
4 Motion Detection Ranges
Easy Setup and Installation

Customizable Accent Lighting
Most security lights serve one purpose- to provide bright, well lit surroundings. The GE-branded Enbrighten Security Light does this but also serves as an outdoor accent light as well. These outdoor security lights have custom settings when in accent mode to adjust the color temperature, such as warm white, soft white, bright white and daylight options to match existing outdoor lighting or specific needs.
For example, the accent light is great for backyard areas and social gatherings because of its warm white setting that provides the perfect amount of illumination in a warm amber glow. The accent mode lowers the light level to 1,000 lumens which is just slightly brighter than a standard soft white bulb. Once in security mode, the brightness level goes up to 3,100 lumens (on the 3-head security light) of super bright daylight.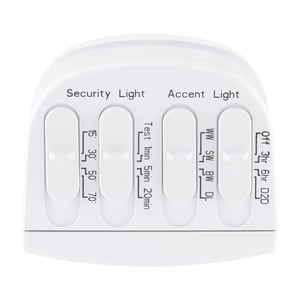 Varied Timer Settings
The
Enbrighten Security Light
offers a
number
of
customizable settings. Not only can you select one of the four color temperature options, but you can also
select a lighting schedule and detection range for your light.
Varied timer settings allow you to select the
evening accent light
to be
on around the clock from
dusk-to dawn,
or
turn
on
at
dusk
and
off three
or
six hours later, saving energy. You can set the accent ligh
t to
be
on i
n th
e
evenings before bedtime,
and
then automatically change
to
motion sensing mode
after dark when you're asleep.
Motion Detection Range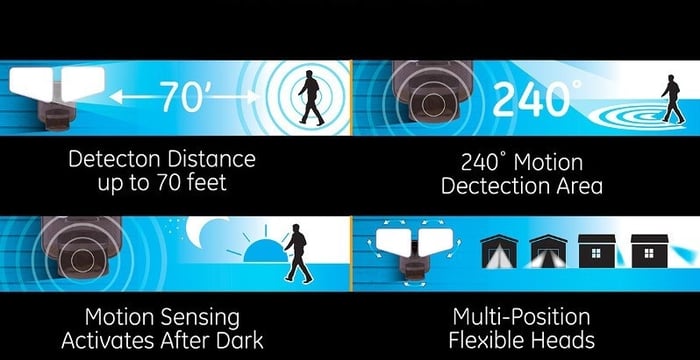 When it comes to security lighting, it's important to make sure your illuminating all the important areas around your home, such as pathways to your front door, backyard decks, or darker areas in your yard. This can be a challenge and sometimes and can result in having to purchase more lights so all your safety bases are covered. However, with a GE Enbrighten Motion Security Light that has a 240° motion detection area and up to 70 ft. detection distance, you can have a one-stop shop light that brings attention to a vast area.
You can also program whether you want the motion light to come on when movement is detected at 15 feet, 30 feet, 50 feet or 70 feet and automatically turn off after 1 minute, 5 minutes or 20 minutes. This is a really beneficial feature as some might only need 15 ft. detection if they live in a residential community so the light isn't blinding the neighbors who live close-by versus someone who lives in a rural area and needs larger coverage and even brighter light.
Easy Installation and Flexibility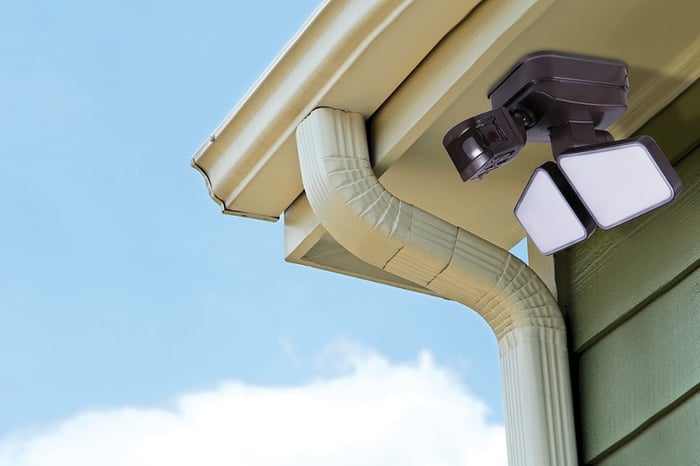 Easy setup and installation is another important aspect for home security lighting – that's why the Enbrighten motion sensing LED lights were designed to be easily wired to any non-dimmable wall switch with its easy mount, quick connect system. You can mount these lights on the external walls or eaves of your home. After they are mounted, the multi-position, flexible heads can be maneuvered to aim the light directly at the desired outdoor area you wish to illuminate.
To learn more about the GE Enbrighten Motion LED Security and Accent Lights, watch this overview video or shop below now!