We're excited to announce the launch of the newly designed microsite for our EcoSurvivor brand of products. You can check it out now at EcoSurvivor.com! Our team members have worked hard to create a completely new site that's visually engaging and easy to navigate, shop for products, and learn about our story and technology behind EcoSurvivor.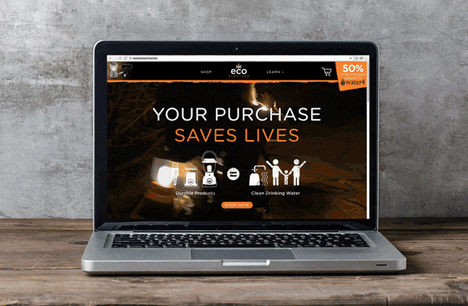 With a growing line of durable LED lighting products, portable power solutions, and audio accessories, we knew we needed a site that not only supported the expanding line of products but also helped support and educates people about the real purpose behind our brand and nonprofit partnerships with Water4 and Justin Wren.

The site features a completely new EcoSurvivor experience from beginning to end, and we think you'll like it! You will notice a simplified and clean navigation menu that is separated into two main sections– Shop and Learn.
Here's a quick preview of what you'll find as you start exploring the new EcoSurvivor:
Shop new products on ecosurvivor.com and keep an eye out for more coming soon! Whether you need portable power combined with LED lighting or a water-resistant Bluetooth speaker that also charges your phone, EcoSurvivor dual purpose products are reliable, versatile and always ready for your next adventure.
Learn more about EcoSurvivor's tough-tested outdoor tech gear and our focus on the environmental and social impacts of our products, as well as our support for sustainable solutions to help end the global water crisis.
As the parent brand of EcoSurvivor, Jasco believes in the power of developing products and building partnerships that are making a difference. When You Purchase EcoSurvivor Products you're helping to provide clean drinking water to people around the world.
A key to our EcoSurvivor brand is our giving partners – Oklahoma-based nonprofit, Water4 and MMA Fighter, Justin Wren (AKA "The Big Pygmy"). 50 percent of every EcoSurvivor purchase is donated to support their mission to see the water crisis eradicated in this lifetime.