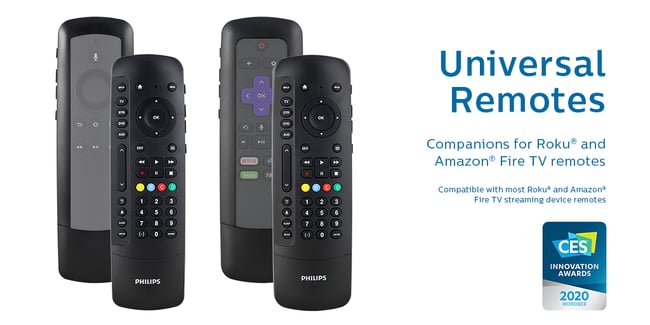 We're proud to announce that we have been selected as a CES 2020 Innovation Awards Honoree for the Philips 4-Device Universal Companion Remote with Flip & Slide™ Cradle. The remote includes a patent-pending Flip & Slide™ Cradle that securely houses compatible Roku streaming devices or Amazon Fire TV devices to provide complete functionality and ultimate control while consolidating multiple remotes into one.
The honorees were revealed during CES Unveiled New York, an invite-only tech event bringing together top media, exhibitors and industry leaders for a sneak peek of the products and trends expected at CES 2020.
Currently, most universal remotes are not designed to operate equipment like Roku Streaming Sticks or Amazon Fire TV devices. However, the Philips Universal Companion Remote solves that dilemma with the unique design that securely holds the compatible streaming remote for most Amazon Fire TV devices (second generation and up) or Roku streaming devices (Express+, Premiere+, Streaming Stick and Streaming Stick+). The Philips Universal Companion Remote is pre-programmed for immediate use with Samsung TV's and Roku boxes and works with all major brands.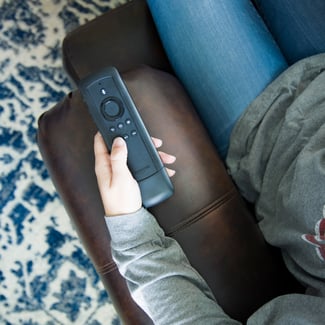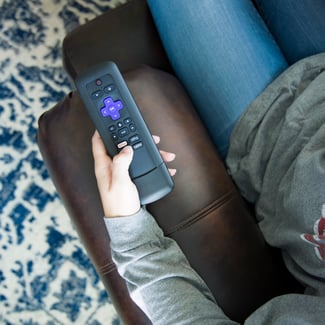 See what key features this award-winning remote has to offer you and your home entertainment setup!
Controls Up To Four Additional Devices - In addition to controlling streaming devices, consumers can control up to four different audio and video components such as TV's, Blu-ray/DVD players, cable/satellite receivers, soundbars, other streaming media players and more. The extensive remote code library includes thousands of the latest audio and video devices for easy programming.

Patent-Pending Innovation - The Flip & Slide™ Cradle is a patent-pending design feature that instantly creates an all-in-one, compact device to give consumers ultimate control and convenience for their home entertainment setup.

Ergonomic Design - Comfortable to hold and operate with one hand, the user-friendly remote features side-access power and volume controls to easily adjust volume level no matter which device is being used. The soft-touch keys provide a cohesive look and feel between the remotes for added functionality and style.
The Philips Universal Companion Remotes will be on display in the Innovation Awards Showcase at CES 2020 and available for demonstrations at Jasco's booth #12000 in Central Hall.