It is the perfect time to express your love. Here is our Valentine's Day special where some of our valued team members share what tech items make them feel warm and fuzzy inside!
WiFi Smart Plugs

Roses are red, violets are blue, do you love smart home products as much as I do?
I have four of these little smart plugs around my house! I love how easy they are to set up and customize different schedules for each one. I use two outdoor plugs to control my landscape lights in the front of my house and string lights on my back patio. I have both of these set on sunset/sunrise schedules and love having my lights automatically switch on as soon as the sun begins to set — especially in the summer when we're already outside on the patio — instant ambiance without even thinking about it! (I also loved how it was literally one button to schedule the dusk/dawn preset schedule in the app).
My indoor WiFi smart plugs are connected to my living room lamp and a hanging pendant light in our den. I love being able to tell Alexa to turn the lights on and off but also like having them automatically turn on right before I wake up in the morning. When my lights turn off, I know it's time to leave for work! It's a great reminder for my morning routine and has actually helped me be better about leaving on time!
Color-Changing Cafe lights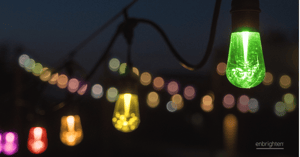 I have a set of color-changing LED cafe lights on our back patio that I love! These heavy-duty lights are super durable, dimmable and really easy to set up and install. With the included remote control, you can toggle through the different colors and settings easily and customize your string lights for any occasion. These are such a cool accessory to have around for holidays or special events when we host guests on the back patio. You can set the colors to red and green for Christmas, pink and red for Valentine's Day or even match your favorite football team's colors for the big game! Or, if you're just looking for a romantic vibe, the white light setting or the warmer yellow or orange shades are perfect for relaxing as the sun goes down in the evening. You can also easily connect the strands of lights to each other or to an automatic timer.
WiFi In-Wall Smart Switch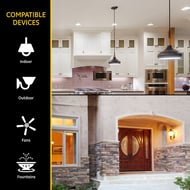 I'm a big fan of the in-wall WiFi smart switch. It was easy to install and even easier to set up through the myTouchSmart app. Instead of going to my garage to turn on and off my driveway lights, I created a schedule for my switch. I still have the comfort and ease of a well-lit home without needing to remember to manually operate the lights. It's the perfect solution for an everyday inconvenience I thought was unavoidable.
GE Enbrighten Motion-Select Amber SleepLite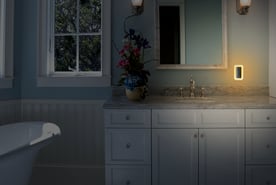 My Motion-Select SleepLite is one of those items I didn't know I absolutely needed in my life until I plugged it in for the first time. Occasional late-night bathroom trips used to be a pain in large part due to the bright white lights of the bathroom having the same effect of a flash-bang grenade. Not only did the sudden brightness hurt my eyes, it was also a swift punch to the face of my poor sleep cycle. After I plugged my SleepLite into the outlet by my sink, this inconvenience instantly became a nonissue! There are two settings to choose from: motion-activated and motion-boost. (I personally leave it on the latter.) In my late-night haze, all I have to do is wander toward the warm amber glow at the end of my hallway, which subtly brightens as I get closer. The amber light is a beautiful blend of function and style that helps me maintain a healthy night's sleep. In my line of work, being exposed to so many cool lighting products tends to make it that much harder for an item to stand out from the crowd, but the Motion-Select SleepLite did just that!
7-day outdoor timer
Josh, Videographer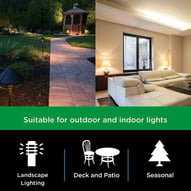 The myTouchSmart 7-day outdoor timer is the perfect complement to my landscape lights. I can set multiple schedules for any day of the week. Because it automatically adjusts for sunrise and sunset times as well as daylight saving time, I don't even need to make changes throughout the year. During holidays, the second outlet is perfect for incorporating decorations to my normal lighting.
Philips 6-Outlet 4-USB Charging Wall Tap
Sara, Social Media Coordinator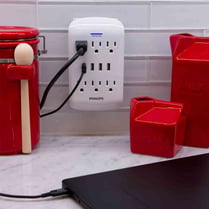 This product definitely falls into the category of "How did I live my life without this?!" This Philips wall tap is chic, blends into any aesthetic and adds so many extra outlets and USB ports to your life! I have one in the kitchen, one in the bathroom and one next to my bed. In my kitchen, I have a crockpot, toaster, Keurig, iPhone charger, Apple Watch charger and Air Pod charger (yes ... I am addicted to Apple products) plugged into one wall tap with room for one more USB cable and 3 more appliances with plug-ins! In my bathroom, I can have my blow dryer, straightener and curling iron all plugged in while charging my devices before I leave for work in the morning. Finally, next to my bed, I have a lamp, an alarm clock, an Echo Dot and chargers for all of my devices. I truly don't know how I could ever go back to an outlet with just two plug-ins as my options. Why deprive yourself?
Universal companion TV remotes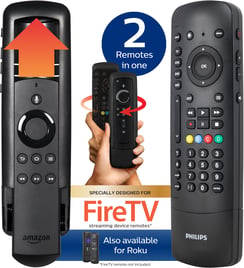 If you're like me, you're a cord cutter who loves to stream movies and shows via a Roku or Fire TV device. In my household, my streaming remote loves to play hide-and-seek. While I'm all for fun and games, when it's time to relax and stream my favorite movies, the last thing I want to do is engage in an all-out search mission. Therefore, I can't tell you how overjoyed I was when the Philips Universal Companion Remotes – one for Roku and one for Fire TV – made their debut.
I own the Universal Companion Remote for Fire TV and absolutely love it! This 4-device universal remote not only controls all of my home entertainment equipment, it also has a compartment on the back that securely holds my streaming remote! Genius! Just take off the remote's battery cover, slide in the streaming remote, add batteries and then replace the cover and it's good to go! I use the universal remote side to operate my entertainment devices and navigate to local over-the-air TV shows via my indoor TV antenna. Then, when it's time to binge-watch my favorite shows, I simply flip over the remote to access my Fire TV controls. Everything I need is already in hand! It's preprogrammed for immediate use with Samsung TVs and Roku boxes, so I was able to use it right out of the box to operate my Samsung TV. I have an older Philips Blu-ray player, but the automatic code search feature made it easy to find the right code. This universal remote works like a charm! Best of all, I always know where my streaming remote is – and I absolutely love that!
Cordinate Tabletop switch
Andree, Photographer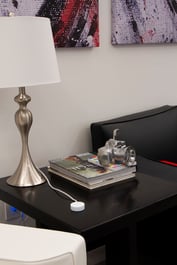 I love my Cordinate Tabletop Switch so much that I have three! This 6ft. braided extension cord comes with one outlet located on the plug, and an on/off button that lets me control my lamp from across the room. I simply plug the switch into a wall outlet, then plug my floor lamp into the switch. It takes just seconds to set up. When I'm relaxing on my couch, I love having the tabletop switch right next to me on the end table. This lets me turn the light on and off without having to get up, which makes it perfect for a romantic movie night with my honey, a scary movie night when I need the lights on ASAP, or when one of my 85lb. dogs sprawls across my lap and I just can't move. I also have a tabletop switch in my office and in my bedroom. It's so nice to be able to operate my lamps without having to get up from my desk or crawl out from under the covers of my warm, cozy bed. And, when it's dark, one tap illuminates the room so I'm not stumbling around trying to find the lamp. It's a super-simple solution to a few of life's little annoyances, and I love it!
Character Night Lights
Katy, Web Content Coordinator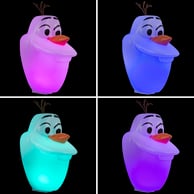 As an avid Disney fan, it's to no surprise our licensed Character Night Lights are some of my favorite products that we design. With every new major movie release, I find a new Projectables to obsess over. Color-changing BB-8 from Star Wars and Olaf from Frozen are holding first place in my heart. Between all the options in Projectables to Figurine Night Lights, it's an on-going effort to collect them all. These also double as my go-to baby shower or birthday gifts for all the "littles" in my life. They are always crowd pleasers!
Shop All Of These Products on our Website!