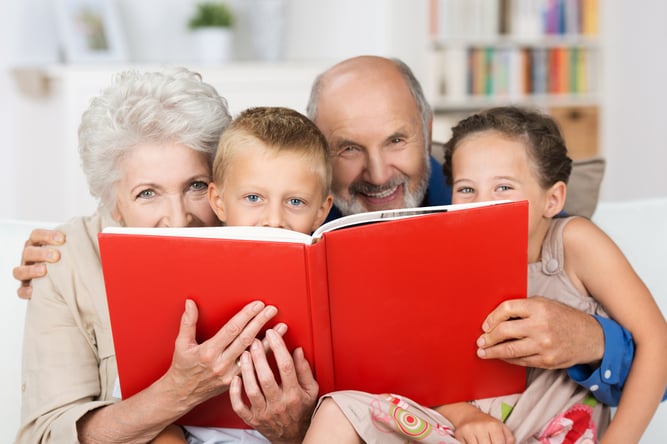 Finding the perfect present for grandparents and other beloved seniors in your life can be challenging, especially if they already have everything they need. No matter the celebration, consider these practical gifts that are easy to use, helpful around the house and are sure to please.
LIGHT THE NIGHT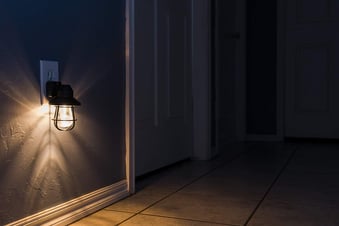 Night lights are a must for any home, so why not take it to the next level with these elegant and colorful lighting solutions? Select from a variety of finishes, designs and features to enhance décor and, most importantly, provide the perfect amount of light to illuminate pathways and avoid tripping hazards. From light-sensing and motion-sensing to color-changing and emergency lighting, these night lights offer plenty of options to enhance any décor while illuminating dark hallways, bedrooms, bathrooms and kitchens.
Those with a light-sensing feature can be set to automatically turn on when the room is dark and off when the room is lit. Motion-sensing night lights work in a similar fashion but operate in response to motion within a certain radius of the night light's sensor.
Worried about disrupting sleep patterns? Consider this night light with LEDs that produce a warm amber glow. It provides the perfect amount of light to illuminate pathways while keeping your brain balanced and sleep cycle as uninterrupted as possible.
For the colorful characters in your life, this color-changing night light adds a fun pop of color to the room or even the toilet bowl!
If you're an extremely practical gift giver, check out this reliable emergency night light. When the power goes out, its rechargeable batteries jump into action, making sure your favorite senior isn't left in the dark. It can even be removed from the outlet and used as a flashlight. How convenient is that?
Set it and forget it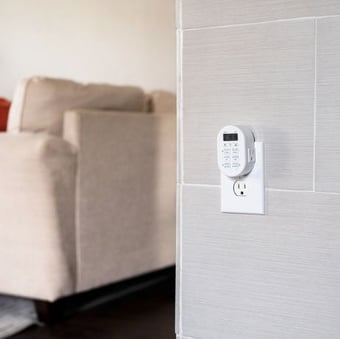 Speaking of convenience, easy-to-install home automation devices can be extremely helpful around the house. This wireless motion sensor's receiver plugs into a standard wall outlet and the battery-powered sensor can be placed nearly anywhere indoors. Simply plug in a lamp to the receiver. The light automatically turns on when movement is detected.
For those with a daily or weekly routine, timers can take care of turning ON/OFF lamps or other small appliances, such as fans or coffee makers. A 24-hour timer is perfect for everyday tasks and plugs into a standard wall outlet. A 7-day timer also plugs into a standard wall outlet but allows varied settings throughout the week.
PLUG IN AND PROTECT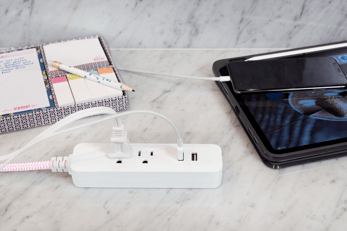 One overlooked gift idea is a stylish, yet practical extension cord. These cords can wear out over time. And, if your relatives are like mine, they may have old, plastic extension cords that desperately need to be replaced lest they become an electrical shock or fire hazard. These braided, tangle-resistant extension cords and power strips come in a variety of colors and configurations to provide lots of options that even include USB-A and USB-C ports for charging mobile devices. Another great gift idea is a surge protector. This will safeguard electronics from the harmful effects of power surges and voltage spike, especially if a storm is nearby. They absorb and dissipate the power of a voltage spike to help shield connected electronics from the unexpected surge of electricity. Keep in mind that surge protection does expire, so gifting new surge protectors every few years ensures connected devices are properly protected.
ENJOY THE SHOW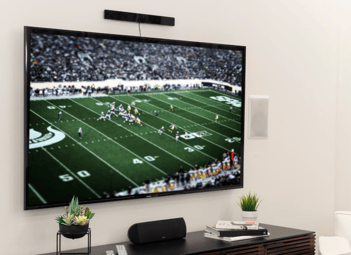 Many seniors are on a tight budget, so if yours is thinking of dropping costly cable or satellite, why not help them become a full-fledged cord cutter? All it takes is a TV antenna and a coax cable to connect to the TV. This simple setup will let them enjoy free over-the-air TV, which can include popular networks like NBC, ABC, CBS, FOX, PBS and more, depending on where they live.
Whether they choose to cut the cord or not, another great gift idea is to give them power over all their entertainment devices using one handy universal remote. Today's remotes come in a variety of finishes, from traditional black to colorful metallics to soft-touch finishes that look like walnut, marble or denim. And, with a variety of features, you can select the one you think will work best for them and their particular setup. This 2-device remote is perfect for those who have a simple setup with a TV and one other device, such as a Blu-ray™/DVD player or cable box. Its big, backlit buttons make it easy to use. If they're into streaming content through a Roku or Fire TV stick, these 4-device companion remotes are not only easy to grip and navigate, but they also house a compatible Roku or Fire TV streaming remote in the compartment on the back.
While extravagant gifts can be nice, it's the practical gifts that keep on giving and make life a little bit easier for those we love. Be sure to check out even more gift ideas at byjasco.com.