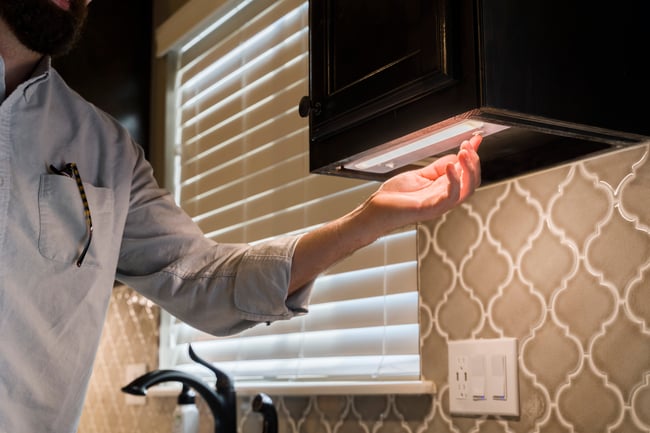 In past lighting blog posts we've discussed the various types and qualities to look for when searching for a new under cabinet lighting fixture. And whether it's tried and true brands like GE Fixtures, or exciting up-and-comers like Honeywell, there is little doubt that your kitchen will be basking in the glow of energy efficient style. But there are so many other uses for these LED fixtures than simply installing them underneath your cabinetry.
We here at Jasco have decided to offer you the most tried and true method of imparting knowledge of the modern era: putting things into a numerical list. Here are our top five places you can install your under cabinet fixtures that are, well, not underneath a cabinet!
1. Closet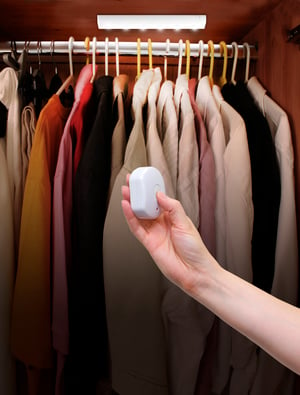 Most closets, walk-in or otherwise, usually have some form of ceiling light already. This is all well and good, if you prefer to be bored every time you go to pick an outfit for the day. Imagine instead that when you flip that light switch on you enter a high-class showroom for your wardrobe.
To achieve an incredibly sleek, fun and modern aesthetic, we recommend an easily mountable and/or battery powered color-changing LED fixture. For a true prestigious look, mount your fixture on the bottom of the shelf, so that your clothes hang down in front of the light. This will achieve the very cool effect of back-lighting your wardrobe; adding a classy and polished characteristic that makes your attire really pop!
Perfect Fixtures for This Project:
Energizer Color Changing LED Light Bar | Energizer Color Changing LED Puck Light
2. Bookshelf
If you want to impress upon your visitors how classy and refined you really are, we can't recommend enough adding lighting to your bookshelves.
For a tasteful and minimalistic accent, the best option is to take some light LED light strips (or even pucks if you have enough room to work with) and simply install the fixtures so that the books are in front of the light. This adds beautiful depth to your library, lending a subtle style that is worth more than a thousand words.
Perfect Fixtures for This Project:
Honeywell Linkable LED Bright Strips | GE-branded Wireless LED Puck Lights
3. Entertainment Center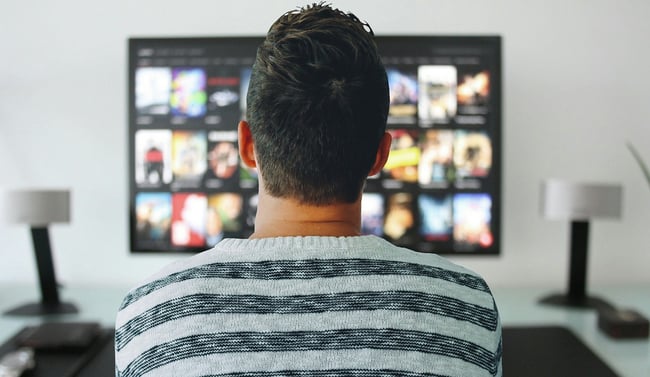 There's no denying that the true centerpiece of most modern homes is wherever the television resides. Whether it's a minimalistic wall-mount, or a mammoth sized unit with shelves and cabinets, adding accent LEDs go a long way to spice up your home theater.
Because there are so many variations to each entertainment center, you'll need the most flexible fixture option. Far and away the most popular method is adhesive LED strips. With this flexible fixture you can outline the back frame of your TV to produce a smart separation between the screen and the wall. For the stands themselves you can have fun and experiment by lining the shelving and underside to let your entertainment center emit a wonderful modern glow.
Perfect Fixtures for This Project:
Honeywell Linkable LED Bright Strips | Energizer Color Changing LED Puck Lights
4. Inside Cabinets
Alright, I know we're heading back to the cabinet theme, but hear us out on this one. The great thing about this family of light fixtures is their inherent ability to combine both style and utility. For this usage of UCFs we'll be focusing specifically on utility. The kitchen gets a lot of love when it comes to lighting, yet one area often neglected is the cabinets below your kitchen/bathroom sink or in the laundry room. Adding a small touch of illumination to the inside of the cabinet itself goes a long way in staying organized.
For this feature, we recommend a simple touch/motion activated puck LED that you can affix to just inside the cabinet. Whether it is installed above or on the side you will be surprised on how this small quality of life improvement will affect your day to day.
Perfect Fixtures for This Project:
GE Wireless Motion-Sensing LED Task Light | GE Touch Activated LED Puck Lights
5. Shed or Garage Workbenches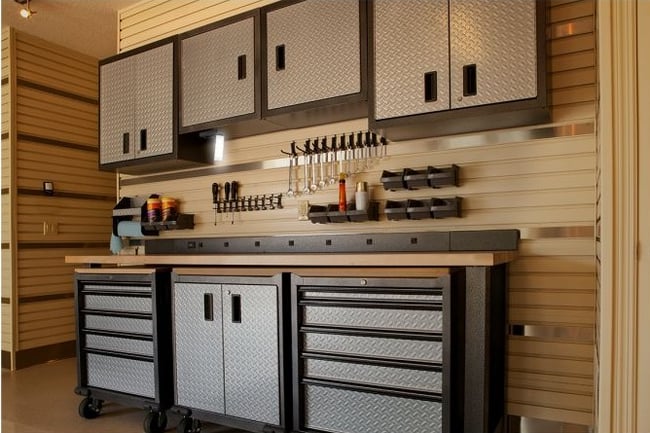 Every good workbench, whether in a garage or a tool shed, absolutely needs quality lighting that won't get in the way of ongoing projects. When you need a high-powered LED that sheds some serious light, you will have a whole gambit of options to choose from here.
To get the best bang for your buck, we suggest mixing and matching motion activated work light fixtures, linkable light strips and premium capacitive-touch LEDs. Depending on your unique workspace/workbench, you can go the traditional route of installing a fixture underneath your tool cabinets, over or around your bench or all of the above! No one knows your space like you do, so experiment away!
Perfect Fixtures for This Project:
GE Wireless Motion-Sensing LED Task Light | Honeywell Capacitive Touch Linkable LED | Honeywell Linkable LED Bright Strips

There you have it. We've given you our top five places to install your under-cabinet light fixtures that aren't necessarily in the kitchen. Hopefully you've not only been informed, but also inspired to innovate and create exciting new ways to light your home.
To learn more about the different types of LED fixtures, check out parts
one
and
two
of our buying guides.