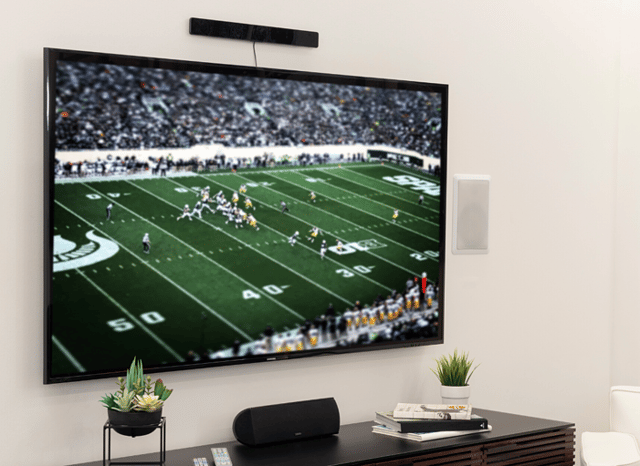 The best game day setups require more than burgers, hot dogs and a cooler full of beverages. They need to look great, function and provide a place to have a good time. Fortunately, creating your football paradise is easier than you think. These simple accessories can elevate your entertainment center.
HUDDLE UP

Before the big game, make sure your central powering station is ready to go! For the perfect power hub, choose one with an appropriate number of outlets and/or USB ports, a heavy-duty or braided cord and built-in surge protection. A circuit breaker with reset switch can also be used to protect connected equipment—it shuts off power to the unit should it experience overload conditions. Stay connected and protected with these easy powering solutions, and never miss the big game again!
Immaculate Reception

If you're streaming the game through a media player, laptop or gaming system connected to your TV, make the perfect catch and grab these 8K Ultra High-Speed HDMI cables to engage in the ultimate viewing experience. Dynamic HDR (High Dynamic Range) delivers a bright, clear picture with richer, more vibrant colors to immerse you and your friends in all the action. And, when it comes to audio, this cable is compatible with Dolby Atmos and HD Dolby 7.1 audio, making it a surround-sound touchdown!
THE best seat in the house

Create the perfect room layout with an easy-to-install TV wall mount. When it's time for the big game, all eyes turn to the star of your entertainment system – your TV. Mounting it to the wall with a full-motion TV mount ensures it's always in the best viewing position. This wall mount is designed for larger TVs and lets you easily tilt your TV up or down, extend it out from the wall and swivel it from side to side. If you're concerned about how to install a TV mount, check out How to Mount Your TV in 4 Easy Steps for a brief tutorial and to learn how to choose the right TV wall mount for your space.
LIght it up

Bias lighting is the perfect way to bring game-day home, especially if you're watching TV in a dark or dimly lit space. Whether you're cheering on your favorite team or playing video games before the action starts, you'll want this indoor bias lighting antenna. Not only will it amp up your décor, but it will also make the on-screen colors appear richer and more vibrant while helping to reduce eyestrain. This antenna's innovative, patent-pending design lets you easily mount it to the top of your flat-screen TV. The PureBias™ lighting feature is built into the back of the mounting bracket and, when turned on, emits a soft white glow around your TV as the light reflects off the wall. Check out the benefits of bias lighting.