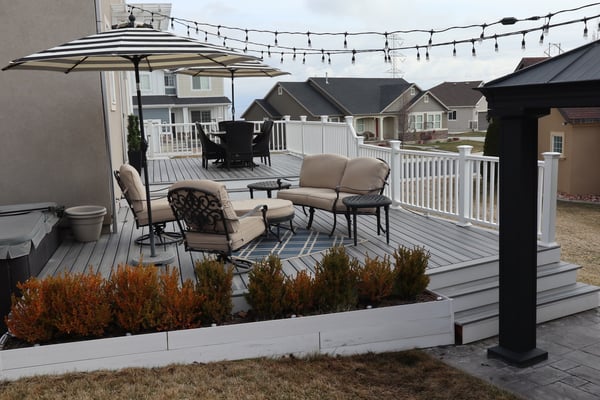 Every year our outdoor spaces get utilized for parties, holidays and cookouts with friends and family while also serving as an outdoor oasis to relax in from day-to-day. But when designing and decorating these spaces, what should you consider to make sure your ambiance will serve many purposes while also appealing to the eye?
Whether you are a DIY home project expert or one to leave it to the professionals, here is the happy medium you have been waiting for. We've recently partnered with some creative expert bloggers who have shared 9 patio design ideas and tips for your outdoor space using Enbrighten and much more.
Match Your Patio Lights to Your Outfit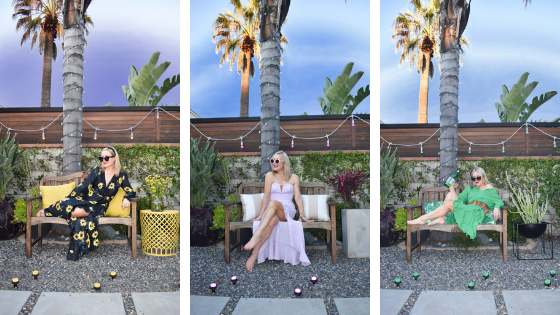 photo credit to www.thehuntercollector.com.
Do you have a favorite color scheme for your home decor? What if you could change it as often as you want without a big expense? By alternating her pillows and end tables, this blogger changes her backyard design to match the occasion. What she has found to really make all the difference to her stylish backyard though is refreshing her lighting. As easy as clicking a button the remote, she matches the color of her Enbrighten Cafe Lights and Mini Landscape Lights to her style for the evening including her outfits!
Consider the Mood of Your Decor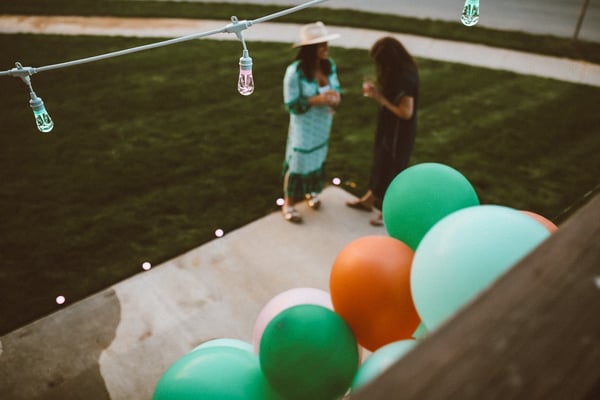 photo credit to www.moderndaymoguls.com.
This blogger shows there is more to consider than just appearance when designing your backyard. Her educational past in light school carried over in her decision making to incorporate Enbrighten Lighting into her patio decor. With the help of her knowledge in color psychology, she creates spaces that encourage certain feelings for her guests while entertaining. The best part? She can change the mood whenever she wants by switching the color of lighting from above and below with her Cafe Lights and Mini Landscape Lights.
Think Outside the Box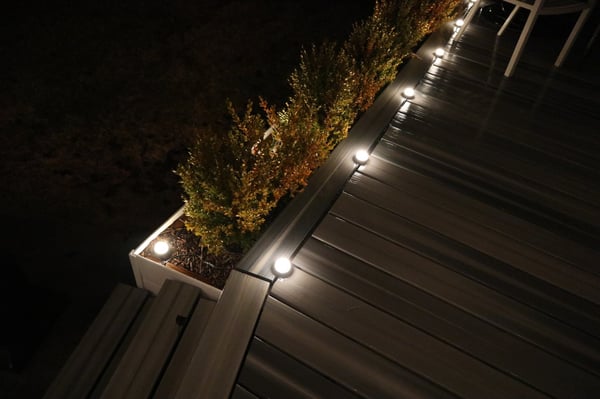 photo credit to www.housewife2hostess.com.
There are more uses for landscape lighting than you might think. While traditionally they are staked in the ground, Enbrighten Mini Landscape Lights can also be mounted, but the options don't end there. This blogger and her husband thought of a clever and creative way to place them in between the gaps in their decking. They thread the strand of lights through the floor so the cable between each puck is hidden and the edge of their deck is lined and illuminated. It leaves you to wonder - how could you incorporate your decor in an nontraditional way?
Personalize Your Parties

photo credit to www.lollyjane.com.
Alongside a yellow door and accent pieces throughout the front porch, Lolly Jane added curb appeal by draping cafe lights in a zig-zag pattern across the roof and placing Mini Landscape Lights every couple feet down the walkway. From everyday cozy ambiance to specific celebrations with bright colors like her sister's gender reveal party, her lighting is personalized to match the occasion and always enhancing the beauty of the space.
Don't Forget the Climate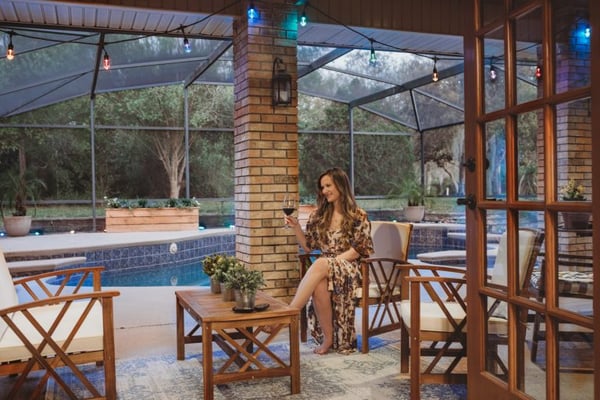 photo credit to www.upbeatsoles.com.
Especially crucial in outdoor design, you have to remember your surroundings and the weathering your decor will be susceptible to. Much like your accent pillows should have weatherproof covers, your lighting and electronics should too because nothing is so defeating like having to replace your items time and time again. You can take notes from this blogger whom when decorating her pool deck made sure her lighting was built to withstand outdoor installation and exposure to the elements - even splashing water from their pool parties!
Take Your Time and Make a Plan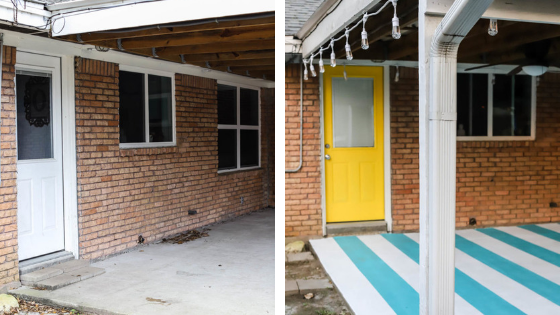 photo credit to www.amberoliver.com.
Don't be afraid of a little extra work. Major improvements take time and the details can make a world of difference in design. This blogger wasn't sold with her original space and what she had to work with. So, what did she do? She reworked it from the floor to the door to the roof. Over several days, the entire patio was power-washed, cleaned, etched, painted and prepared for a big change. They even pre-drilled measured out holes and added screw-in hooks so their cafe lights were perfectly aligned. And because the Enbrighten Lights are durable, UL-rated and LED, they will never have to be replaced. The extra time taken ensured this makeover to be a permanent DIY success story.
Think about Your Guests
Craft Box Girls' blog proves that a colorful space is a happy place! A good hostess always thinks about the comfort of their guests which is why this blogger really wanted to create the perfect atmosphere to socialize and entertain in, but she didn't stop at hanging string lighting around her cozy sectional. Visitors to her home will feel the friendly welcome as soon as they step out of the car with Mini Landscape Lights lining her entry landscape all the way to the door.
Don't Be Afraid of Adding Some Color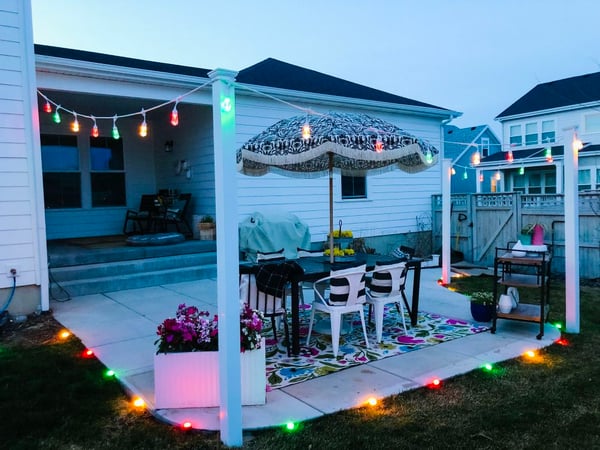 photo credit to www.tatertotsandjello.com.
While classic white lighting is timeless, color changing lights are definitely making their mark in design and decor. And it's easy to see why! Nothing amps up the vibe of a party like adding some color and this blogger dives into that with her mix of fabric patterns, flowers and lighting tones. Using one of the several preset modes of the Enbrighten Cafe Lights, this fiesta turned out bright, beautiful and beaming with color.
Have you thought about using Cafe Lighting indoors?
Check out this blog for ideas on how to use Enbrighten Cafe Lights as chandeliers, headboards and much more!