Since 2019, the hit Disney+ show The Mandalorian has taken the world by storm. Following the intergalactic journey of the bounty hunter and his adorable sidekick Grogu (more commonly known as The Child or "Baby Yoda") the series has earned its spot as a fan favorite among new and old Star Wars fans alike.
With the third season still on the way, there's never been a better time to splurge on the plethora of cool merch celebrating our favorite duo from the galaxy far far away.
Whether you're looking to deck out your viewing space with Star Wars gear or just fill the "baby yoda" shaped hole in your heart in anticipation of season three, we've got you covered. Our new Mandalorian string lights are the perfect addition to any home that's just as obsessed with The Mandalorian as we are.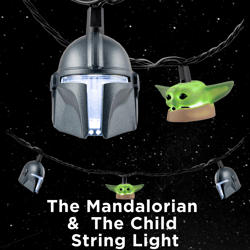 Featuring two character options, either the Beskar helmeted Mandalorian and The Child, or just The Child himself, these are perfect for you or any fan of The Mandalorian.
Each high-quality LED bulb is contained within a small plastic replica of the heroic bounty hunter's helmet and the adorable "Baby Yoda" – These lights illuminate the dark with a soft glowing white light worthy of the Darksaber our favorite Mandalorian currently wields. Additionally, each light is cool to the touch, making them safe for fans of all ages.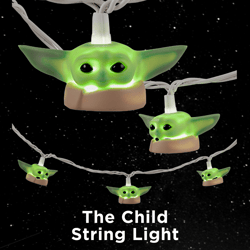 Both sets of these lightweight and versatile string lights feature 10 bulbs on a 10-foot string that can be easily installed in living rooms, dorm rooms, on trees, patios, and much more! Wherever you decide to place your lights, they'll fit in effortlessly.
In addition to illuminating your nerdy side, these string lights are energy-efficient and proudly designed with peace of mind in the USA.
Enjoy your next adventure and beat the dark side with a touch of illumination from our favorite string lights.
Oh, and may the force be with you.
Want more Star Wars products? Check out our other Star Wars posts for all your Star Wars collection and lighting needs.
Plus, for more out of this world products, check out the Baby Yoda Mini LED Night Light and more on Buzzfeed.