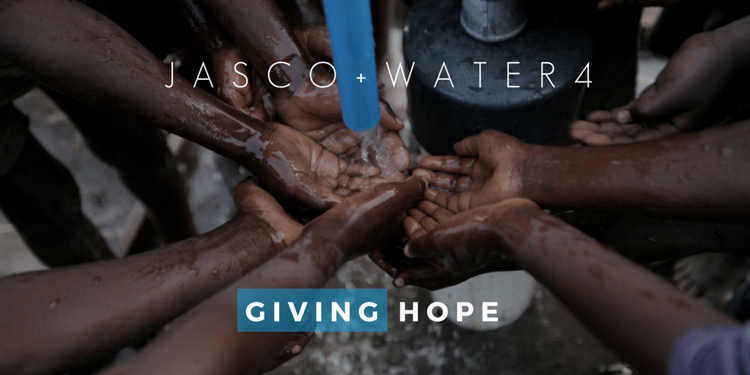 What Matters Most
At Jasco, it's all about "What Matters Most."
Through Jasco's Giving Hope programs, we provide innovative ways to foster a culture of volunteerism by giving away our time, talent and 50 percent of the company
'
s profits to help others in need, like those without access to clean water.
As a result of our What Matters Most and Giving Hope initiatives, every Jasco Team Member significantly contributes to benefiting those in need in our local communities and around the world.

Making a Difference Together at CES
Jasco donated $1 for every CES badge scanned at our booth
Jasco matched all contributions to clean water projects dollar-for-dollar
Jasco donated an additional $1 for social media posts with the hashtag #Water4Change
"Jasco is such a blessing. I can't even begin to tell you what a difference you all are making in the lives of millions all over the world." –Jim Stewart, Water4 Partner Development

Giving Hope in Togo
So what were the results you ask? With the help of CES show-goers, Jasco + Water4 raised enough money to fund three wells to be drilled in Togo, West Africa. These three wells will serve more than 1,000 members of the Taberma tribe in northern Togo and save the lives of approximately 100 children.

[ CLICK TO TWEET THIS ]

This "unreached" people group has lived in desperate need of clean water, but Water4-trained drill teams are changing that today with the gift of clean water, which is opening the door for transformation within these communities. As they provide access to clean water, they are also providing the dignity of self-sufficiency, freedom from waterborne disease and death, and the promise of long-term health and food security.

On behalf of Jasco, we would like to thank Water4 as well as each and every CES attendee for your support. Together, we are making a difference in people's lives and because of you, three entire villages will now have access to clean water!
Want to learn more? Click the link below and find out how you can continue giving hope for others: