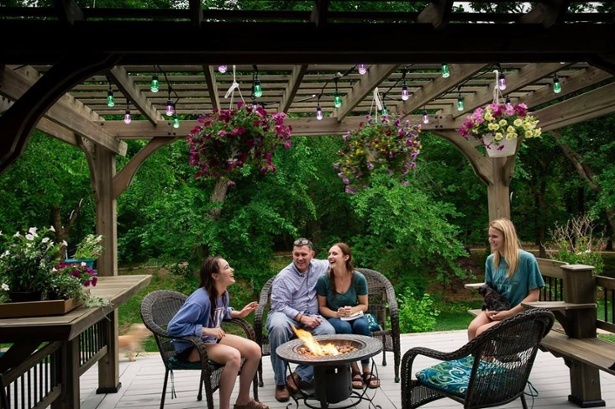 Warm weather is officially here, which means BBQ's, pool parties and late nights outside with friends and family. People spend more time outdoors during spring and summer than any other time of the year and it's important to love your outdoor space just as much as the inside of your home.
Now is the perfect time to spruce up your backyard or patio for the celebrations to come. Aside from comfortable seating and good company, lighting plays a huge part in the ambiance of your outdoor space.
Below are a few products that will guarantee your backyard is everyone's favorite place to gather this season:
As the weather heats up, create the perfect outdoor living space with cafe string lights. Choose from Vintage, Classic White, or Seasons Color Changing lights for an instantly warm glow. Cafe lights are a simple and affordable way to add some trendy flair to your patioscape and a key ingredient for creating the ultimate outdoor oasis. Key features of the string lights include:
Wirelessly change colors and select effects depending on your occasion
Commercial-grade impact resistant bulbs
Linkable up to 750 feet
Flexible mounting options
No bulbs to replace - ever
Enbrighten LEDs reduce energy usage by over 95%
Landscape lighting doesn't have to be overly expensive or complicated. Our new Enbrighten Landscape Lights provide the quickest backyard-makeover that's sure to impress year-round.
Whether you want a soft white glow around your garden or a multi-color light display, you can choose from a variety of lighting options, effects and different mounting options to easily set the tone you want to achieve. Use these lights for flower beds, gardens, decks, path lights, accent lights, eaves, and keep your outdoor living spaces looking bright and colorful all year. Key features of the landscape lights include:
Wireless remote included - control color, dimming, timers, effects
Weatherproof & commercial grade
About 150 lumens per light
Installation: on the ground, staked up, mounted via keyholes
Selectable white: warm white, soft white, daylight
Over 120 color combinations
Preset color and effect modes
3 different lengths available
Illuminate your porch or patio in the evenings with Enbrighten lights and automate your lights to turn on and off at certain times. Perhaps you would like your Enbrighten Café Lights to stay on a little longer on the weekends.
Or if you come home later in the evenings on weekdays, you can set your lights to turn on automatically so you can arrive home to a well-lit outdoor space thats ready to relax in. For a truly perfect and smart outdoor living space, use a timer made specifically for outdoor use year-round, such as a myTouchSmart Indoor/Outdoor Timer System. Key features include:
Two heavy-duty grounded outlets

Weather-resistant construction
Fully customizable "My On/Off Time" settings
Simple daily or weekly preset options
Custom, 24-hour countdown

Adjust to sunrise/sunset times in your region