Mother [

muh

·

thr] noun
One person who does the work of hundreds, for free.
Synonyms include: Queen, Superwoman.
May 9th, a very important day, is approaching quickly. Not sure what holiday we are referring to? It's Mother's Day! It is not too late to find the perfect, useful gift for the Superwoman you call "Mom."
Enbrighten
Seasons

Cafe Lights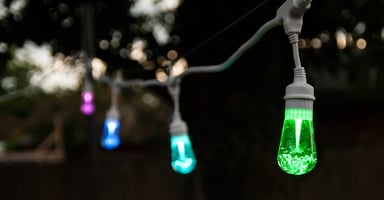 Things change as the years roll by — people grow, cultures evolve and fashions flow from one trend to the next. There are, however, few things in life as steadfast as a mother's love. That's why, this Mother's Day, the perfect gift for her is something that can easily adapt and harmonize with the seasons themselves. Not only do Enbrighten Café Lights look incredible draped over balconies or hanging above porches, but they also embrace the tides of change and feature beautiful lighting modes for every occasion, mood, and holiday. Whether she wants the old-world ambiance of a street-side café in Paris, a romantic glow that slowly fades from one color to the next, or a party-like atmosphere to raise a margarita to with her ladies, it's all hers for the taking.
Enbrighten Tabletop LED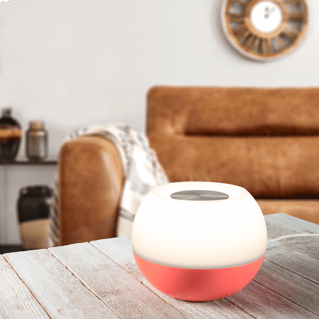 Brighten her world this Mother's Day with this elegant USB-Powered, Color-Changing Table Lamp. It makes the perfect night light and adds a pop of color to any room. The base is available in cobalt blue, coral, gray, teal, and white while the top portion is frosted to provide diffused white light with low, medium, and high brightness levels, as well as 12 color options that can provide a steady glow or slowly fade from one color to the next. Simply plug it into a USB-A port and tap the top of the lamp to switch colors and modes. From a peaceful, spa-like environment to an upbeat party atmosphere, this lamp helps to set the perfect mood.
GE Vintage LED Night Light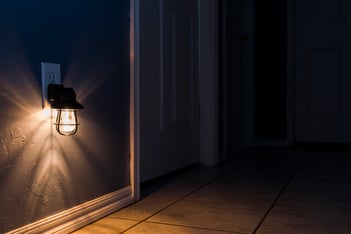 Wanting to brighten your mom's Mothers Day but also match her aesthetic? The GE Vintage LED Night Light is the perfect gift. With dusk-to-dawn technology, this decorative night light will not only compliment the decor in her home and cover unsightly outlets, it will also save energy! Give night time a nostalgic glow with this rustic designer night light. If you're jealous of her gift, this night light is also available in a 2-Pack option so you can gift to your mom while also treating yourself.
UltraPro Dimmable Digital Timer
A plug-in timer might not be the first thing to come to mind when thinking of gifts for your mom but making her life easier should always be a priority. With unique features and patent-pending control, an UltraPro Dimmable Timer with Tether is sure to be a pleasant surprise. Easy-to-use programming buttons support simple scheduling of lamps and other indoor lights. The integrated push button with 5ft. tether offers ON/OFF operation and full-range dimming. It is perfect for setting the ideal light level of reading lights, desk lamps and more.
Philips Universal Remote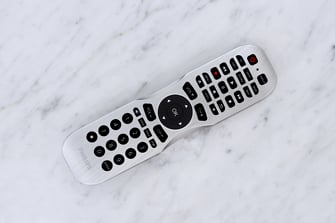 Give your mom ultimate control with this Bluetooth-Enabled Universal Remote. It comes pre-programmed for immediate use with Samsung TVs and Roku streaming boxes and can easily be programmed to control other AV devices in five minutes or less using the myTouchSmart™ Remote Control app. Simply download the user-friendly app to a smartphone and pair it with the remote. The app will walk your mom through each step, locate the correct device codes and wirelessly program the remote. It's that easy! The app even has a handy Find-It feature that helps locate the remote, if lost. Talk about a time saver!
Philips 6-Outlet 2-USB Surge Protector with Device Shelf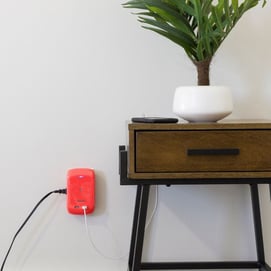 This Mother's Day, get Mom something she'll actually use — a Philips Surge Protector Wall Tap with USB and Device Shelf. Each unit features two USB ports, six grounded outlets, surge protection and a protected indicator light. A removable shelf provides a handy stand to hold mobile devices while they charge. This charging station can be plugged in or mounted for permanent placement. Available in vibrant coral and teal finishes, these wall chargers are sure to complement any décor. Upgrade Mom's outlets to the Philips Surge Protector Wall Tap with USB and Device Shelf.
Cordinate Designer 3-Outlet Extension Cord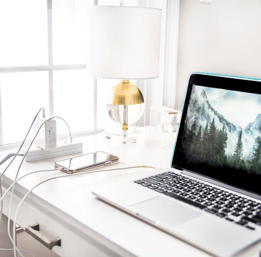 With 3 outlets this attractive and fun Cordinate Extension Cord makes multitasking a breeze. The braided 10ft. fabric power cord comes in a pink and white chevron pattern that can add a personalized touch to any moms home décor or office space. With multiple color options, you are sure to find the perfect fit to match your moms office or home decor. Don't forget to look at the multiple options as well. The Cordinate Extension Cords come in 3-Outlet and 2-USB options with multiple different colors available in each. Extend your moms reach with these stylish, but convenient Cordinate Cords.
You can't go wrong when it comes to a gift for your Mom. Whether it is the Seasons Cafe Lights or a bouquet of flowers, she is sure to love it. With these gifts, you can either enhance the aesthetic in your Moms home or add convenience to her everyday. You can't go wrong with either. Especially because the gift is coming from you!
---
You might also like to read:
---