In a perfect world, cutting the cord would mean plug-and-play perfection – just connect an antenna to your TV with some coax cable and you're good to go, right? Well, if you're planning to cut the cord or you've officially cut it but aren't happy with the results, here are a few things to consider before ditching your antenna.
Find the location of broadcast towers
Whether you have an antenna or are planning to buy one, make sure you're in an area that can receive local broadcasts or that your antenna's mileage range is appropriate for your location. Antennaweb.org is the perfect place to find that information. Simply type in your address or zip code, and the website will produce a map showing where the broadcast towers are in proximity to your location. It will also include a list of available channels that are color-coded to indicate the type of antenna recommended to receive their broadcasts.
Check for reception blockers
Although you may be near the broadcast towers, there may be reception blockers that can disrupt the broadcast signal. Reception blockers can be as obvious as mountainous or hilly terrain, tall buildings and trees, building materials or even your location within a building. They can also be less obvious, like household appliances, such as microwaves and blenders. Also, make sure your indoor antenna isn't placed behind your TV or in a TV cabinet.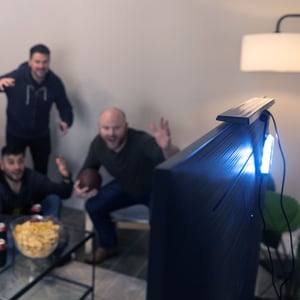 Choose the right antenna for your location
When selecting the best antenna for your setup, confirm the antenna's mileage range and whether your space can accommodate an indoor or outdoor/attic antenna. You'll want to place an indoor antenna as high as possible or near a window for best reception. For an outdoor/attic antenna, make sure it's aimed at the broadcast towers.
Scan for over-the-air channels on your TV
No matter which antenna you choose, make sure you scan for over-the-air channels on your TV:
After installation.

Whenever you reposition the antenna.

Every few months to capture any new channels.
If your antenna supplies the signal to multiple TVs, make sure you run a channel scan on each connected TV.
Examine your whole-home installation accessories
If you have an outdoor/attic antenna that provides a signal to multiple TVs in your home, poor reception may be caused by issues with your whole-home installation accessories, such as the coax cable splitter or your coax cable.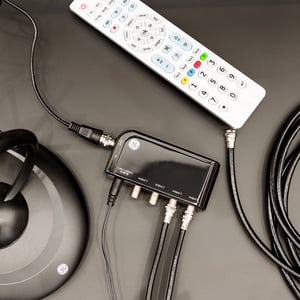 Splitters can accommodate two or more TVs. However, keep in mind that each TV you add to your setup divides and weakens the signal. A 2-way splitter divides the signal equally, providing each TV with 50% of the signal. A 4-way splitter also divides the signal equally but provides only 25% of the signal to each TV. One solution to overcome a weak signal when using a splitter is to use an amplified antenna or add an amplifier to a passive antenna. Another solution is to use an amplified splitter with a passive antenna.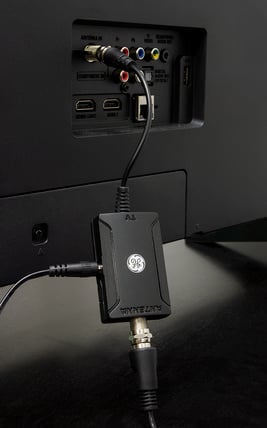 Adding an indoor or outdoor antenna amplifier or an amplified splitter boosts the broadcast signal to help overcome signal loss and poor reception. By doing so, it may actually add channels to your lineup by strengthening weak channels your antenna is already receiving. When using an amplifier, there should be no more than one in your setup. Living in close proximity to broadcast towers or using two or more amplifiers could actually worsen reception by over amplifying the broadcast signal. If you're experiencing poor reception, you may want to test your setup with and without an amplifier. Just make sure you run a channel scan on your TV each time.
When installing your antenna, it's important to understand that the type and length of coax cable used can affect signal loss. RG6 Quad-Shield Coax Cable is preferred for residential and commercial installations, as it's designed with extra shielding layers to guard against electromagnetic interference. It's also engineered to maximize transfer speeds to give you crisp signal quality. As for cable length, the longer the cable run, the more the signal will degrade. However, adding an amplifier or amplified splitter to your setup can help to overcome this.
Cut the cord in confidence
Cutting the cord is an easy way to save money by ditching costly cable or satellite service, and setup is fairly simple. Hopefully, the information above will help you troubleshoot any reception issues you may experience. If you're new to cord cutting, check out these other helpful blog posts.