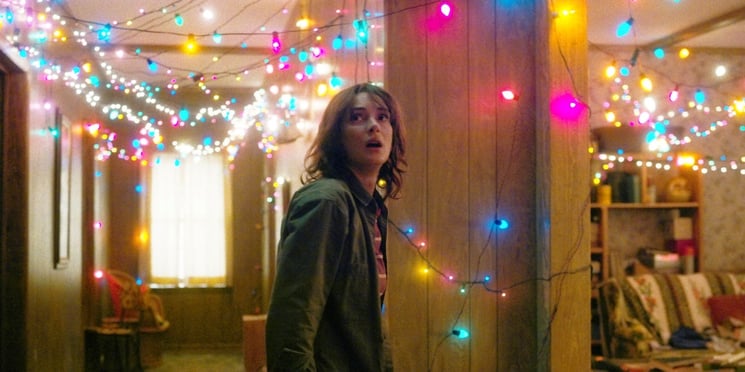 It's that time of year! The time when we get really busy running around, buying presents, cooking yummy food and surrounding ourselves with our loved ones. It's also time to start hanging outdoor lighting and creating your Christmas light masterpiece.
Oh what fun it will be to get out all those lights and create a unique look for your home this year. But what's not so fun is if you plug in too many lights to a standard plug without any precautions and POOF! goes your lights.
Before you start looking around like Joyce from Stanger Things trying to decide if your Christmas lights are trying to tell you something, we've compiled a list of tips and tricks to advise you on what your holiday lights would say if they could talk.
You may think you already know the answers to common problems when it comes to hanging outdoor lighting, but what about advice to make sure your home and family are getting all of the benefits out of your seasonal lighting? Look no further! Continue reading if you want to have a holly jolly Christmas with no scary moments–or aliens.
1. Make a Map. (No, not like Joyce's alphabet Christmas light map!)

Map out and measure where you would like to realistically hang your Christmas lights. Do this first before you go shopping for your lights so that you will know how many lights, extension cords and surge protectors you will need so you can avoid having to run back and forth to the store for more supplies.

PRO TIP: Did you know almost all indoor and outdoor extension cords are only supposed to be used temporarily or are rated for 90 day max use? Always check the Caution labels on the products. If it says something like the examples below, be sure not to use those extension cords continuously indoors, but especially outdoors.
2. Choose only one type of bulb and stick with it.
When you get to the store you are going to have a variety of bulb lights to pick from such as LED or Incandescent. Make sure if you pick LED lights that all of the lights you buy are LED. The reason for this is that the colors are different between the two bulb types, LEDs tend to have a bluish or white tint whereas Incandescent bulbs have more of an amber tint. If you were to connect these lights together they would be mismatched. And that is not a good look for anyone. Just stick to one bulb type.
PRO TIP: Save money by using LED lights instead of incandescent. It may cost more for the lights upfront, but you will save money on energy costs throughout the season. Pair these LED lights with an outdoor timer such as the GE MyTouch Smart Outdoor Timer, and not only save money, also set it and forget it. (Read more about timers on tip #6) Also, check your light's instructions for specified lengths of how many you can put in one outlet. Often times, you can put more LEDs on one strand since they use less energy.
3. Look for symbols, and again not alien symbols, the UL symbol.
The best way to be safe with all holiday lighting needs is to look for the UL Listed symbol when you are buying something, such as extension cords, that plug into an outlet. This logo ensures that the items have met UL's nationally recognized Standards for Safety for your protection.
PRO TIP: According to the UL website, the UL logo should say "UL Listed" or "UL Listed to Canadian Safety Standards." If it says, "UL Approved" or "UL Approved for Canada" this is an incorrect reference and the item has NOT been listed to UL. When a product meets UL Standards for Safety, the product is listed to UL. UL does not approve them. See the correct example below:

4. Be sure your lights and extension cords are rated for your intended use.
If the extension cord is going to be used outside make sure it is rated for outdoor use before installing it.
PRO TIP: Match up your connectors before you hang your lights. And remember you can always plug in polarized plugs into a grounded plug.
5. Do like Joyce and put your lights to the test!
Once you buy your lights and extension cords, get home and test them to make sure all of the lights are working, no bulbs are unlit and all cords are fully intact. Check to make sure there aren't any visible signs of damage such as a frayed or cut cord.
PRO TIP: Double check that you don't overload an extension cord. Most extension cords and adapters are rated to certain wattages and volts. When plugging multiple items or strings of lights, check the wattages and volts of all items to ensure the combined wattage works for your extension cord.
6. Last, but certainly not least, timing is key.
You do not want your lights like Joyce's coming on and off at random times. To solve the problem? Timers! They are the key to Christmas lighting! It's as easy as set it and forget it. Timers are the icing on the cake when it comes to turning on and off your Christmas lights. So make sure to grab an outdoor timer to make your holiday season jolly!
PRO TIP: Pick an outdoor timer that will turn on when it works best for your schedule! Check out the MyTouch Smart Digital Outdoor Timer that has three preset times or the MyOn/MyOff buttons to tailor times that work best for you. These MyTouch Smart Timers allow a user to set lights for evening and early morning settings with just the touch of a button – super easy and simplifies your life.
Now you are a pro with all of the Christmas lighting tips and tricks to make this holiday season a breeze for you and maybe it will get Santa down your chimney a little easier with no aliens required.

---
You Might Also Like:
---